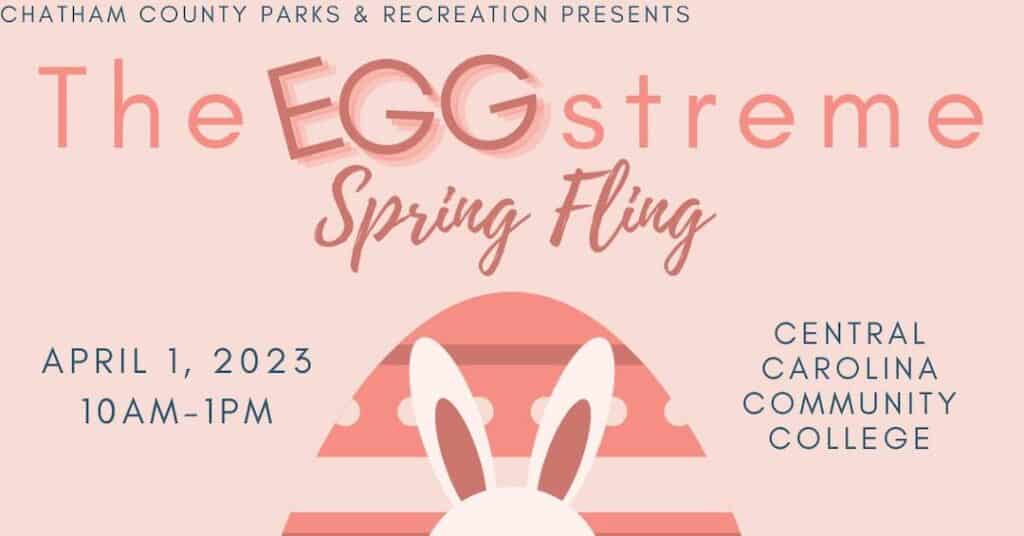 Chatham County Parks and Recreation is presenting The Eggstreme Spring Fling on Saturday, April 1st, 2023, from 10 a.m. to 1 p.m. It will take place on the Chatham Campus of Central Carolina Community College, 764 West Street, Pittsboro, North Carolina.
Check out our big list of Easter egg hunts and Easter bunny visits around the Triangle!
Community members are welcome to come participate in an egg hunt, field games, springtime crafts, take a picture with the Easter Bunny, glitter tattoos, and other festivities.
Parks and Recreation will also be joined by other departments and organizations to celebrate the season! Be sure to bring your Easter Basket to collect your eggs and other goodies!
This is a free event.
More upcoming Easter events in the Triangle
Check out our big calendar of Easter egg hunts and bunny visits, or look at a few of them here:
Saturday, March 18, 2023
Saturday, March 25, 2023
Sunday, March 26, 2023
Tuesday, March 28, 2023
Thursday, March 30, 2023
Friday, March 31, 2023
Saturday, April 1, 2023
Sunday, April 2, 2023
Monday, April 3, 2023
Tuesday, April 4, 2023
Wednesday, April 5, 2023
Thursday, April 6, 2023
Friday, April 7, 2023
Saturday, April 8, 2023
Sunday, April 9, 2023
Monday, April 10, 2023
Tuesday, April 11, 2023
Wednesday, April 12, 2023
Thursday, April 13, 2023
Friday, April 14, 2023
Saturday, April 15, 2023
Sunday, April 16, 2023