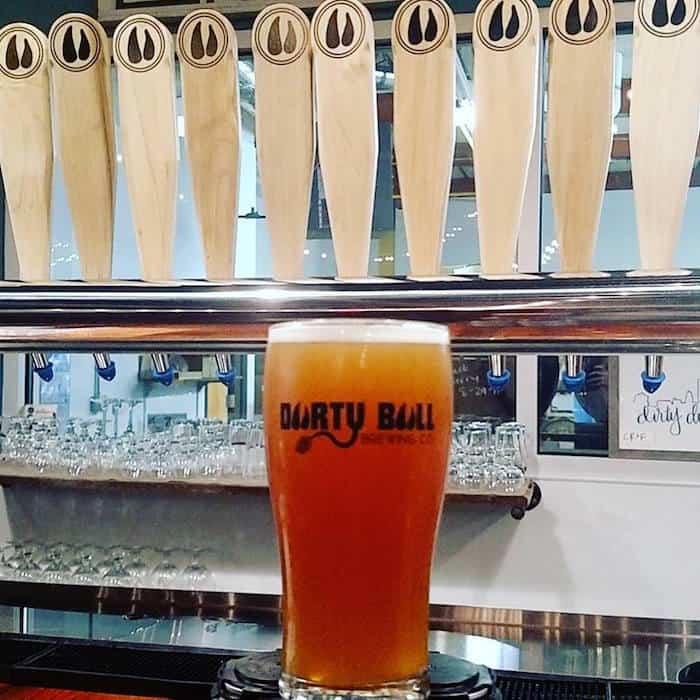 Durty Bull Brewing Company, at 206 Broadway Street, Durham, has several free and cheap events coming up:
Free Play Simpsons Pinball
Every Tuesday after 4 p.m.
Durty Bull Brewing Company Tours
Every 1st and 3rd Friday
7 p.m.
$40, but greatly discounted on Groupon 
Includes a behind the scenes tour, four 4 oz tasters, and one full pour. Get your tickets on Groupon to save over 50%.
Durty Bull City Beer Runners Tuesday Night Beer Run
Tuesdays at 7:15 p.m.
Free
5k through Old North Durham/Duke Park and along the Ellerbe Creek Trail, followed by beers at Durty Bull.
Rules of the run:
No Beer Runner left behind! We run at the pace of friendship
Be safe! (BYO safety gear)
Have fun!
Drink responsibly!
Open Mic Stand-Up Comedy
Every Friday until December 27th, 2019
8 p.m.
Free
Come out to the brewery from 8-9:30 pm each week to enjoy a free show put on by Rob Schneider and some of our area's own rising comedian talent.
February Comedy Showcase
Thursday, February 21st, 2019
8 p.m. to 9:30 p.m.
$5
This month, Rob Schneider Comedy – Not That One is bringing to the stage Angel Perez, Reid Clark Comedy, Dink Kearney, and Lauren Ansley. Queso Monster will be on-site with mouthwatering quesadillas and tacos. $5 tickets in advance on Eventbrite or in cash at the door.
Live music: True North
Saturday, February 23rd, 2019
4 p.m.
Free
NC Pride Songwriter's Showcase
Saturday, February 23rd, 2019
4 p.m. to 10 p.m.
Free
Featuring the following original artists of the Triangle area:
Alloy Fox
Rhonda Robichaux
Dylan Thompson
Ari Pappalardo
Alexander Robichaud
Beer, Beads, & Beignets
Sunday, March 3rd, 2019
3 p.m. to 6 p.m.
Free
Enjoy King Cake themed beignets, from Bourbon Street Beignets, alongside beer and jazz music from dixieland to now. Grab your beads from the bartender between 3 and 6 p.m.
90s Music Bingo
Wednesday, March 6th, 2019
7 p.m. to 9 p.m.
Free
Beer, Empanadas, Live Music
Saturday, March 30th, 2019
4 p.m. to 8 p.m.
Free
Music by Laura Thurston until 6 p.m. Morfa Empanadas for sale until 8 p.m.

Live music: Brown Mountain Lightning Bugs
March 2nd
April 20th
June 22nd
July 27th
4 p.m.
Free
When
Weekly on Tuesday @ 4:00 pm (January 1, 2019 - December 24, 2019)
What
Free play Simpsons pinball
Where
Durty Bull Brewing Company, Durham
When
Weekly on Tuesday @ 7:15 pm (January 1, 2019 - September 17, 2019)
What
Durty Bull City Beer Runners Tuesday Night Beer Run
Where
Durty Bull Brewing Company, Durham
When
February 23, 2019 @ 4:00 pm-10:00 pm
What
NC Pride Songwriter's Showcase
Where
Durty Bull Brewing Company, Durham
When
February 23, 2019 @ 4:00 pm
What
Live music: True North
Where
Durty Bull Brewing Company, Durham
When
March 2, 2019 @ 4:00 pm
What
Live music: Brown Mountain Lightning Bugs
Where
Durty Bull Brewing Company, Durham
When
March 3, 2019 @ 3:00 pm-6:00 pm
What
Beer, Beads, & Beignets
Where
Durty Bull Brewing Company, Durham
When
March 6, 2019 @ 7:00 pm-9:00 pm
Where
Durty Bull Brewing Company, Durham
When
March 30, 2019 @ 4:00 pm-8:00 pm
What
Live music by Laura Thurston (and empanadas for sale)
Where
Durty Bull Brewing Company, Durham
When
April 20, 2019 @ 4:00 pm
What
Live music: Brown Mountain Lightning Bugs
Where
Durty Bull Brewing Company, Durham
When
June 22, 2019 @ 4:00 pm
What
Live music: Brown Mountain Lightning Bugs
Where
Durty Bull Brewing Company, Durham
When
July 27, 2019 @ 4:00 pm
What
Live music: Brown Mountain Lightning Bugs
Where
Durty Bull Brewing Company, Durham