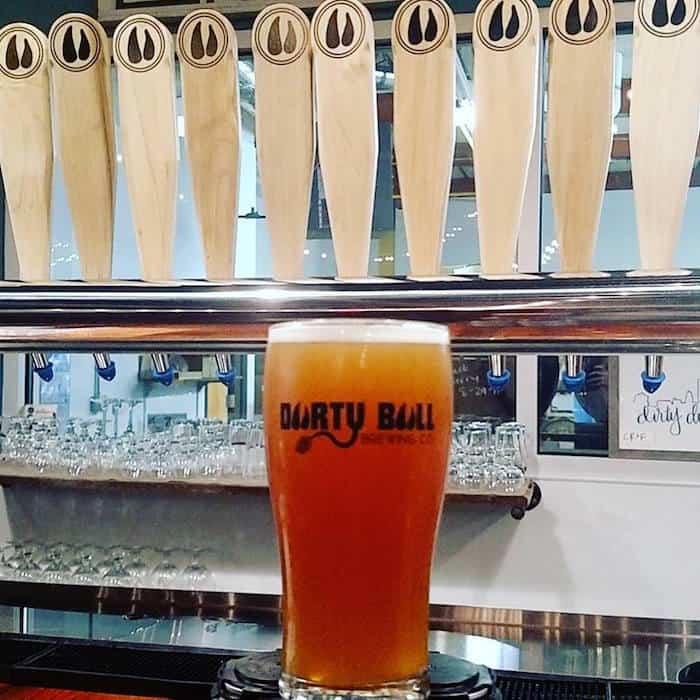 Durty Bull Brewing Company, at 206 Broadway Street, Durham, has several free and cheap events coming up:

Open Mic Stand-Up Comedy
Every Friday through December 28th, 2018 (at least)
8 p.m. to 9:30 p.m.
Free
Get a first look at some of our area's own rising comedic talent. It's Durty Bull's open mic stand-up night, so have a pint and share some laughs with fellow craft beer and comedy lovers. Arrive early to get a good seat and to grab some food from the food truck before the show.
Free Pinball
Every Tuesday after 4 p.m.
Durty Bull Brewing Company Tours
Every 1st and 3rd Friday
7 p.m.
$40, but usually discounted on Groupon
Includes a behind the scenes tour, four 4 oz tasters, and one full pour. Get your tickets on Groupon to save over 50%.
Live Music: Pete Pawsey
Saturday, December 15th
4 p.m. to 6 p.m.
Free
Shop Durham Holiday Market
Saturday, December 15th, 2018
1 p.m. to 4 p.m.
Free
NC Pride Songwriters Showcase
Saturday, December 22nd, 2018
5 p.m. to 8 p.m.
Free
For the last NC Pride Songwriters Showcase of the year (but first at Durty Bull) enjoy the all original sounds from the following:
1. Bobby Keene- slick, indy pop rock
2. Chris Bullock- acoustic folk
3. Bryan Hickman- experimental atmospheric bass player
4. Ari Pappalardo- pop rock, eclectic
Check out the show while you try Beer and Nut Butter Pairing Flights from Durty Bull and Big Spoon Roasters, or grab a plate from Umami On Wheels.
Live music: Kevin Drive
Saturday, December 29th, 2018
4 p.m. to 6 p.m.
Free
Live music: Jon Beyle
Saturday, January 5th, 2018
4 p.m. to 6 p.m.
Free
When
Weekly on Friday @ 8:00 pm-9:30 pm (May 11, 2018 - December 28, 2018)
Where
Durty Bull Brewing Company
When
December 22, 2018 @ 5:00 pm-8:00 pm
Where
Durty Bull Brewing Company
When
December 29, 2018 @ 4:00 pm-6:00 pm
Where
Durty Bull Brewing Company
When
January 5, 2019 @ 4:00 pm-6:00 pm
Where
Durty Bull Brewing Company