Durham's Holiday Parade will take place on Saturday, December 9, 2023, at 10 a.m.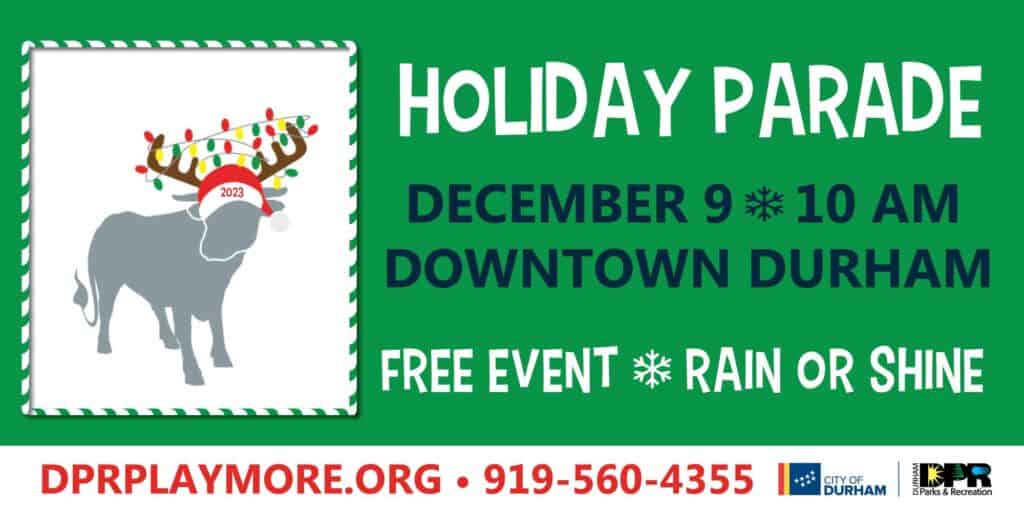 We've put together a huge list of holiday events in the Triangle, including parades, festivals, markets, Santa visits, and more. Check out our growing day by day list of holiday events in the Triangle!
Durham Holiday Parade
The Durham Holiday Parade begins at 10 a.m.
The Holiday Parade will feature floats, mascots, hometown bands, drill teams, schools and community groups, and, of course, Santa.
We're keeping track of the parades! Check out our big list of Christmas and holiday parades in the Triangle!
The parade will travel down Main Street, and will conclude with a guest appearance from Santa.
Seating is not provided. You're encouraged to bring your own.
The Parade Marshal is Mayor Leonardo Williams.
Important Update: Due to issues with supply, Durham Parks and Recreation will not be providing floats for this year's holiday parade. We encourage participants to show their creativity by decorating and sitting in truck beds, pulling trailers, or any other creative alternative within the event guidelines. Rest assured, every float will undergo a comprehensive city inspection to ensure a safe and enjoyable parade for all!
More Holiday Events in the Triangle
Check out our big list of holiday events in the Triangle, or look at a few of them here:
Friday, December 8, 2023
Saturday, December 9, 2023
Sunday, December 10, 2023
Monday, December 11, 2023
Tuesday, December 12, 2023
Wednesday, December 13, 2023
Thursday, December 14, 2023
Friday, December 15, 2023
Saturday, December 16, 2023
Sunday, December 17, 2023
Monday, December 18, 2023
Tuesday, December 19, 2023
Wednesday, December 20, 2023
Thursday, December 21, 2023
Friday, December 22, 2023
Saturday, December 23, 2023
Sunday, December 24, 2023
Monday, December 25, 2023
Tuesday, December 26, 2023
Wednesday, December 27, 2023
Thursday, December 28, 2023
Friday, December 29, 2023
Saturday, December 30, 2023
Sunday, December 31, 2023
Monday, January 1, 2024
Tuesday, January 2, 2024
Wednesday, January 3, 2024
Thursday, January 4, 2024
Friday, January 5, 2024
Saturday, January 6, 2024
Reader Interactions