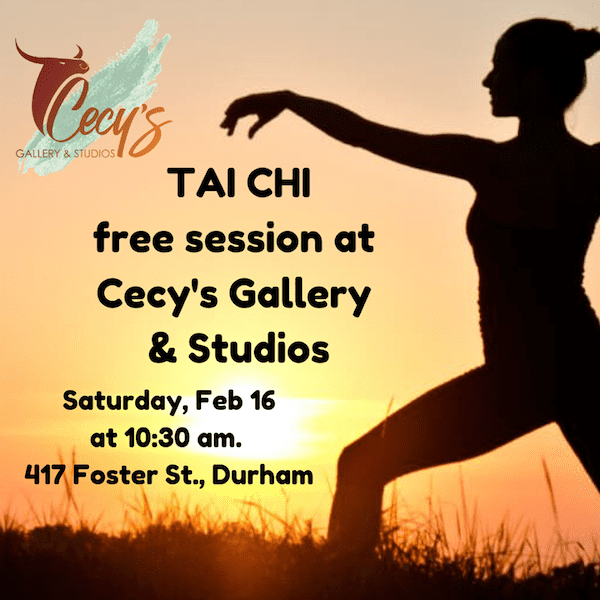 Try out a free Tai Chi Flow class with David Orovitz on Saturday, February 16th, 2019, at 10:30 a.m., at Cecy's Studio, 417 Foster Street, Durham.
Tai Chi is good for stress reduction, improved concentration, and physical and mental wellness.
This event takes place during the weekly Art and Food Truck Market that takes place outside of Vega Metals, 214 Hunt Street, Durham.

Durham Farmers' Market will also be taking place, from 10 a.m. to 12 p.m., at Durham Central Park, 501 Foster Street.
Subscribe to Triangle on the Cheap
More free fitness opportunities
Monday, October 3, 2022
Wednesday, October 5, 2022
Thursday, October 6, 2022
Saturday, October 8, 2022
Sunday, October 9, 2022
Monday, October 10, 2022
Tuesday, October 11, 2022
Wednesday, October 12, 2022
Thursday, October 13, 2022
Saturday, October 15, 2022
Sunday, October 16, 2022
Monday, October 17, 2022
Wednesday, October 19, 2022
Thursday, October 20, 2022
Saturday, October 22, 2022
Sunday, October 23, 2022
Monday, October 24, 2022
Tuesday, October 25, 2022
Wednesday, October 26, 2022
Thursday, October 27, 2022
Saturday, October 29, 2022
Sunday, October 30, 2022
Monday, October 31, 2022