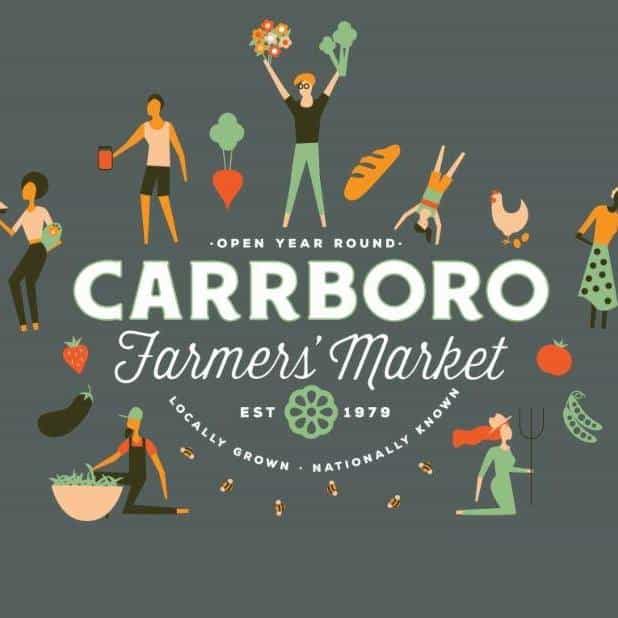 The Carrboro Farmers' Market is held on the Carrboro Town Commons, 301 W Main Street Saturdays year round, and Wednesdays April to November.
Looking for stuff for your kids to do? Check out Triangle on the Cheap's big list of upcoming free and cheap kid-friendly events in the Triangle!
All goods sold were produced within 50 miles of the Market, and the farmers and artisans themselves run the Market. In fact, the actual owner of each business or farm is present at Market each week.
You might also be interested in this list of Triangle Farmers' Markets and Places in the Triangle to pick your own produce.
They also hold some special events throughout the year. Make sure to check their calendar for other events, and for updates. Also, keep up to date by following the Carrboro Farmers' Market Facebook page.
Subscribe to the Carrboro Farmers' Market weekly newsletter to stay in the loop.
Market Bunch
Every Wednesday during the Main Season (April to October), kids of all ages are welcome to come by the gazebo, join the Market Bunch, and take part in a market-related activity. They also can receive market coupons for their participation.
Interested in helping to sustain the Carrboro Farmers' Market, and to support activities like the Market Bunch Kids' Club? Donate and become a Market Perennial! If you make a recurring contribution of any amount, or a one-time contribution of $100 or more you'll receive an exclusive Market Perennial tote bag.
More Kids' Events in the Triangle
Please check out our big list of free and cheap kids' events in the Triangle or look at a quick list here:
Saturday, November 26, 2022
Sunday, November 27, 2022
Monday, November 28, 2022
Tuesday, November 29, 2022
Wednesday, November 30, 2022
Thursday, December 1, 2022
Friday, December 2, 2022
Saturday, December 3, 2022
Sunday, December 4, 2022
Monday, December 5, 2022
Tuesday, December 6, 2022
Wednesday, December 7, 2022
Thursday, December 8, 2022
Friday, December 9, 2022
Saturday, December 10, 2022