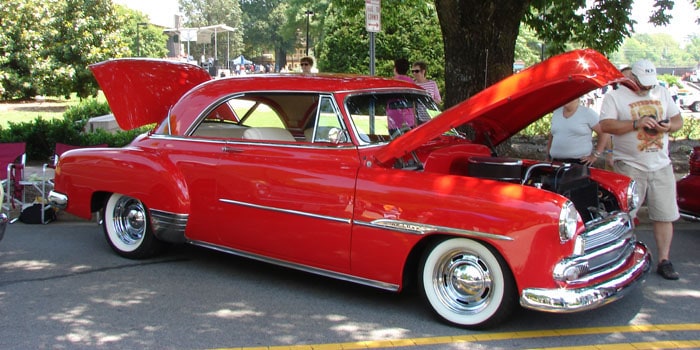 Visit Downtown Park, 319 S. Academy Street, Cary, for Wheels on Academy, Saturday, May 19th, 2018, from 9 a.m. to 2 p.m.
This fun event features cars and trucks of all kinds. It's free to attend.
Just a note: South Academy Street will be closed from 5:30 a.m. until approximately 3:30 p.m. for the event. Dry Avenue will be closed from Walnut Street to Faculty Street to accommodate the Public Safety Day activities. Chatham Street, Harrison Avenue, and Walker Street will remain open during the event.
Another note: Touch-a-Truck will have a "no horn hour" from 10 a.m. to 11 a.m. to make it more comfortable for guests with sensitive hearing, so that would be a good time to come if loud noises are uncomfortable for a member of your family.
Here's some of what's going on and what you'll see:
Cars of yesteryear
Modern hot rods
Exotic cars
Public Safety Day, with police and fire vehicles
Touch-a-Truck, with GoCary bus, garbage truck and more
Hagerty youth judging program, where kids get to judge pre-selected cars
Take-apart Mode T demonstration
Children's crafts
Play-Well TEKnologies gravity car challenge using LEGOs
Live music from the Magic Pipers
Live music from Whiskey Runners
Concessions
Police vs. Fire fitness challenge
Day-of registration for the car show is available, in case you've got a vehicle you'd like to show off. The cars will be on view along South Academy Street and trophies will be awarded for the "Top 50" and "Mayor's Award." Touch-A-Truck will take place at the south end of South Academy Street and the new Downtown Park.
More upcoming events for kids
Tuesday, January 22, 2019
Thursday, January 24, 2019
Friday, January 25, 2019
Saturday, January 26, 2019
Sunday, January 27, 2019
Tuesday, January 29, 2019
Thursday, January 31, 2019
Friday, February 1, 2019
Saturday, February 2, 2019
Sunday, February 3, 2019
Tuesday, February 5, 2019
Thursday, February 7, 2019
Friday, February 8, 2019
Saturday, February 9, 2019