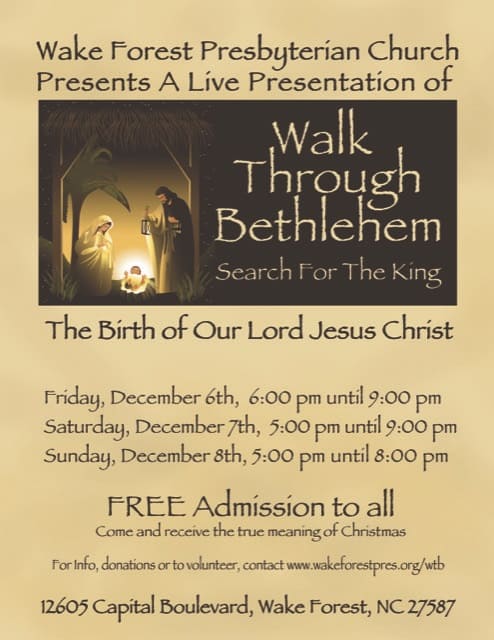 Wake Forest Presbyterian Church, at 12605 Capital Boulevard, Wake Forest, is presenting Walk Through Bethlehem, a free event December 6th to 8th, 2019.
Friday, December 6th: 6 p.m. to 9 p.m.
Saturday, December 7th: 5 p.m. to 9 p.m.
Sunday, December 8th: 5 p.m. to 8 p.m.
This is the 19th year that the church is presenting this outdoor, living nativity program.
It involves a cast and crew of more than 150 people, with authentic costumes and settings.
Monetary and non-perishable donations are being accepted to support Tri-Area Ministries and Back Pack Buddies.
Here are some frequently asked questions, and their answers, from the church's website:
Q: How early can I arrive to get in line before the posted start time of Walk Through Bethlehem begins?
A: People probably start lining up about 45-60 minutes before the posted start time. Guests are placed in groups to go through the Walk in the order in which they arrive, with the first group starting the experience at the advertised start time. Groups are called at 6-7 minute intervals. Due to the volume of guests we welcome each evening, we can only allow complete parties to enter the inside waiting area. When your party reaches the entry door to the Christian Life Center, we will confirm that everyone in your party is present; if not, we will ask your party to stand to the side until everyone has arrived.
Q: How long does it actually take to go through the program?
A: The actual walk through the outdoor program takes about 30 minutes. The wait time prior to your group being called will vary depending on the crowd size and what time you arrive. It averages from 45 minutes to an 1.5 hours. Although each night is different, the crowds tend to be lighter toward the end of the evening.
Q: How much of the program is outdoors?
A: Much of this answer depends on when you arrive and the number of people waiting before you. Average wait time in the outside line, during peak times, can exceed an hour. Upon entry inside, you will be in a seated line where the average wait time will be about 45 minutes. Once assigned, your group will be invited to our hospitality area for cookies, cider, and hot chocolate and activities for about 20 minutes. You will then be called to begin the Walk, which is outdoors. During the Walk, you will cross sidewalks, gravel, and uneven grassy terrain for about 30 minutes.
Q: Is there a cost?
A: No, but we encourage you to bring can goods for Tri-Area Ministries and we do accept cash donations. A portion of all financial gifts is donated to Tri-Area Ministries, with the remaining funds going to replace and update costumes, lighting, sound, and sets. No funds donated are used to purchase the refreshments provided to our guests; these are gifts from our enthusiastic congregation.
Q: What do children do during the wait?
A: First, we love children, and we know Walk Through Bethlehem is a wonderful way to share Jesus' birth with them. When you first enter the inside wait area, we have some "fun pages" to enjoy as a family while you continue in line. Once you enter the Hospitality area, we have a Kids' Corner, where you and your children can enjoy simple art activities. Our guests enjoy complimentary refreshments. There is a selfie area where you can have a memorable photo taken of yoru family as part of a fun, bibilical scene as well as a lovely Christmas tree. Parents are responsible for their children at all times.
Q: What if there is bad weather? Will there be a rain date?
A: We hold the program unless there is a definite forecast for heavy rain, snow or ice; watch the weather forecast, plan ahead, and please dress accordingly. If cancelled due to rain, snow or ice, we do not unfortunately have a make-up date on another weekend. Hopefully we will have some good weather, and you can attend one of the three nights. Cancellations will be posted on the church website and Facebook page.
​Q: Are strollers, wheelchairs or motorized scooters allowed?
A: Yes, and there is an elevator for those who need it in the Christian Life Center, as it's necessary to move from one floor to another. Please know that in addition to waiting and advancing through the line, you will need to travel outdoors across sidewalks, gravel, and grassy terrain for about 30 minutes, so the setting may not be suitable for all people with mobility issues.
Q: Are there accessible bathrooms available?
A: Yes, in the Christian Life Center. There are no restrooms available once you start the Walk, so we ask that you utilize them before your group is called.
Q: Are cameras allowed?
A: Yes, in fact we have a fun "selfie booth" where you can take photos of you and your family/friends. We ask that you please refrain from flash photography during the Walk.
Subscribe to Triangle on the Cheap
<>h2>More Christmas events
Saturday, November 26, 2022
Sunday, November 27, 2022
Monday, November 28, 2022
Tuesday, November 29, 2022
Wednesday, November 30, 2022
Thursday, December 1, 2022
Friday, December 2, 2022
Saturday, December 3, 2022
Sunday, December 4, 2022
Monday, December 5, 2022
Tuesday, December 6, 2022
Wednesday, December 7, 2022
Thursday, December 8, 2022
Friday, December 9, 2022
Saturday, December 10, 2022
Sunday, December 11, 2022
Monday, December 12, 2022
Tuesday, December 13, 2022
Wednesday, December 14, 2022
Thursday, December 15, 2022
Friday, December 16, 2022
Saturday, December 17, 2022
Sunday, December 18, 2022
Monday, December 19, 2022
Tuesday, December 20, 2022
Wednesday, December 21, 2022
Thursday, December 22, 2022
Friday, December 23, 2022
Saturday, December 24, 2022
Sunday, December 25, 2022