Treasures of the Earth is a gem, mineral and jewelry show that is coming to the Kerr Scott Building at the NC State Fairgrounds, 1025 Blue Ridge Blvd, Raleigh, three weekends in 2023.
It's inexpensive to attend — just $8 for adults and free for ages 16 and under. Your ticket is good for the whole weekend.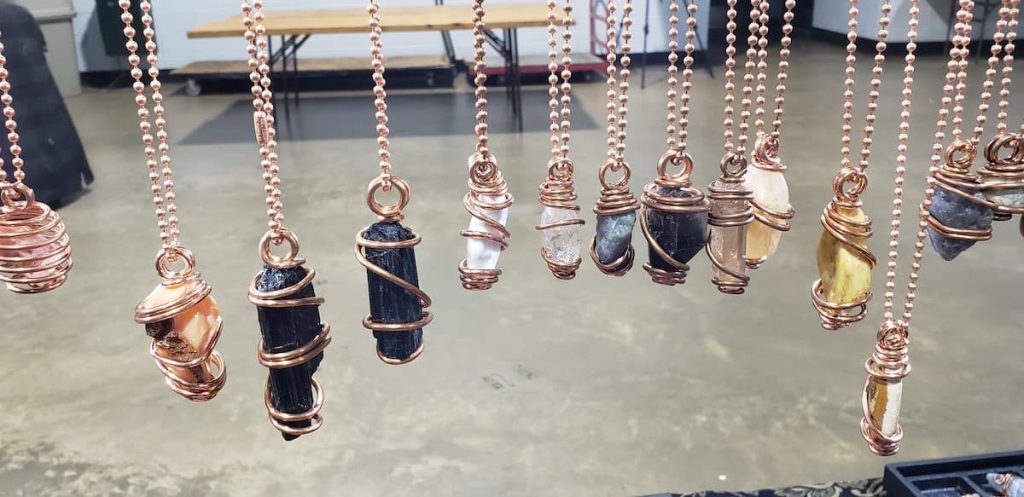 In addition, there's a coupon available for $1 off.
This show offers a vast array of precious and semi-precious gem stones, pearls, beads and beading supplies, fossils, minerals, crystals, gems, and finished jewelry in gold and silver, including 14K, 18K and platinum fine jewelry, hand-crafted, custom designs, fashion jewelry, and sterling silver.
Scroll down to see some pictures of the kind of gems and jewelry you might see at the show.
There will be wire wrappers will be present with custom-designed jewelry who can also make items just for you.
Treasures of the Earth will be NC State Fairgrounds the following weekends:
July 14 to 16, 2023
September 1 to 4, 2023
November 17 to 19, 2023
The times for the show:
Friday: Noon to 6 p.m.
Saturday: 10 a.m. to 5 p.m.
Sunday: 10 a.m. to 5 p.m.
Labor Day Monday: 10 a.m. to 4 p.m.
Subscribe to Triangle on the Cheap
When
November 17, 2023 @ 12:00 pm-6:00 pm
What
Treasures of the Earth Gem, Mineral and Jewelry Show
Where
Kerr-Scott Building, North Carolina State Fairgrounds
When
Daily @ 10:00 am-5:00 pm (November 18, 2023 - November 19, 2023)
What
Treasures of the Earth Gem, Mineral and Jewelry Show
Where
Kerr-Scott Building, North Carolina State Fairgrounds
Kerr-Scott Building, North Carolina State Fairgrounds
1025 Blue Ridge Road
Raleigh, NC