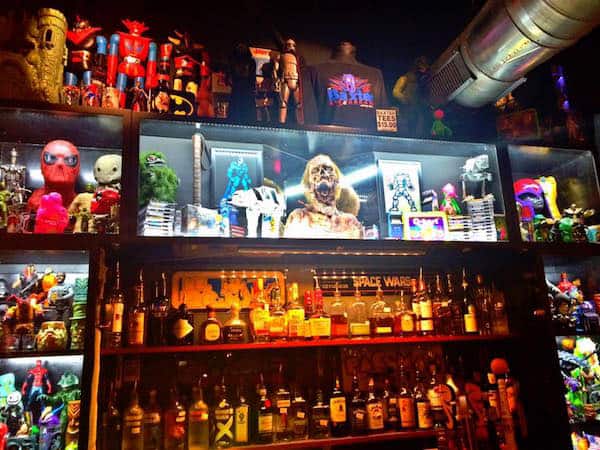 The Baxter, the arcade bar at 108 North Graham Street, Chapel Hill, features around video games and pinball machines, two lounge areas, a patio, and a wide selection of beer, as well as some non-alcoholic drinks. It's a 21+ venue except on Saturdays and Sundays from 12 p.m. to 5 p.m.
Here's some of what's coming up:
The Baxter Movie Night: Cabin in the Woods
Sunday, October 8
9 p.m.
Come out for a great modern horror movie with a fun twist! Written by Joss Wheadon ( Buffy The Vampire Slayer, Avengers) and starring Chris Hemsworth ( Thor ). A fun movie to keep you in the scary mood of October. With free IP3 pizza.
Halloween Movie w/ The Myers House NC and The Baxter
Thursday, October 19
8 p.m.
One of the greatest horror movies comes to The Baxter. John Carpenter's Halloween will be on the big screen with Kenny Caperton of The Myers House NC as your host for the evening.
Come out for a night to celebrate this classic as Kenny will do an intro and trivia about this movie a long with some extra surprises. We will also be serving free popcorn for the first time ever at The Baxter that night. Plus drink specials and some other tricks and treats.
So come to the Baxter for the night….he came home.
Movie starts at 9.pm
For more info on The Myers House NC visit myershousenc.com
The Baxter's 3rd Anniversary: Monster Ball

The Baxter's 3rd Anniversary: Monster Ball
Saturday, October 28th
9 p.m.
Our biggest night of the year!! The Baxter turns 3 years old this October and is throwing it's big annual Monster Ball party. Come as your favorite monster in your swaggest attire or just come out dressed up in a costume as we celebrate all things spooky and enjoy the three years we have had here.
We will go big this year with some more halloween decorations, champange, drink specials, and more. Plus we have DJ Petey Green-Monster spinning the hits on our very spooky dance floor.
The hearse, the skeletons, and the costumes will all be out this night celebrating another ghoulish year at The Baxter!