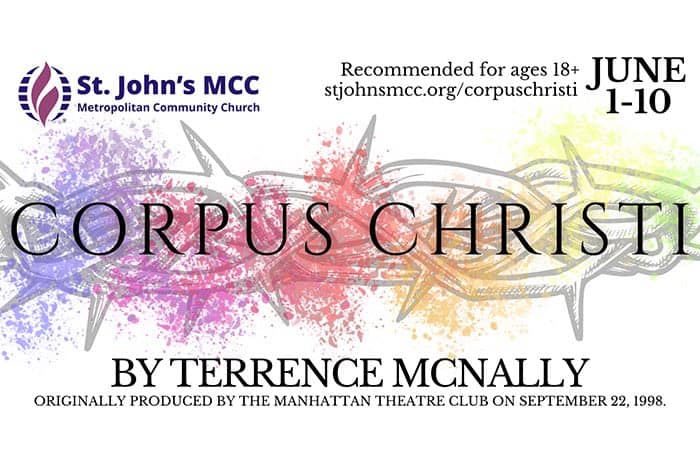 St. John's Metropolitan Community Church, at 4 N Blount Street, Raleigh, is presenting Corpus Christi by Terrence McNally from June 1 to 3, and 8 to 10, 2023. Tickets are "pay what you can." The suggested donation is $15.
The performances are from 7 to 9 p.m. each night. Reserve tickets here.
Content advisory: Because of its intense themes, representations of abuse, and use of profanity, this production is recommended for audiences aged 18 and above.
On-site counselors will be available to help guests that might need help processing the intellectual, physical, and emotional experience of Corpus Christi or who may need access to additional support services and resources.
This is a Triangle premiere and the first NC production in more than 20 years of Terrence McNally's queer passion play Corpus Christi, which reimagines the gospels through the lens of Jesus and the disciples as queer people living in Texas in the 20th century. "McNally uses the Christ story to tell a contemporary tale of the fight against cruelty, division, hatred, and, above all, hypocrisy." — BackStage.
Upcoming Events in the Triangle
Check out our
full events calendar
, where you can enter any date, or look at the events for the next few days here:
Friday, September 22, 2023
Saturday, September 23, 2023
Sunday, September 24, 2023