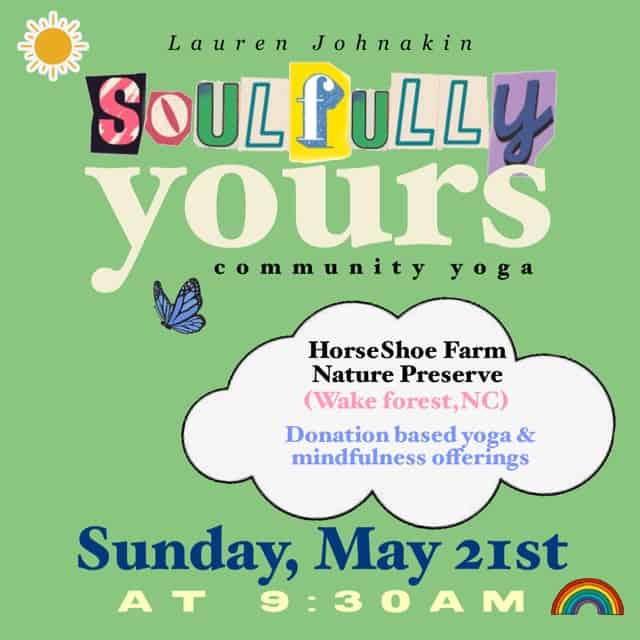 UPDATE: We've heard from readers that this class is not happening anymore, and we have no further info. Updated July 30, 2023.
SoulFULLY YOURS is presenting a free pop-up yoga class at Horseshoe Farm Nature Preserve, 2900 HorseShoe Farm Road, Wake Forest, NC. The classes take place every Sunday, starting on May 21, 2023, from 9:30 to 11 a.m. The classes are currently scheduled every Sunday, through September 17.
Did you know we keep a big list of free fitness opportunities in the Triangle? The list includes yoga, bootcamps, group hikes and more, and we update it every day!
Please bring a yoga mat or blanket and water.
The classes are free, but donations are accepted.
More Free Fitness Opportunities
Check out our big list of free fitness opportunities in the Triangle, or take a quick list here:
Sunday, September 24, 2023
Monday, September 25, 2023
Tuesday, September 26, 2023
Wednesday, September 27, 2023
Thursday, September 28, 2023
Saturday, September 30, 2023
Sunday, October 1, 2023
Tuesday, October 3, 2023
Wednesday, October 4, 2023
Sunday, October 8, 2023
Tuesday, October 10, 2023
Wednesday, October 11, 2023
Sunday, October 15, 2023
Tuesday, October 17, 2023
Wednesday, October 18, 2023
Thursday, October 19, 2023
Sunday, October 22, 2023