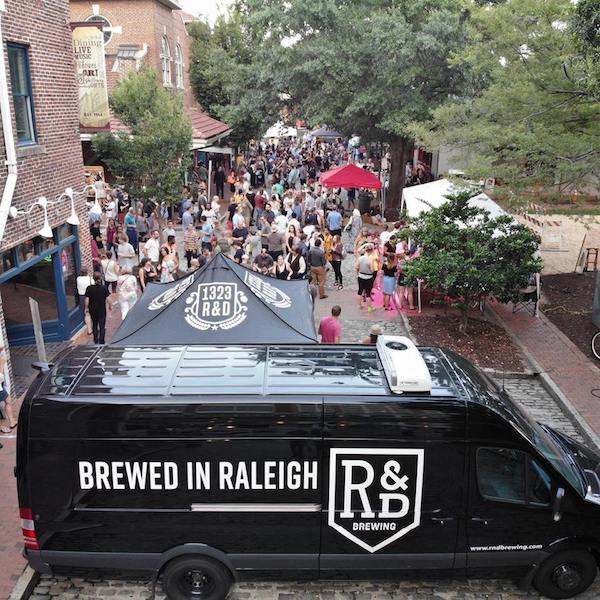 Raleigh Night Market takes place outside City Market Hall, 306 Parham Street. (215 Wolfe Street is also a good address to get you there.)
Read on to learn about a special event called "Beer is my Valentine," sponsored by Raleigh Night Market, which will take place at a different location, and then to see the spring dates for Raleigh Night Market.
Beer is My Valentine
Thursday, February 14th, 2019
6 p.m. to 9 p.m.
North Street Beer Station
521 W. North Street, Raleigh
This pop-up features art by Oak City Revival. Check out metal art, reclaimed wood, t-shirts and more. There will be a raffle too.
Spring dates of Raleigh Night Market, at City Market Hall, all from 5:30 p.m. to 10:30 p.m.:
March 14, 2019
April 25, 2019
May 23, 2019
At Raleigh Night Market you'll find local artists and artisans, performances, including Raleigh Uke Jam (bring your uke if you play!), lots of food and drink vendors and more. If you're a performer who'd like to perform at one of the markets, message Raleigh Night Market on Facebook!
Raleigh Night Markets are family-friendly events and free to attend.
Raleigh Night Market — March 14th
Thursday, March 14th, 2019
5:30 p.m. to 10:30 p.m.
Free
60 Triangle area artisans, food vendors, beer, wine, cocktails. Family-friendly activities and local entertainment by the Raleigh Uke Jam.
Bordeaux Lane Studio
Kandy Apples by K
ZenJumps Chainmaille
SKP ink
Animal Magnetism
Hacklery
Oak City Soap Company
MJSWorks
Mallowdoos
Old North State Woodshop
Holy Oak Collections
Woodcrafty
The Thrifty Gifter
Theresa Pastoriza-Tan
Oak City Beauty & Bath
Nixie Bath and Body
Salt + Light Co.
Simply Southern Baubles
Wunderkids Co.
Earth-Kissed Beauty
MagDough
Heyday Soap
Azure Violins
Clewdoodle
Moonchicken
Brutalsquid
Light is Love Candles
Wicks for Wags
On Holiday Jewels
Heatherly
The Pepper Mill Shop
Mindful Eating
Preeti Waas
Debbie Siegel
KiKi Fox
Anousone Kettisack
Jamie Sunyak
Annabelle Comisar Lyles
Jennifer Powell
Meredith Manning
Jeremy Tuttle
Cecelia Murray
Be Like Missy
Pierce Paints
Feather and Stone
Magic Pop
Simply Adorned 79
JP's Pastry
The Vintage Bee
Full Lotus Pottery
Bumble & Hound
Modique Couture
Xena Electra Ceramics
Chase&Chauncey
Capital Craft
Hot Shot Palletworks
Mama's Salsa
MilePost13
Awl & Leaf

More upcoming markets in the Triangle
Saturday, February 23, 2019
Saturday, March 2, 2019
Saturday, March 9, 2019
Sunday, March 10, 2019
Thursday, March 14, 2019
Saturday, March 16, 2019
Saturday, March 23, 2019
Saturday, March 30, 2019
Saturday, April 6, 2019
Saturday, April 13, 2019
Sunday, April 14, 2019
Saturday, April 20, 2019
Thursday, April 25, 2019
Saturday, April 27, 2019
Saturday, May 4, 2019
Saturday, May 11, 2019
Sunday, May 12, 2019