Ponysaurus Brewing, at 219 Hood Street in Durham, describes itself as a "forward-thinking, backward-tasting brewery and taproom based in Durham, NC, creating beers that are meant to be savored, appreciated, contemplated, philosophized, studied, nuzzled, and mindfully guzzled."
It has a taproom and beer garden where you can enjoy the brews and buy lunch or dinner from food trucks.
Ponysaurus hosts frequent events. You can see them all on its Facebook page.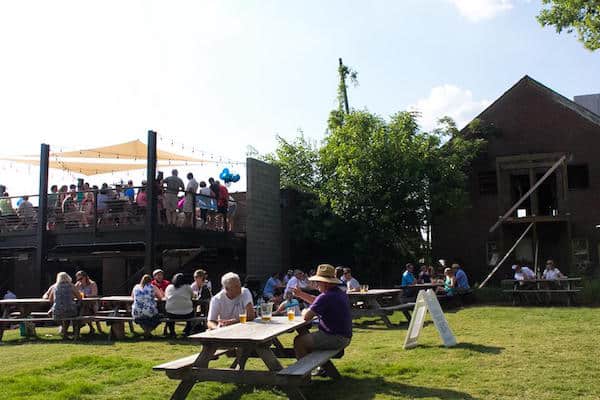 Ponysaurus Game Night
1st and 3rd Tuesdays
8 p.m. to 11 p.m.
It's Game Night at Ponysaurus Brewing Co.!
Dig up that beat-up old box of Monopoly, grab a deck of cards, pack up your Settlers of Catan and come to the taproom! Video games are also available on the BIG SCREEN! Enjoy Ponysaurus's resident Game-Master's ("Tall" Kyle) collection of solo and two-player games, including Struck: A Game of Strategy and Luck created by Kyle himself (it's pretty rad).
So roll the dice, advance your token to the nearest friendly watering hole, and collect a pint of cold, delicious, Ponysaurus beer!
Recurring 1st & 3rd Tuesdays
Summer Movie Series
Every other Sunday through September 16
8 p.m.
Free
Join them on the patio for beer and $1 snacks every other Sunday this summer.
May 13: The Princess Bride
May 27: Fantastic Mr. Fox
June 10: Back to the Future
June 24: Point Break
July 8: The Wedding Singer
July 22: Die Hard 2
August 5: Swingers
August 19: Super Troopers
September 2: Superman
September 16: Time Bandits
May Bull City Food Swap
Tuesday, May 29th
7 p.m. to 8:15 p.m.
Free
Come swap homegrown, homemade, or forged edible delights with like-minded food lovers from the NC triangle region. Donations are welcome. 
Summer Pop-Up Shop
Sunday, June 10th
12 p.m. to 8 p.m.
Free
Join DurhamFashion for a summer vintage-inspired pop up shop featuring unique, hand-picked treasures for your wardrobe and home. They will be accepting cash and Venmo. 
When
Monthly on the 3rd Tuesday @ 8:00 pm-11:00 pm (starting January 16, 2018)
When
Monthly on the 1st Tuesday @ 8:00 pm-11:00 pm (starting February 6, 2018)
When
Every 2 weeks on Sunday @ 8:00 pm (May 27, 2018 - September 16, 2018)