Ponysaurus Brewing, at 219 Hood Street in Durham, describes itself as a "forward-thinking, backward-tasting brewery and taproom based in Durham, NC, creating beers that are meant to be savored, appreciated, contemplated, philosophized, studied, nuzzled, and mindfully guzzled."
It has a taproom and beer garden where you can enjoy the brews and buy lunch or dinner from food trucks.
They offer brewery tours Saturdays at 1 p.m. It is $10/person and includes a beer tasting and 10% off merchandise the day of the tour.
Ponysaurus hosts frequent events. You can see them all on its Facebook page.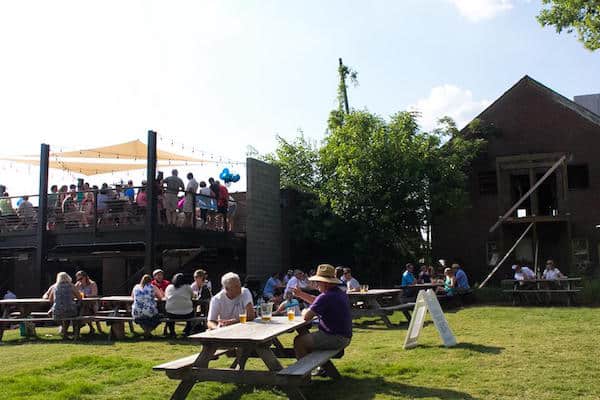 Ponysaurus Game Night
1st and 3rd Tuesdays
8 p.m. to 11 p.m.
It's Game Night at Ponysaurus Brewing Co.!
Dig up that beat-up old box of Monopoly, grab a deck of cards, pack up your Settlers of Catan and come to the taproom! Video games are also available on the BIG SCREEN! Enjoy Ponysaurus's resident Game-Master's ("Tall" Kyle) collection of solo and two-player games, including Struck: A Game of Strategy and Luck created by Kyle himself (it's pretty rad).
So roll the dice, advance your token to the nearest friendly watering hole, and collect a pint of cold, delicious, Ponysaurus beer!
Recurring 1st & 3rd Tuesdays
Holiday Triple Feature
Sunday, December 23rd, 2018
6 p.m.
Free
6 p.m.: Home Alone
8 p.m.: Christmas Vacation
10 p.m.: Die Hard
Plus, hot mulled wine, s'mores, Qspresso Food Truck, $1 snacks, and beer.
       You might also be interested in:
More upcoming events at breweries
When
Monthly on the 3rd Tuesday @ 8:00 pm-11:00 pm (starting January 16, 2018)
When
Monthly on the 1st Tuesday @ 8:00 pm-11:00 pm (starting February 6, 2018)
When
December 23, 2018 @ 6:00 pm-6:00 pm