Ponysaurus Brewing, at 219 Hood Street in Durham, describes itself as a "forward-thinking, backward-tasting brewery and taproom based in Durham, NC, creating beers that are meant to be savored, appreciated, contemplated, philosophized, studied, nuzzled, and mindfully guzzled."
It has a taproom and beer garden where you can enjoy the brews and buy lunch or dinner from food trucks.
Ponysaurus hosts frequent events. You can see them all on its Facebook page.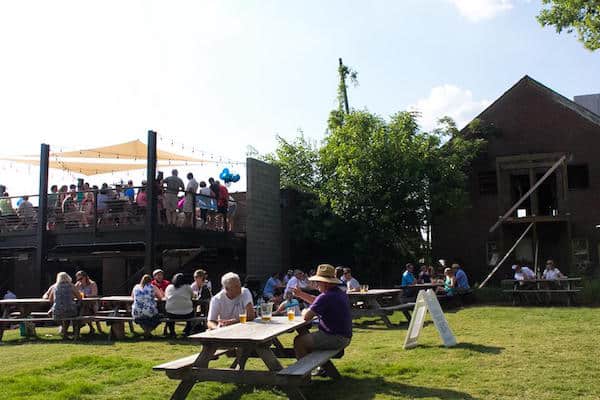 Full Frame Preview Party
Wednesday, March 28th, 2018
5 p.m. to 7 p.m.
Free
Join us for our Full Frame Documentary Film Festival Preview Party at Ponysaurus Brewing in Durham, NC on March 28, 2018 at 5pm. Get the insider's guide to #FullFrame 2018, which takes place in historic downtown Durham, NC, April 5-8, 2018. Plus, we are having raffles and other special announcements.
Ponysaurus Game Night
1st and 3rd Tuesdays
8 p.m. to 11 p.m.
It's Game Night at Ponysaurus Brewing Co.!
Dig up that beat-up old box of Monopoly, grab a deck of cards, pack up your Settlers of Catan and come to the taproom! Video games are also available on the BIG SCREEN! Enjoy Ponysaurus's resident Game-Master's ("Tall" Kyle) collection of solo and two-player games, including Struck: A Game of Strategy and Luck created by Kyle himself (it's pretty rad).
So roll the dice, advance your token to the nearest friendly watering hole, and collect a pint of cold, delicious, Ponysaurus beer!
Recurring 1st & 3rd Tuesdays
When
Monthly on the 3rd Tuesday @ 8:00 pm-11:00 pm (starting January 16, 2018)
When
Monthly on the 1st Tuesday @ 8:00 pm-11:00 pm (starting February 6, 2018)
When
March 28, 2018 @ 5:00 pm-7:00 pm