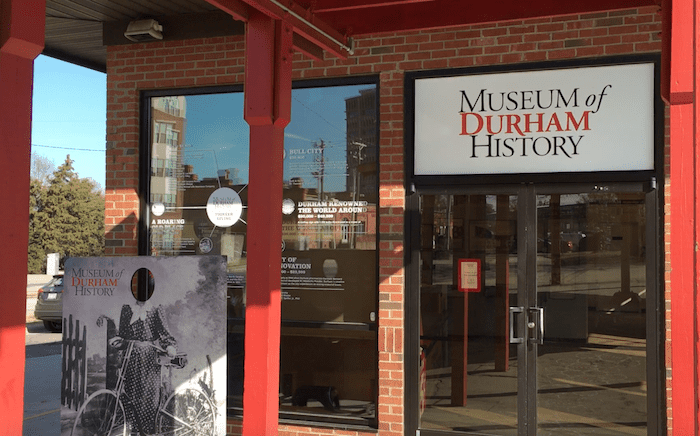 Museum of Durham History, at 500 W. Main Street between Downtown Durham and Brightleaf Square, is free to visit.
It's a young and growing museum, and you'll also find exhibits throughout the community.
It's open Tuesday to Saturday, 10 a.m. to 5 p.m., and Sunday, 1 p.m. to 5 p.m.
It recently celebrated its 5th birthday.
Upcoming event:
Public Lecture and Book Signing
Friday, February 15th, 2019
6 p.m. to 8 p.m.
Free
Celebrate Black History Month with programming for the "Louis Austin and the Carolina Times" exhibit. Dr. Jerry Gershenhorn, author of "Louis Austin and the Carolina Times: A Life in the Long Black Freedom Struggle," and Dr. Andre Vann, author of "African Americans in Durham County" will have a discussion about their books. Audience members will have a chance to ask questions, purchase books, and have the authors sign them.
Current Exhibits of Museum of Durham History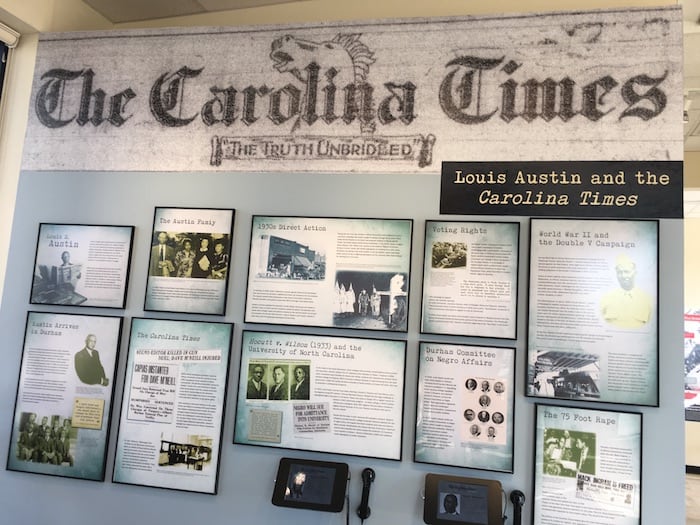 Louis Austin and the Carolina Times
Dates: December 14, 2018- March 31,2019
Louis Austin and the Carolina Times uses the life of Louis Austin as a lens through which to view the African American struggle for freedom in Durham, reveals the important role played by the press. The Reverend Dr. Martin Luther King Jr. recognized that fact in 1958, when he called the black press, "the conscience of our nation." While this exhibit is centered on the life of Louis Austin, it also narrates the story of other movement activists in Durham, including attorney Conrad Pearson, who fought for over three decades to integrate higher education and public schools in North Carolina. It also tells the story of Private Booker T. Spicely, who was shot and killed by a white bus driver for transgressing the color line on a Durham bus in 1944. The exhibit shines a light on sit-in for desegregation at an ice cream parlor, and the integration of Durham High School.
Durham Beginnings | 1865-1885
Dates: Ongoing
An exhibit featuring five dramatic but little-known personal stories evoking the spirit of Durham's formative years. Learn the "coming to Durham" stories of Eliza Bennet Duke, Richard Fitzgerald, Abner Jordan, John Green, and Margaret Faucette.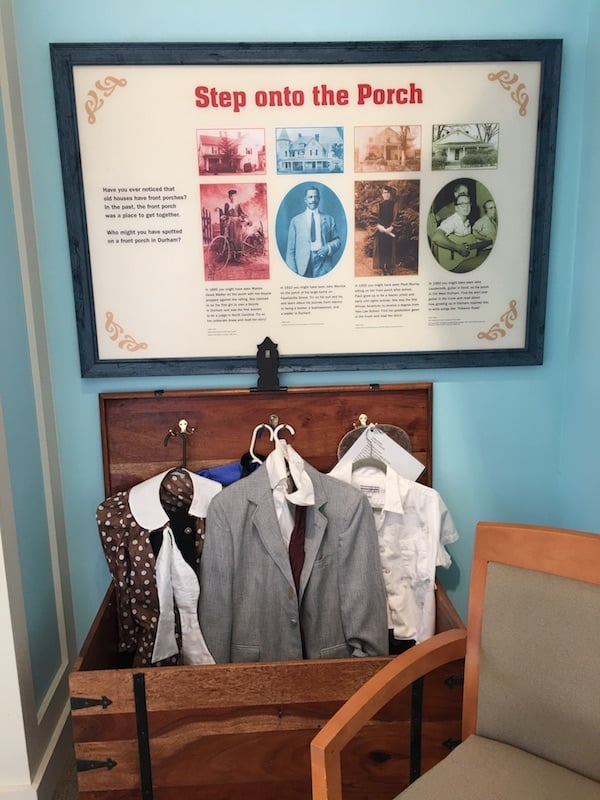 Kids Area: Step Onto the Porch
Dates: Ongoing
Kids are invited to "Step Onto the Porch" and learn about people from Durham's past. A trunk of dress-up clothes will allow them to dress like their Durham hero, a train set echoes Durham's railroad history, and coloring sheets show people and places from Durham's past.
Explore Durham Through Time
Dates: Ongoing
Visitors can use a touchscreen to explore key moments in Durham's past. A post-it note wall allows viewers to tell us what moments from Durham's past are most important to them. They may see their feedback incorporated later with a photo and caption.
Look Beyond the Windows
Dates: Ongoing
Take in the museum's almost-360-degree view of downtown and consider the changes over time. To begin, we'll focus on the Hill Building, Arts Council (formerly City Hall and Central High School), Liggett and Myers buildings, and NC Mutual tower.
Story Room
Dates: Ongoing
Visitors can step into the Story Room to record a personal memory about Durham's past. They can also explore memories others have shared or browse through old, local yearbooks. Stories recorded in the Story Room will be archived by the Durham County Library.