Lune Spark Center for Creativity, at 3651 Green Level W Road, Apex, NC, is offering FREE comedy improv workshops for both adults and youth. They'll take place at 3651 Green Level W Road, Suite 102, Apex, North Carolina.
You can be the funniest person in the Triangle Area — this is your opportunity to show it!
This event series takes place every Saturday from January 7th to March 11th, 2023.
6 to 7 p.m.: Age 10-17
7:30 to 8:30 p.m.: Adults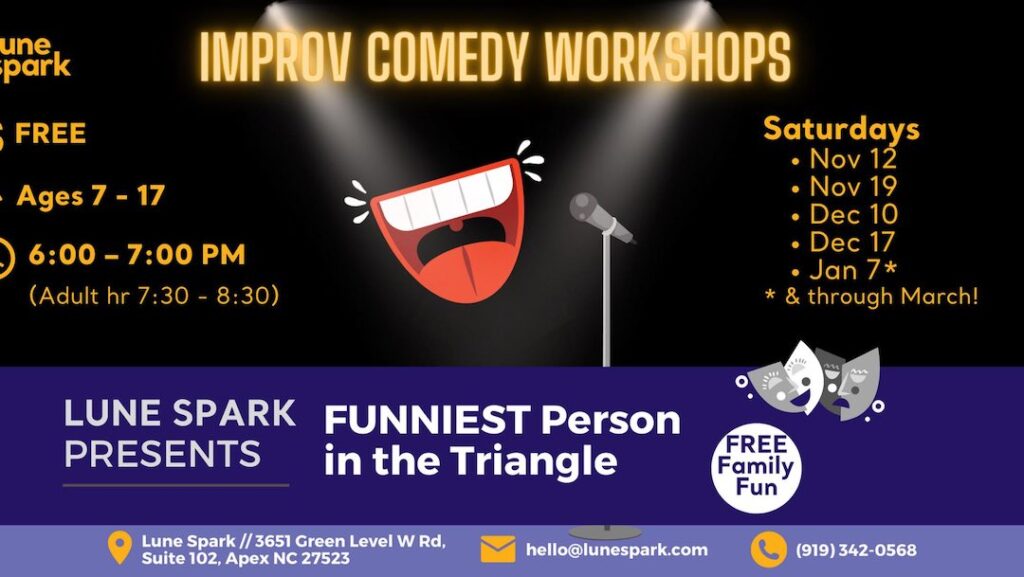 To register, go to Lunespark.com, and scroll down. You'll see info under "Events" for both the adult and youth workshops.
The Funniest Person in the Triangle will feature live Improvisational performances. The host will offer funny scenarios and games to an interactive audience which the participants will then perform. (It will be similar to Whose Line is It Anyways)
Looking for stuff for your kids to do? Check out Triangle on the Cheap's big list of upcoming free and cheap kid-friendly events in the Triangle!
More Kids' Events in the Triangle
Please check out our big list of free and cheap kids' events in the Triangle or look at a quick list here:
Sunday, February 5, 2023
Monday, February 6, 2023
Tuesday, February 7, 2023
Wednesday, February 8, 2023
Thursday, February 9, 2023
Friday, February 10, 2023
Saturday, February 11, 2023
Sunday, February 12, 2023
Tuesday, February 14, 2023
Wednesday, February 15, 2023
Thursday, February 16, 2023
Friday, February 17, 2023
Saturday, February 18, 2023