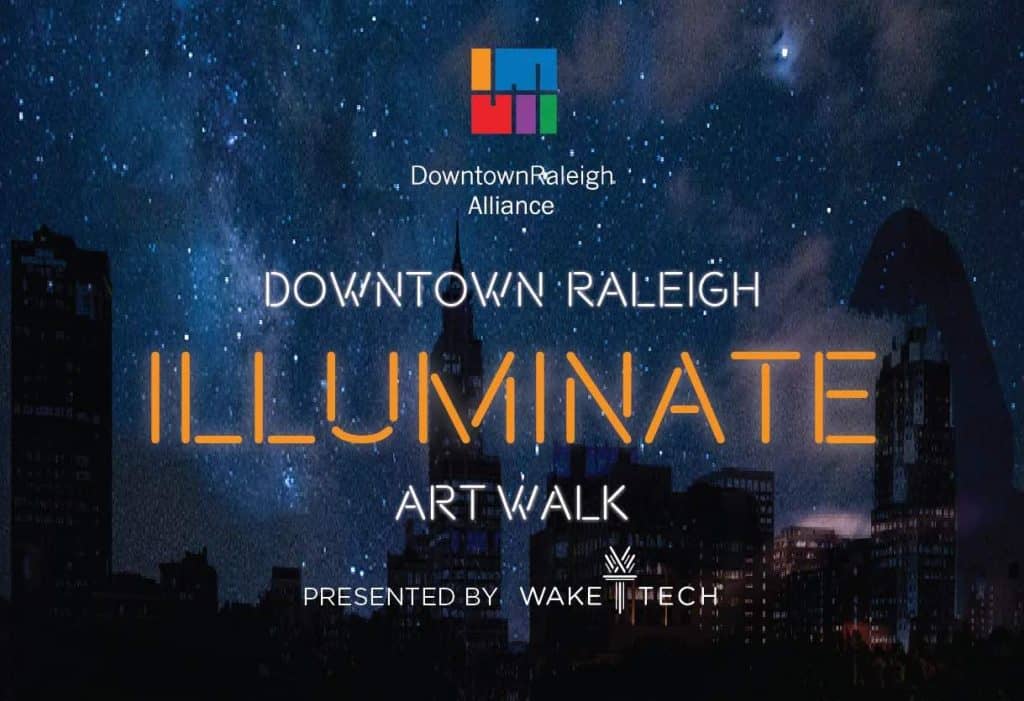 Downtown Raleigh Alliance's Illuminate Art Walk Presented by Wake Tech is in Downtown Raleigh from December 2nd, 2002, to January 14th, 2023.
Illuminate Art Walk includes more than 10 large-scale, interactive, light-based art pieces from local, regional and international artists. It creates a holiday light experience that will be available for free every night during the holiday season.
We are putting together a huge list of holiday events in the Triangle, including parades, festivals, markets, Santa visits, and more. Check out our growing day by day list of holiday events in the Triangle!
Most of the pieces will be in the Fayetteville Street district, with several along Glenwood South. Read on for a list of all the installations and their locations.
This is a free, self-guided walk.
A highlight of Illuminate Art Walk is Sonic Runway, a light-art installation that converts audio signals into patterns of light that shoot down a 342 to 432 foot corridor of 20 to 25 LED lined arches at the speed of sound.
Sonic Runway was created by Rob Jensen and Warren Trezevant, with Creos as the tour producer. It's been presented Burning Man several times, as well as in London, Quebec City, Toronto, Liverpool, Montreal, San Jose, Bahrain and more locations.
Illuminate Art Walk Installations
Find a full description and picture of each installation, as well as an interactive map, here.
Sonic Runway
S. Salisbury Street, across from Raleigh Convention Center
Rob Jensen and Warren Trezevant
300+ foot audio-reactive light-art installation that converts audio signals into patterns of light.
Shimmer Wall
516 S McDowell Street
Thomas Sayre
Raleigh's famous LED mural Shimmer Wall, upgraded with new, more advanced lights.
Glow Zone
555 Fayetteville Street
Brite Creations
SONARC
2 E South Street, Duke Energy Center
Brian Brush
Tinsel: A Walk Through Ornament
2 E South Street, Duke Energy Center
This 16-foot tall ornament has over 2,000 lights
Twinkle Twinkle
227 Fayetteville Street, Poyner YMCA
Brite Creations
Smile For Flowers
150 Fayetteville Street, Wells Fargo Plaza
Erik Beerblower
Snails
131 Fayetteville Street, Courtyard
Meredith Connelly
150 glowing snails, with a focus on their geometric spirals.
Ocracoke Bankers
9 Glenwood Avenue, AC Hotel window display
Tayler Drattlo
This glass neon installation is a triptych that represents the Banker Horses of Ocracoke Island.
Love
222 Glenwood Avenue, Demo's Pizza window display
Nate Sheaffer
Disco Alley
510 Glenwood Avenue
Nate Sheaffer
Double-Check Before You Head Out!
We make every effort to make sure that everything on Triangle on the Cheap is 100% accurate.
However, sometimes things change without notice, and it's also possible that we can make a mistake. 
Please verify all deals and events with the venue or organizer before you go.
       You might also be interested in:
More Holiday Events in the Triangle
Check out our big list of holiday events in the Triangle, or look at a few of them here:
Friday, February 10, 2023
Saturday, February 11, 2023
Saturday, February 18, 2023
Downtown Raleigh
Raleigh, NC