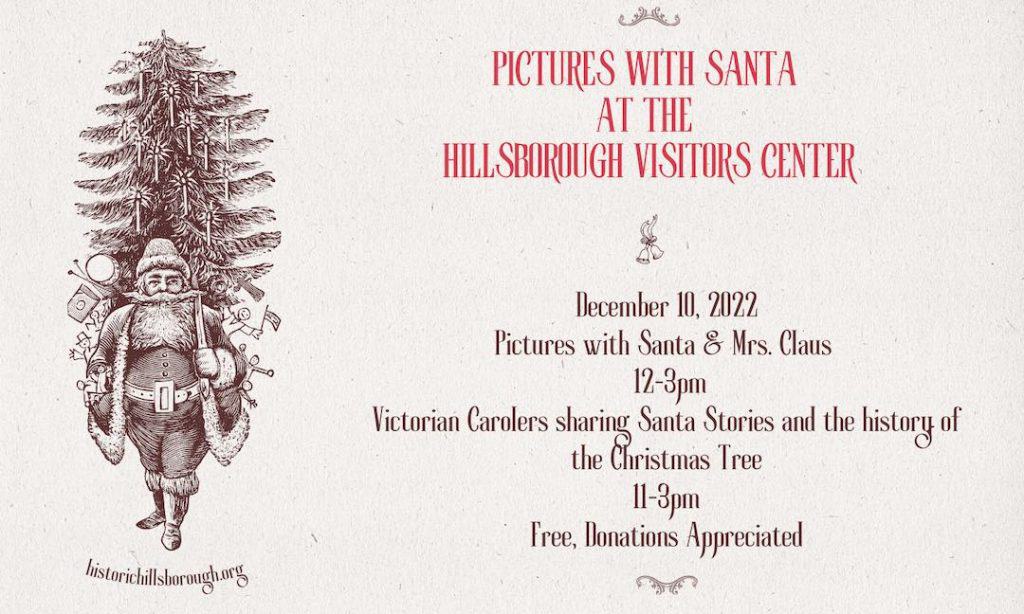 Santa and Mrs. Claus will be at the Hillsborough Visitors Center, 150 E King Street, Hillsborough, North Carolina, on Saturday, December 10th, 2022.
Check out our huge list of chances to get a FREE picture with Santa in the Triangle!
Join the Alliance for Historic Hillsborough from 11 a.m. to 3 p.m. There will be costumed interpreters singing Victorian Christmas Carols and sharing the history of Saint Nicholas and the Christmas Tree.
Then, starting at noon, Santa and Mrs. Claus will pose for pictures on the back porch. Guests are encouraged to take their own photographs and to leave letters for Santa in the North Pole mailbox.
The gift shop will be open as well, offering a variety of local goods and books.
This is a free event, but donations are appreciated.
More Free Santa Pictures
Check out our big list of free Santa pictures in the Triangle, or look at a quick list here:
Friday, December 9, 2022
Saturday, December 10, 2022
Sunday, December 11, 2022
Monday, December 12, 2022
Tuesday, December 13, 2022
Wednesday, December 14, 2022
Thursday, December 15, 2022
Friday, December 16, 2022
Saturday, December 17, 2022
Sunday, December 18, 2022
Monday, December 19, 2022
Tuesday, December 20, 2022
Wednesday, December 21, 2022
Thursday, December 22, 2022
Friday, December 23, 2022
Saturday, December 24, 2022