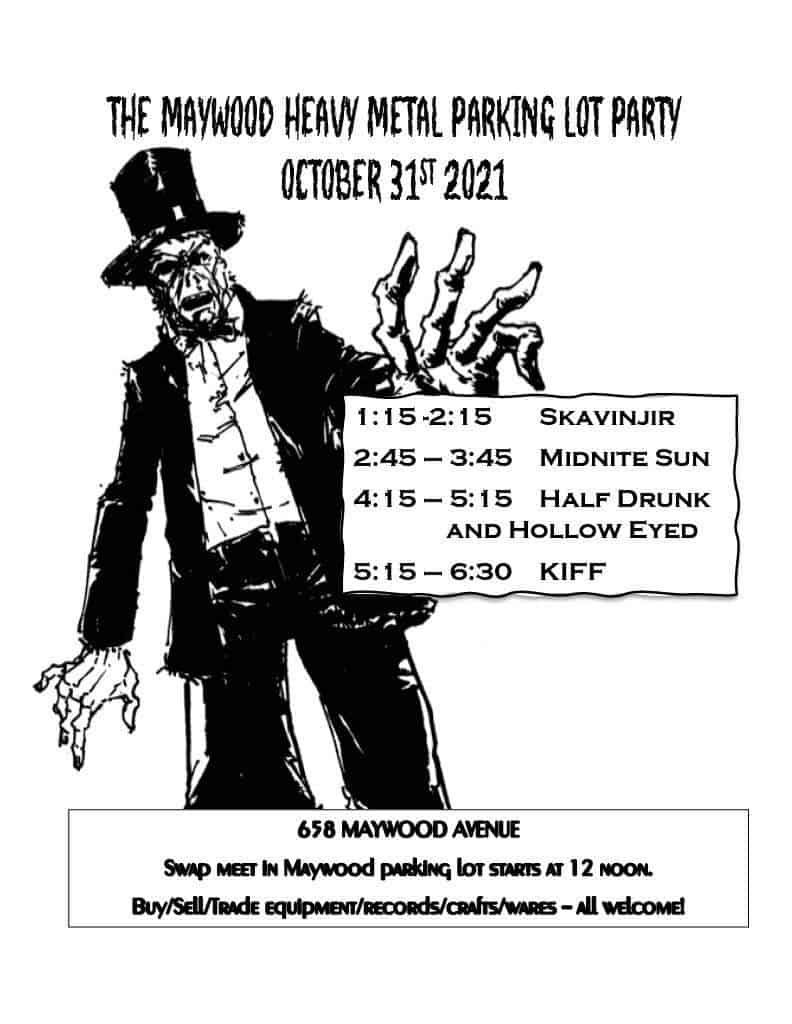 Celebrate the season at the Heavy Metal Halloween Festival in the parking lot of The Maywood, 658 Maywood Avenue, from 12 p.m. to 6:30 p.m., on October 31st, 2021.
The event starts with a swap meet. Buy/sell/trade musical equipment, records and other crafts/wares. Then stay for the bands.
Love outdoor music? Check out our huge day by day list of outdoor music around the Triangle! Most of the shows are free.
This is a FREE event.
The music starts at 1:15 p.m.
1:15 p.m.: Skavinjir!
2:45 p.m.: Midnite Sun
4:15 p.m.: Half Drunk & Hollow Eyed
5:45 p.m. KiFF
More Outdoor Music in the Triangle
Learn all about outdoor music in the Triangle, including a description of the concert series, and a 90-day calendar, or take a quick look at some of the upcoming outdoor concerts here:
Tuesday, May 30, 2023
Wednesday, May 31, 2023
Thursday, June 1, 2023
Friday, June 2, 2023
Saturday, June 3, 2023
Sunday, June 4, 2023
Wednesday, June 7, 2023
Thursday, June 8, 2023
Friday, June 9, 2023
Saturday, June 10, 2023
Sunday, June 11, 2023
Wednesday, June 14, 2023
Thursday, June 15, 2023
Friday, June 16, 2023
Saturday, June 17, 2023
Sunday, June 18, 2023
Monday, June 19, 2023
Tuesday, June 20, 2023
Wednesday, June 21, 2023
Thursday, June 22, 2023
Friday, June 23, 2023
Saturday, June 24, 2023
Sunday, June 25, 2023
Wednesday, June 28, 2023
Friday, June 30, 2023
Saturday, July 1, 2023
Sunday, July 2, 2023
Tuesday, July 4, 2023
Wednesday, July 5, 2023
Thursday, July 6, 2023
Friday, July 7, 2023
Saturday, July 8, 2023
Sunday, July 9, 2023
Wednesday, July 12, 2023
Friday, July 14, 2023
Saturday, July 15, 2023
Sunday, July 16, 2023
Wednesday, July 19, 2023
Friday, July 21, 2023
Saturday, July 22, 2023
Sunday, July 23, 2023
Wednesday, July 26, 2023
Friday, July 28, 2023