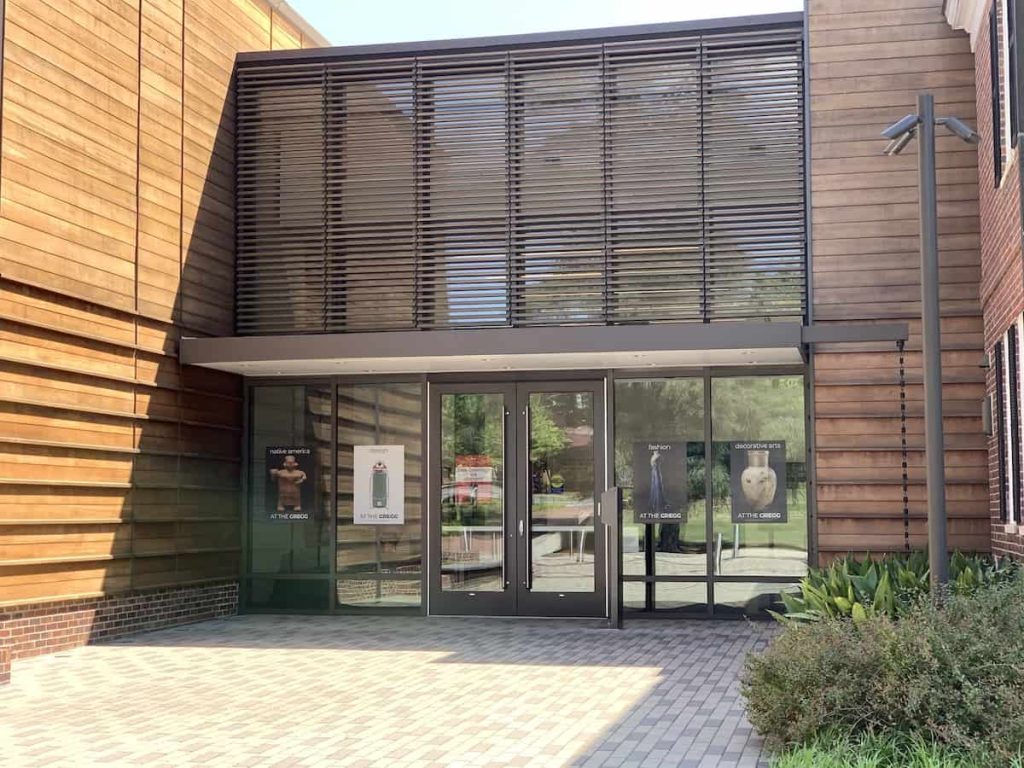 NC State's Gregg Museum of Art & Design, at 1903 Hillsborough Street in Raleigh, is open to the public and free to visit. Free parking is available adjacent to the building.
Currently open Tuesday through Saturday 10 a.m. to 5 p.m. Closed on Sundays and Mondays.
Read on to learn about Gregg Museum's upcoming events and its current exhibits.
Across the Threshold of India – Photographs by Martha Strawn (Through November 12, 2022) One of India's longest and least-known religious practices: the art of sanctifying space through the creation of threshold diagrams.
Eric Serritella – Sharing Spaces (Through December 3, 2022) Hand-carved ceramic trompe l'oeil sculptures that will challenge your perception of both the material and the message.
Egyptian Tent (through December 23rd, 2022) Roger Manley, director of NC State's Gregg Museum of Art & Design, has been known to describe a collecting museum as a "climate-controlled attic of curiosities." A fine example of the sort of treasures inside is now on display. The Gregg's Egyptian Tent exhibition features a rare and colorfully appliquéd Egyptian tour tent – one of only six of its kind known in the world – and a number of pharaonic and geometric appliquéd tent panels, known as khayamiya, made in Cairo in the early 20th century. All objects represented are part of the Gregg Museum's diverse and dynamic permanent collection of over 35,000 objects. Adding to its exotic provenance: the Egyptian tour tent was transferred to the Gregg Museum from the collection of North Carolina's storied Chinqua-Penn Plantation.
Upcoming Events
Interactive Rangoli Demonstration
Thursday, November 10, 3:30 – 5:30 pm
Join Seema Kukreja for a demonstration of Rangoli drawing, and the opportunity to design your own creation on the pavement and sidewalks in front of the Gregg Museum on Thursday, November 10 from 3:30-5:30pm. This program is in conjunction with the Gregg's current exhibition Across the Threshold of India, which closes on November 12. Please bring a blanket, yoga mat, or cushion so you can comfortably work seated at ground level as we decorate the walkways in front of the museum. Museum hours on Thursday, November 10 are 10am-5pm. The outdoor portion of the program will continue until 5:30, after the museum closes.