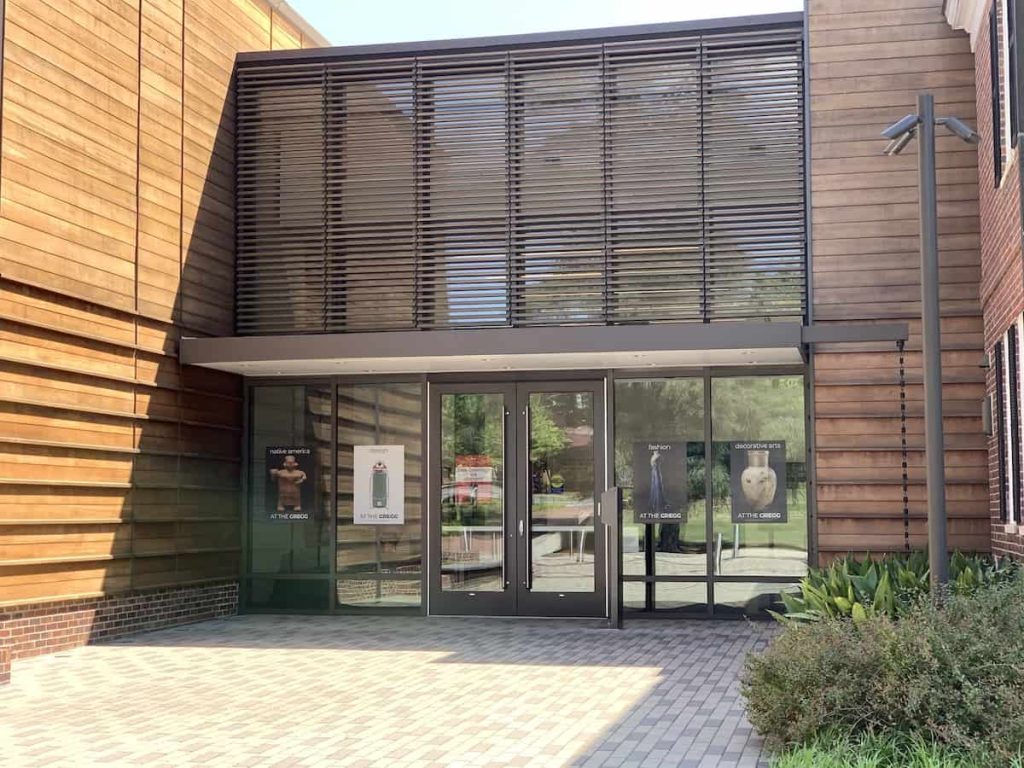 NC State's Gregg Museum of Art & Design, at 1903 Hillsborough Street in Raleigh, is open to the public and free to visit. Free parking is available adjacent to the building.
Currently open Tuesday through Saturday 10 a.m. to 5 p.m. Closed on Sundays and Mondays.
Read on to learn about Gregg Museum's current exhibits and upcoming events.
This Is Not: Aldwyth in Retrospect
February 2nd to October 7th, 2023
Curated by Mark Sloan, This is Not: Aldwyth in Retrospect celebrates the life and work of the one-name artist, Aldwyth. Now in her late eighties, the artist surveys the constellation of influences that have brought her this far. Aldwyth has lived and worked in the same octagonal studio/house at the edge of a salt marsh on a small island adjacent to Hilton Head Island, South Carolina, since 1980. For more than six decades, she has been producing significant work in relative seclusion from the larger art world. This retrospective takes measure of her entire artistic output from 1953 to present, highlighting the points at which her fascinations have evolved into obsessions. It also traces the connections between her personal biography and the content of her work.
True Likeness
Through July 23rd, 2023
Coming to the Gregg Museum from the Van Every/Smith Galleries at Davidson College, True Likeness presents an exhibition of contemporary portraits from diverse makers in a variety of media including video, photography, painting, collage, installation, sculpture, printmaking, and drawing. Artists, some familiar, others more on the fringe of the art world, hail from all over the country. Their own identities, and those presented through their works, provide a snapshot of who we are as a nation. As the exhibition took shape over the last few years, as overt and coded hate speech became congruent with one of the most divisive elections of our time, it became apparent that highlighting and celebrating diversity was paramount.
Upcoming Events
Mindfulness at the Museum: Tai Chi in the Garden with Imari Colón of East Cloud Kungfu
Thursday May 25th, 2023
10 a.m.
Free
Imari Colón, owner and instructor (Laoshi) of East Cloud Kungfu (and NC State graduate) leads a Tai Chi class in the Jackson-Thiem formal garden. Originating from an ancient Chinese martial art, Tai chi has developed as a graceful form of exercise involving a series of movements performed in a slow, focused manner accompanied by deep breathing. Each posture flows into the next without pause, ensuring that the body is in constant motion to achieve peace and calm. Registration is not required.
---
First Thursday Film Screening: The Killers (1946)
Thursday, June 1, 2023
6 p.m.
Free
This summer, the Gregg Museum is hosting a series of three old films relevant to objects in the museum's diverse and extensive permanent collection. The first, The Killers, is a 1946 film noir based in part on the 1927 short story of the same name by Ernest Hemingway that focuses on an insurance detective's investigation into the execution of a former boxer by two professional killers. The film stars North Carolina native Ava Gardner in her breakout role as Kitty Collins. In promotional images for the film, Gardner dons a pair of brown suede elbow-length gloves that are now part of the Gregg Museum's permanent collection.
---
Self-Guided Slow Looking Experience
Thursday, June 22, 2023
6 p.m.
Free
The Gregg Museum will remain open until 8 p.m. to provide space and time for visitors to participate in a self-guided slow looking experience. Studies have found that visitors to art galleries spend an average of eight seconds looking at each work on display. But what happens when we spend five minutes, fifteen minutes, an hour or an evening really looking in detail at an artwork? This self-guided experience allows participants the opportunity to slow down, reflect, and form a more personal connection to the art they are experiencing. "Slow Looking" guides and gallery stools will be available at the front desk for all participants. For families, an "I Spy" activity will also be available upon request.
---
First Thursday Film Screening: The Adventures of Prince Achmed (1926)
Thursday, July 6, 2023
6 p.m.
Free
This summer, the Gregg Museum is hosting a series of three old films relevant to objects in the museum's diverse and extensive permanent collection. The second, The Adventures of Prince Achmed, is a 1926 German animated fairytale and is the oldest surviving animated feature film in the world. It was made with a silhouette animation technique invented by Lotte Reiniger that is similar to Indonesian Wayang shadow puppets, though hers were animated frame by frame, not manipulated in live action. The Gregg Museum has a number of Wayang shadow puppets in its permanent collection.
---
Staff-Guided Tour of Selections from the Collections
Thursday, July 20, 2023
3 p.m.
Free
Join Gregg Museum of Art & Design education staff for a tour of Selections from the Collections, a recently installed exhibition curated entirely from the museum's permanent collections. This exhibition, curated in the Historic Chancellor's Residence, features objects from a variety of cultures and time periods including examples of photography, textiles, fashion, sculpture, and more. If you're interested in learning more about the Gregg Museum's holdings of over 54,000 objects, then this is the tour for you!
---
Mindfulness at the Museum: Morning Yoga
Thursday, July 27, 2023
10 am.
Free
In partnership with our Hillsborough Street neighbors, the Alexander Family YMCA, the Gregg Museum will offer free morning yoga in the museum's main lobby led by Jeff Manning. Please bring your own mat or beach towel and get ready to relax your mind.
Upcoming Events in the Triangle
Check out our
full events calendar
, where you can enter any date, or look at the events for the next few days here:
Tuesday, May 30, 2023
Wednesday, May 31, 2023
Thursday, June 1, 2023
When
June 1, 2023 @ 6:00 pm
What
First Thursday Film Screening: The Killers (1946)
When
June 22, 2023 @ 6:00 pm
What
Self-Guided Slow Looking Experience
When
July 6, 2023 @ 6:00 pm
What
First Thursday Film Screening: The Adventures of Prince Achmed (1926)
When
July 20, 2023 @ 3:00 pm
What
Staff-Guided Tour of Selections from the Collections
When
July 27, 2023 @ 10:00 am
What
Mindfulness at the Museum: Morning Yoga