Raleigh Wine Shop, at 126 Glenwood Avenue, Raleigh, welcomes wine novices and connoisseurs alike with a bright, inviting atmosphere and varied price points on quality wines created with the purity of the fruit in mind. They focus on selecting 'honest' wines that use grapes farmed with a genuine care for the land and that are crafted with a sense of place of origin.
All of the traditional wine sources from around the world are well represented; from France, Italy and the United States to Chile and Portugal, every selection offers the aromas, flavors and overall balance that they feel are true to character and convey a sense of where those grapes were grown. They are eager to help you discover the wines you'll love.
Raleigh Wine Shop schedules many events, including free tastings.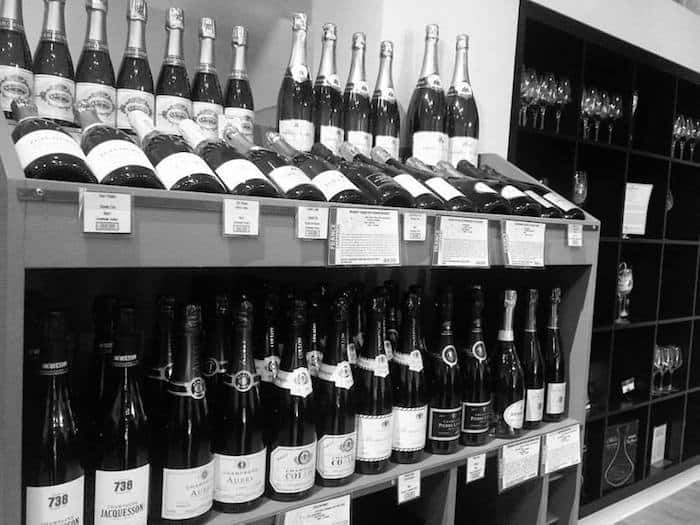 The weekend of May 18-20, 2018, Raleigh Wine Shop is celebrating its 7th anniversary with free tastings, discounts and giveaways all weekend. Here's what's going on (copied directly from Raleigh Wine Shop's website.) Note that some of the featured products are free (samples) and some are for sale. We've listed them all:
All Weekend Long
Special Discounts
~ Big discounts on wine! Up to 30% off on dozens of special selections throughout the store! No 'closeout' wines here, but wines that we've vetted and love recommending everyday.
~ Even more discounts on wine! In addition to our special selections, our entire inventory of wine selections are on sale. We're upping our normal discounts to 15% off any 6 bottles or 20% off any 12 bottles or more – mix or match throughout the shop!
~ 15% off all provisions, accessories, and apparel including new t-shirt arrivals!
~ 10% off all our classes with any purchase including our soon to be offered 'Second Course: New California Class'!
~ 10% off your first month when you sign up for Sir Walt's Wine Club!
Giveaways
~ Enter to win Winestation cards, gift certificates, t-shirts and more!
Free Tastings & Drink Specials
~ Free wine and provisions tastings rotating all weekend long
~ Saturday morning, celebrate with glasses of Emendis 'Can Xa' Cava mimosas for only $2 while you shop.
~ $5 glasses of frosé all weekend long
~ 25% off all wines by the glass out of the WineStation which will be loaded with special deep discounted wine so you can try even more before you buy.
Special Events & Giveaways
~ Enter to win WineStation cards, gift certificates, t-shirts and more!
~ A kickoff rosé party with Lucettegrace, the Merry Franksters food truck posted up in our parking lot and the debut of our new wine and beer draft system with a Fullsteam Brewery tap takeover!
Friday, May 18th: Store Hours: 11am – 8pm
Swing by on Friday to get the biggest selection and first shot at some of the deepest discounts we'll have all year plus a kickoff party Friday evening with our Rosé Spectacular, treats from Lucettegrace and glasses of frosé!
5pm – 8pm: Rosé Spectacular
We'll have 3 free tasting stations set up around the shop so you can try over a dozen of our favorite rosés in all different styles. From the classics out of Provence to the best cans from California, there's a rosé for everyone!
5pm – 8pm: Glasses of Frosé
We're firing up the frosé machine with a special recipe from our friends at Dram & Draught for the party and selling $5 glasses all weekend long!
5pm – 8pm: Dessert by Lucettegrace
Our good friends at Lucettegrace will be selling their seasonal specialty – macaron ice cream sandwiches! Grab a sandwich and imbibe in some delicious rosé all night long.
Saturday, May 19th: Store Hours: 10am – 7pm
The shop will be open early for y'all to shop our storewide sale before the crowds with a plethora of free tastings rotating all day long!
10am – Noon: Emendis 'Can Xa' Mimosas
Start your day with something sparkling! Can Xa Cava Mimosas and glasses of Can Xa bubbly for $2 will be poured while you shop our awesome store-wide sale.
Noon – 3pm: Wine Tastings
John Lambrakis of Bordeaux Fine & Rare, Ian Spotz of Advintage Distributing, and Brad Beavers of The Country Vintner will all be pouring some of their crazy good wines.
Noon – 3pm: Beverages, mixers, and provisions tasting
Taste through some of our local and Southeastern neighbor provisions and beverages, featuring Cannonborough Soda, Crude Bitters & Sodas, Fentimans Sodas & more!
Noon – 3pm: Dessert with Escazu Artisan Chocolates
Our dear friends at Escazu Artisan Chocolates will be on our patio with their brand new mobile station selling some chocolatey treats and their hand-batched lime and panella soda infused with cacao!
3pm – 6pm: More Wine Tastings
Jeff Kellogg of Kellogg Selections & Robin Bodwin of Proof Wine & Spirits will be tasting some stellar wines from their portfolios.
3pm – 6pm: Botanist & Barrel Tasting
Rethink fruit wines and ciders with winemaker Kether Smith of North Carolina's own Botanist & Barrel! She'll be pouring some tasty dry fruit wine and some brand new ciders straight from their farm in Hillsborough.
3pm – 6pm: Charcuterie & Cheese Tasting
We'll have new salumi from Charlito's Cocina Salumi and freshly curated cheese plates and samples from Ormann's Cheese Shop so you can taste their delicious, wine-friendly, handmade provisions.
Sunday, May 20th: Store Hours: Noon – 5pm
Join us again on Sunday for lunch and the debut of our brand new taps behind the bar with a Fullsteam Brewery tap takeover!
Noon – 4pm: The Merry Franksters Food Truck
We're welcoming back one of our favorite local food trucks, The Merry Franksters! They'll be posted up in our parking lot so you can grab one of their mouth-watering gourmet hot dogs and shop the last day of our storewide sale!
Noon – 3pm: Even More Wine Tastings
Marilyn Tilley of Piedmont Wine Imports will be pouring some tasty new Italian arrivals!
Noon – 4pm: Wine & Beer On Tap!
We're launching our brand new wine and beer tap system behind the tasting bar with a Fullsteam Brewery tap takeover! Starting Sunday, you'll be able to grab some wine or beer on draft right here at the shop and even take your favorites home to go in a growler!