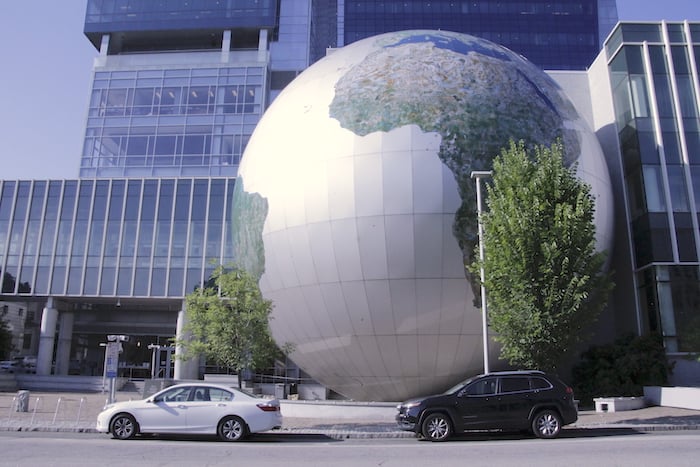 North Carolina Museum of Natural Sciences always offers free admission, but you might not be aware of the free events, beyond the exhibits, that it offers. You can view all their events here. Some are free and some have fees associated with them. Here are a few upcoming free and cheap events.
Make sure to check the location.
Prairie Ridge Ecostation, 1671 Gold Star Drive, Raleigh
Downtown Raleigh, 11 W. Jones Street, Raleigh
Nature Research Center, 121 W. Jones Street, Raleigh
Also, click on the links for more details, including age ranges and registration information.
Free and cheap events at North Carolina Museum of Natural Sciences
NATURE PLAY DAYS
Tuesdays
10:00am – 12:00pm
Prairie Ridge
Come out and play! The Nature PlaySpace will be stocked with extra special materials and supplies and a Museum play facilitator will be present to help you play your way. Supplies may vary from week to week, but include fun things like fort-building equipment, puppets and costumes, bubbles, paint, giant blocks, and more.
This is an informal, drop in event. Staff and supplies will be available from 10:00-12:00. Come dressed for the weather and ready to get messy! Everyone is welcome at the Nature PlaySpace, but it has been designed especially for kids 7 and younger.
Hummingbird Banding Demonstration
Saturday, July 14th, 2018
9 a.m. to 12 p.m.
Prairie Ridge
Scientists use coded bands to tell individual birds apart and track their movements. Bird banding sessions involve catching birds in nets, placing a metal bracelet on a leg, and recording some information about the health and status of the bird before releasing it back into its habitat. Join us at Prairie Ridge to observe how banding works for tiny hummingbirds. We'll have hummingbird banding expert Susan Campbell on hand to demonstrate how hummingbirds are captured, banded, and processed before release. Get an up-close look at some of our most energetic and charismatic birds!
This program will take place entirely outdoors. Wear closed-toed shoes and be prepared for the weather. A water bottle and long pants are recommended.
For best viewing, plan to stop by near the start of the session. Please note, however, that Prairie Ridge opens at 9am and the gate to the road will remain closed until shortly before we open.
Science Cafe: Chimpanzee Mothers
Thursday, July 12th
7 p.m. to 8:30 p.m.
Downtown Raleigh
Chimpanzees are humans' closest relatives. Our species share many physical and behavioral traits, like our long lifespans and complex social relationships. Like humans, chimpanzee mothers also have long pregnancies and care for their offspring for many years, forming close bonds. Yet they face a suite of challenges that humans do not. Females mate with many males before conceiving. Chimpanzee fathers provide no direct parental care. Both males and females can be extremely aggressive toward new mothers, and may even kill newborns. How do female chimpanzees navigate these challenges? We will discuss the evolution of chimpanzee behaviors surrounding mating, conception, gestation, and maternal care.
ABOUT OUR SPEAKER
Emily Boehm is a researcher at the Jane Goodall Research Center at Duke University. She received her PhD in Evolutionary Anthropology from Duke, and has also taught there since 2015. She spent 12 months living in Gombe National Park, Tanzania, following and observing wild chimpanzees.
Health of Our Waterways
Sunday, July 15th
2 p.m. to 3 p.m.
Prairie Ridge
Water is essential to all living things. Without healthy water it is hard for us to survive. During this program we will visit the creek and our pond to determine how healthy the waterways are at Prairie Ridge. By using dip nets, field guides, and other supplies we will identify those that call these waterways home and determine the health of their homes.
This program will meet at the Outdoor Classroom. All ages are welcome. Children under 15 must be supervised by an adult. Please be prepared to be outside for the program and come dressed for the weather. Closed-toed shoes that can get wet and a water bottle are required.
Science Cafe: Snake Bites
Thursday, July 19th
7 p.m. to 8:30 p.m.
Downtown Raleigh
Free
What should you do if you're bitten by a venomous snake? Are first aid kits helpful? Is antivenom necessary for copperhead bites? Are baby snakes more dangerous than adults? Think you saw a water moccasin? Find out the answers to these questions and more at a snaky, slithery evening with Dr. Sean Bush.
ABOUT OUR SPEAKER
Dr. Sean P. Bush, MD, FACEP, has been an emergency physician, clinical scientist and professor of emergency medicine at the East Carolina University Brody School of Medicine and the Loma Linda University School of Medicine for decades. As a specialist in envenomations, he studies a number of challenges associated with venomous bites and stings, including first aid treatment, antivenom safety and efficacy, and factors associated with snakebite severity. His work was the subject of the 11-part television series, "Venom ER," aired by Animal Planet.
Finally Friday: The Fifth Element
Friday, July 20th
5:30 p.m. to 9 p.m.
$2 for members, $5 for non-members (Purchase here)
5:30pm-7pm: Food, live music and science stations
7pm: Movie begins in the WRAL 3D Theater, followed by commentary.
THE FIFTH ELEMENT (PG-13)
An ancient evil defeated 5,000 years ago has returned from deep space in the form of a giant ball of black fire, and it's coming to destroy the Earth. Our fate is in the hands of Korben Dallas, a taxi driver who doesn't want to be a hero, and Leloo, a perfect beauty, a perfect being and a perfect weapon.
Ready your multipass, and take a trip with us from ancient Egypt to deep space in our July installment of Finally Friday: The Fifth Element. Plus, learn everything you ever wanted to know about the science of ancient Egypt, the power of the four elements, and much more. We'll host an expert to help us us sort out the facts behind the movie. Don't miss it!
Moths at Night
Saturday, July 21st
8 p.m. to midnight
Free
Prairie Ridge
Celebrate National Moth Week with the Museum at Prairie Ridge! Enjoy a brief orientation in the outdoor classroom, then head out to our blacklights to see what's out and about throughout the night. Bring a flashlight, a camera (if you have one), and your moth questions. We'll have activities for kids, Moth Bingo (with prizes!) for everyone, an activity hosted by the North Carolina Entomological Society, and a station to upload photos of the moths that we see to Natural North Carolina or other citizen science projects so that our data can help scientists learn more about the species in our area. You'll walk away with some basic identification guides you can use for your own moth adventures!
This is a drop-in program, so you are welcome to arrive at any point during the stated times. Please come dressed for the weather and bring a flashlight as you will be making a short walk between the classroom and the parking lot that is unlighted. All ages are welcome to this program, but it is best suited to ages 8 and up. All children under 16 must be accompanied by an adult.
In the event of bad weather, please call the Prairie Ridge weather line at 919.707.8888 and select option 5 to learn if the program has been canceled/postponed.
Family Night: Science Adventure
Thursday, July 26th
6 p.m. to 8 p.m.
$2 for members, $3 for non-members
Register here. Spots are limited. Must buy in advance.
Nature Research Center, 121 W. Jones Street
This is a chance for you and your family to explore the Museum's Nature Research Center after hours. Join us for an evening of interactive science activities, live programming, and quests. Activities include learning about sea turtles, experiments in the Natural World iLab, and hands-on access to specimens in the Naturalist Center. You will also receive a booklet with a series of quests to guide you through the Nature Research Center's three floors of exhibit space.
Science Cafe: Discovering Dragonflies
Thursday, July 26th
7 p.m. to 8:30 p.m.
Downtown Raleigh
Free
Dragonflies are well studied compared to many other insects, but there are still many behaviors that we know little about. Some questions that remain are far easier to study by creating citizen science projects where many people are involved in collecting data rather than using the traditional scientific approach where a small number of professional scientists do all the work. In this presentation, you'll learn about how two citizen science projects are helping uncover how dragonflies respond to changes in weather, how dragonflies swarm, and why these behaviors are important to us as humans.
ABOUT OUR SPEAKER
Chris Goforth joined the Museum as the head of citizen science after receiving her BA in biology at Colorado College and MS in entomology at the University of Arizona. Her research has focused on insect behaviors, particularly parental care and respiratory behaviors in the giant water bugs and responses of dragonflies to changes in weather, but she has also done extensive work using aquatic insects to assess water quality of desert waters. In addition to her work with dragonflies, Chris has recently begun researching the effectiveness of using citizen science as an educational tool in science museums. It is her belief that citizen science is a great tool for helping to create a scientifically literate society and she is excited to share hands-on citizen science opportunities with Museum visitors.
Creek Crawl
Sunday, August 5th
1:30 p.m. to 2:30 p.m.
Prairie Ridge
Free
Explore the creek at Prairie Ridge! We will use nets and buckets to find creek critters to examine the health of our stream. We will participate in two citizen science projects during this program: Stream Selfie (http://www.streamselfie.org/) and iNaturalist (http://inaturalist.org/).
Please wear water shoes and pants/shorts that can get wet and possibly muddy. (Flip flops are not appropriate for this program!) Bring a water bottle and a spirit of exploration! Meet at the Outdoor Classroom just down the hill from the parking lot.
This program is for ages 9+; children under 15 must be accompanied by an adult.
This is a free program. Pre-registration is required to ensure there are plenty of supplies for participants.
Please contact lindsey.hubbard@naturalsciences.org with the names of everyone in your group and the ages of anyone under 16 to register.
When
Weekly on Tuesday @ 10:00 am-12:00 pm (starting May 30, 2017)
Where
Prairie Ridge Ecostation (North Carolina Museum of Natural Sciences)
When
July 20, 2018 @ 5:30 pm-9:00 pm
Where
North Carolina Museum of Natural Sciences
When
July 21, 2018 @ 8:00 pm-11:59 pm
Where
Prairie Ridge Ecostation (North Carolina Museum of Natural Sciences)
When
July 26, 2018 @ 6:00 pm-8:00 pm
Where
Nature Research Center (North Carolina Museum of Natural Sciences)
When
July 26, 2018 @ 7:00 pm-8:30 pm
Where
North Carolina Museum of Natural Sciences
Nature Research Center (North Carolina Museum of Natural Sciences)
121 West Jones Street
Raleigh, NC
Prairie Ridge Ecostation (North Carolina Museum of Natural Sciences)
1671 Gold Star Drive
Raleigh, NC