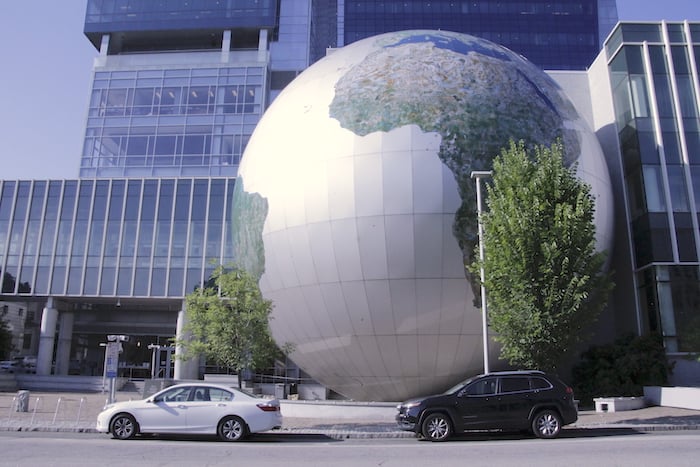 North Carolina Museum of Natural Sciences always offers free admission, but you might not be aware of the free events, beyond the exhibits, that it offers. You can view all their events here. Some are free and some have fees associated with them. Here are a few upcoming free and cheap events.
Make sure to check the location.
Prairie Ridge Ecostation, 1671 Gold Star Drive, Raleigh
Downtown Raleigh, 11 W. Jones Street, Raleigh
Nature Research Center, 121 W. Jones Street, Raleigh
Also, click on the links for more details, including age ranges and registration information.
Free and cheap events at North Carolina Museum of Natural Sciences
NATURE PLAY DAYS
Tuesdays
10:00am – 12:00pm
Prairie Ridge
Come out and play! The Nature PlaySpace will be stocked with extra special materials and supplies and a Museum play facilitator will be present to help you play your way. Supplies may vary from week to week, but include fun things like fort-building equipment, puppets and costumes, bubbles, paint, giant blocks, and more.
Science Cafe: Everyday Chemical Exposures: Impacts on Pre-Natal Development
Thursday, February 21st, 2019
7 p.m. to 8:30 p.m.
Downtown Raleigh
Free
Exposure to chemicals in our environment at critical times during gestation can alter the way children grow and develop. We will discuss what we know about human exposure to a variety of chemicals and how we try to study the health impacts of environmental exposures in human populations.
Science Cafe: Challenges to Conserving the Congo Basin Rainforest
Thursday, February 28th, 2019
7 p.,m. to 8:30 p.m.
Downtown Raleigh
Free
Threats to biodiversity abound as we are currently in the midst of our planet's sixth mass extinction event. Climate change and its widespread impacts are now undeniable and require immediate and substantial action. We will discuss the conservation of a major biodiversity hot spot, the Congo Basin rainforest, and what we can do to try to conserve our valuable biodiversity there. One major player in this effort, the Congo Basin Institute (www.cbi.ucla.edu), was only formed three years ago, but has already partnered with 14 universities and nonprofit organizations, hoping to form a new model for how disparate groups can work together toward conservation.
Brain Awareness Night
Thursday, March 14th, 2019
6 p.m. to 9 p.m.
Free
From flies to humans and every animal in between, brains make behavior happen. Come explore the brain/behavior connection at a special Science Café March 14! From 6-7 pm, meet local neuroscientists and interact with hands-on brains- and behavior-themed exhibits suitable for all ages. Short, accessible talks by neuroscientists in the SECU Daily Planet Theater will celebrate national Brain Awareness Week and will highlight discoveries of local neuroscientists. At 7pm, enjoy the Science Café with prominent neuroscientist Dr. Tracy Bale. Afterward, the exhibits will re-open for one final celebration of brains and behavior.
Science Cafe: How Your Parents' Stress Became Your Brain's Problem
Thursday, March 14th, 2019
7 p.m. to 8:30 p.m.
Free
This Science Cafe is a part of Brain Awareness Night.

Join us to learn about the role of stress in neurodevelopmental and neuropsychiatric diseases. Discover how maternal and paternal stress potentially alter fetal brain development, resulting in consequences that may not manifest until years later. Interestingly, the vulnerability of the fetus seems to differ depending on if it is a girl or a boy.
Reptile and Amphibian Day
Saturday, March 16th, 2019
9 a.m. to 5 p.m.
Free
Come out to the Museum to celebrate the twenty-fifth annual Reptile and Amphibian Day, the nation's largest and most popular event dedicated to hopping, slithering, crawling critters! This year's theme is TOADS!
There will be presentations in the Daily Planet Theater and the Windows on the World stage throughout the day, as well as dozens of exhibits featuring live animals, crafts and activities! This event is perfect for all ages – from the youngest tadpoles to the oldest tortoises.
Celebrate with us the Twenty-fifth Day of the Reptiles and Amphibians. The largest and most popular event in the entire nation for all creatures that jump, glide and drag. This year's theme is LOS SAPOS! We will have presentations throughout the day on both our Daily Planet Theater and Windows on the World stage, as well as dozens of live animal exhibits, science activities and crafts. The event is intended for all ages, from the smallest tadpoles to the oldest turtles! Exhibits and presentations are in English, but we have a large number of volunteers who speak Spanish.
Science Cafe: Saving the World's Most Endangered Turtles
Thursday, March 28th, 2019
7 p.m.
Free
The Turtle Survival Alliance (TSA) was established in 2001 in response to the "Asian Turtle Crisis" in which unsustainable numbers of turtles were being harvested from the wild for the food trade, pet trade, and traditional Chinese medicine. The TSA is an active conservation organization working in 13 countries as well as in the U.S. Based in South Carolina, TSA works to conserve 20 of the top 25 most endangered turtles in the world. With a goal of "zero turtle extinctions," it utilizes relationships with zoos, aquariums, government organizations, other non-profit organizations and the private sector to help turtle species continue to persist both in the wild and in captivity. The mission of the TSA is that one day, future generations of turtles can be repatriated where these species have once been found.
When
Weekly on Tuesday @ 10:00 am-12:00 pm (starting May 30, 2017)
Where
Prairie Ridge Ecostation (North Carolina Museum of Natural Sciences), Raleigh
When
March 28, 2019 @ 7:00 pm
What
Science Cafe: Saving the World's Most Endangered Turtles
North Carolina Museum of Natural Sciences, Raleigh
11 W Jones St
Raleigh, NC
Prairie Ridge Ecostation (North Carolina Museum of Natural Sciences), Raleigh
1671 Gold Star Drive
Raleigh, NC