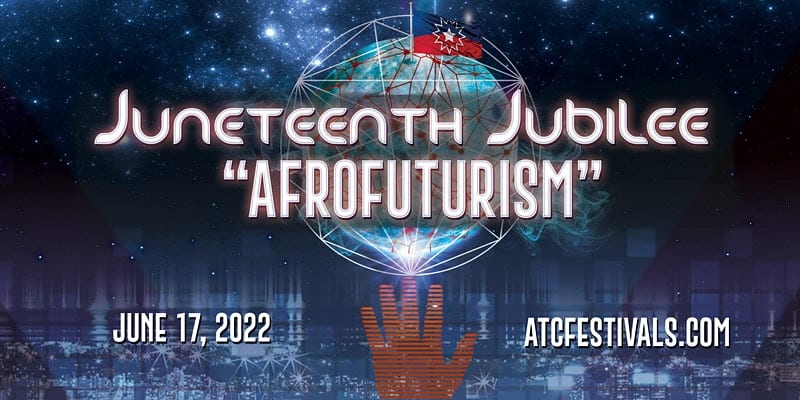 The Fruit, at 305 S. Dillard Street, Durham, is hosting Juneteenth Jubilee "Afrofuturism" on Friday, June 17th, 2022, from 6:30 p.m. to midnight.
This event is a celebration of Juneteenth, and features an Afrofuturism themed digital art show, panel discussion and after dark celebration.
Learn about more Juneteenth celebrations around the Triangle!
Admission is free with registration.
Local civic and community leaders, artists, and visionaries discuss historical and current issues facing the local Black community. Simultaneously, the panel will explore how to reimagine the concept of Blackness, Black identity, and culture in a future space.
After the panel discussion, during the After Dark Celebration, emerging music producers exhibit their latest creations on the main stage, while DJs spin multi-genre music from multiple decades on different stages. The evening includes food trucks, drinks, and plenty of socializing, reflection, and future thought.
More Juneteenth Events in the Triangle
Learn about all the Juneteenth events taking place in the Triangle, or check out a quick list here:
Saturday, June 4, 2022
Tuesday, June 7, 2022
Saturday, June 11, 2022
Monday, June 13, 2022
Tuesday, June 14, 2022
Wednesday, June 15, 2022
Thursday, June 16, 2022
Friday, June 17, 2022
Saturday, June 18, 2022
Sunday, June 19, 2022
Saturday, June 25, 2022