If you love Dunkin' you came to the right place! We keep all the latest Dunkin' deals right here.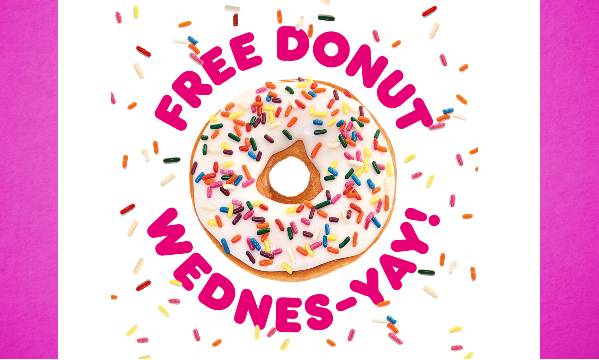 We have a big day-by-day list of restaurant deals in the Triangle, so if you're feeling hungry, check it out! We update it every day.
Every Wednesday from November 1 to December 27, 2023, Dunkin' Rewards members enjoy a FREE Classic Donut with any drink purchase at participating locations.
Limit one offer per member, per Wednesday. 
The offer excludes espresso shots, Fancies, and Specialty Donuts.
To enjoy the offer, Dunkin' Rewards members can order ahead via the Dunkin' app or scan their membership code in-shop.
If you're not already a member, you can enroll on the Dunkin' app or at dunkindonuts.com. Members earn ten points for every dollar spent on qualifying purchases. Then, points can be redeemed for a variety of beverage and food items.
Upcoming Food and Drink related deals and events
Check out our big list of
food and drink events and deals in the Triangle
, or look at a few of them here:
Friday, December 8, 2023
Saturday, December 9, 2023
Sunday, December 10, 2023
Monday, December 11, 2023
Tuesday, December 12, 2023
Wednesday, December 13, 2023
Thursday, December 14, 2023
Friday, December 15, 2023
Saturday, December 16, 2023
Sunday, December 17, 2023
Reader Interactions