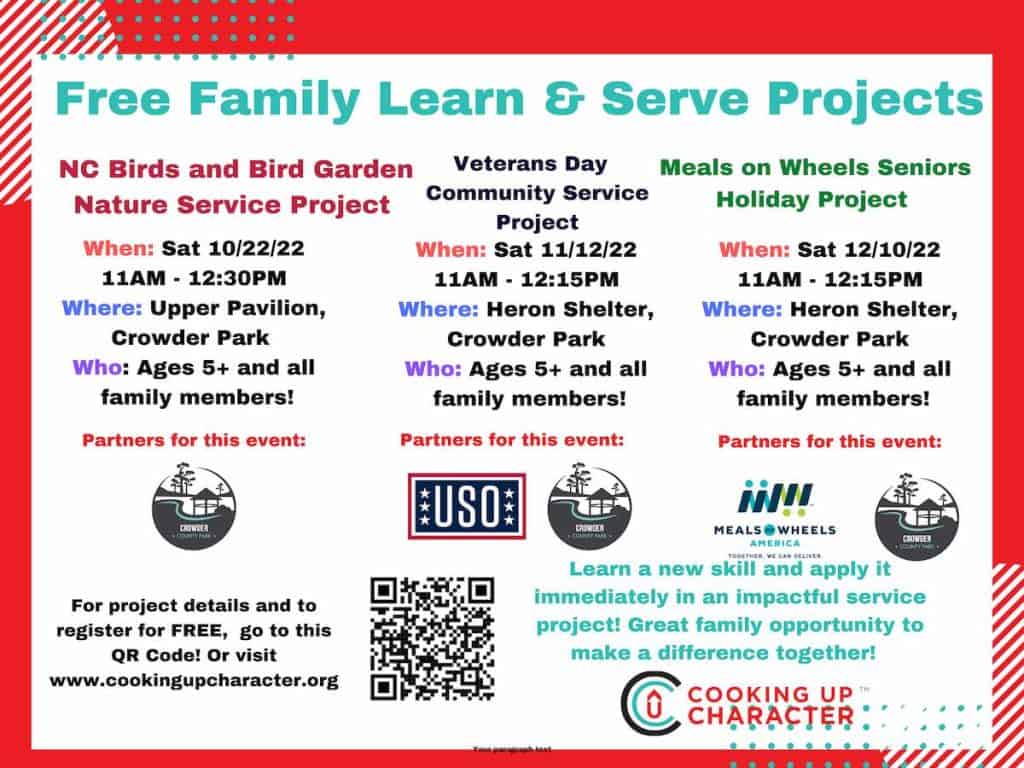 Cooking Up Character Learn & Serve programs teach kids a new skill and then have them apply it immediately in an impact service project.
Cooking Up Character family service programs take place once a month at Crowder District Park, 4709 Ten-Ten Road, Apex, North Carolina. These are free programs for kids ages 5+ and their families.
Looking for stuff for your kids to do? Check out Triangle on the Cheap's big list of upcoming free and cheap kid-friendly events in the Triangle!
Here are the upcoming Cooking Up Character programs. Please make sure to register.
More Kids' Events in the Triangle
Please check out our big list of free and cheap kids' events in the Triangle or look at a quick list here:
Friday, December 9, 2022
Saturday, December 10, 2022
Sunday, December 11, 2022
Monday, December 12, 2022
Tuesday, December 13, 2022
Wednesday, December 14, 2022
Thursday, December 15, 2022
Friday, December 16, 2022
Saturday, December 17, 2022
Sunday, December 18, 2022
Monday, December 19, 2022
Tuesday, December 20, 2022
Wednesday, December 21, 2022
Thursday, December 22, 2022
Friday, December 23, 2022