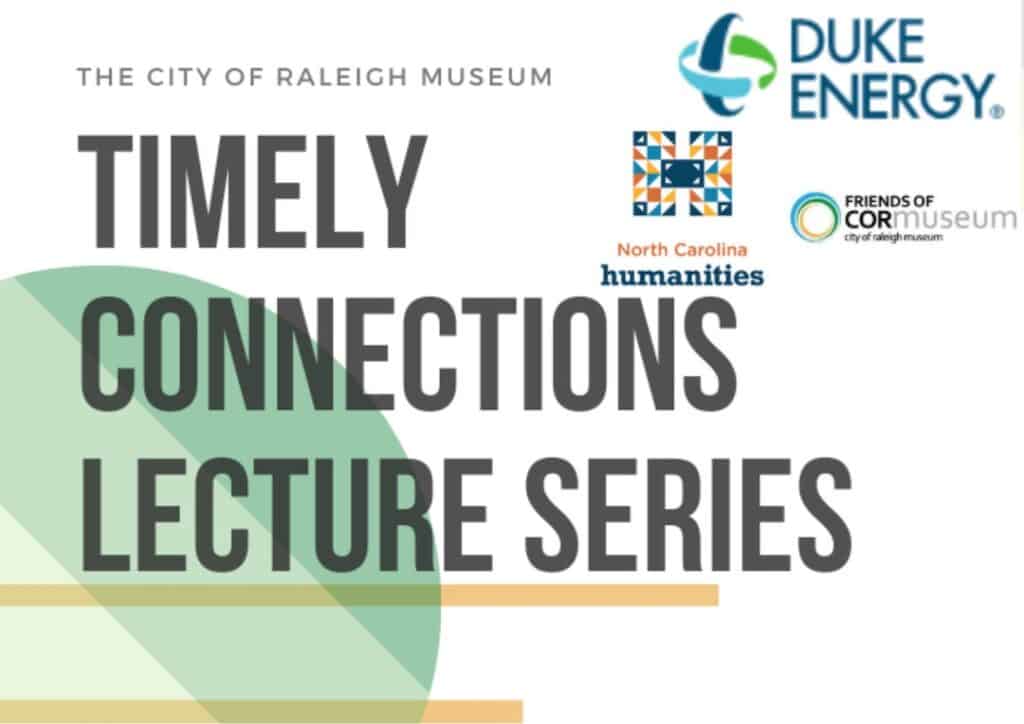 City of Raleigh Museum, at 220 Fayetteville Street, Raleigh, North Carolina, is presenting a new lecture series, in cooperation with NC Humanities Council and Duke Energy.
Timely Connections focuses on North Carolina history and culture, with a new topic and speaker every session.
Admission is free, but seating is limited. Doors open at 5:30 p.m. and the speakers start at 6 p.m.
For any questions please call (919) 996-2220 or email cormuseum@gmail.com​.
January 26th, 2023: Dr. Wayne Williams — Horace Kephart and early American camping
February 9th, 2023: Dr. Valerie Ann Johnson –Truth, Story, and Heritage: The Aesthetics of Historic Preservation
February 23rd, 2023: Yasmine Flodin-Ali –Omar ibn Said and Noble Drew Ali: The Contested Legacies of Islam and Race in North Carolina
March 9th, 2023: Sarah Waugh –Farmworkers' Movement in NC from the 1970s Onward
March 23rd, 2023: Dr. Dan Fountain –Meredith College Role in White Supremacy Campaign of 1898 and Disenfranchisement in NC
April 6th, 2023: Chris Holaday –The History of Race in Baseball
April 20th, 2023: Dan L Hopping –Weapons of the Revolutionary War May 4th Craig Friend –Joel and Mary Lane's Orphans and Their Slaves at the Turn of the Nineteenth Century
May 18th, 2023: Jason Boan –Lumbee Conscription at Fort Fisher During the Civil War
June 1st, 2023: Alexandra Odom –History of the Black Press in the 20th Century and Depictions of Love and Relationships in Black Owned Print Publications in the 1980s
Lecturers and topics are subject to change.
Upcoming Events in the Triangle
Check out our
full events calendar
, where you can enter any date, or look at the events for the next few days here:
Wednesday, March 22, 2023
Thursday, March 23, 2023
Friday, March 24, 2023