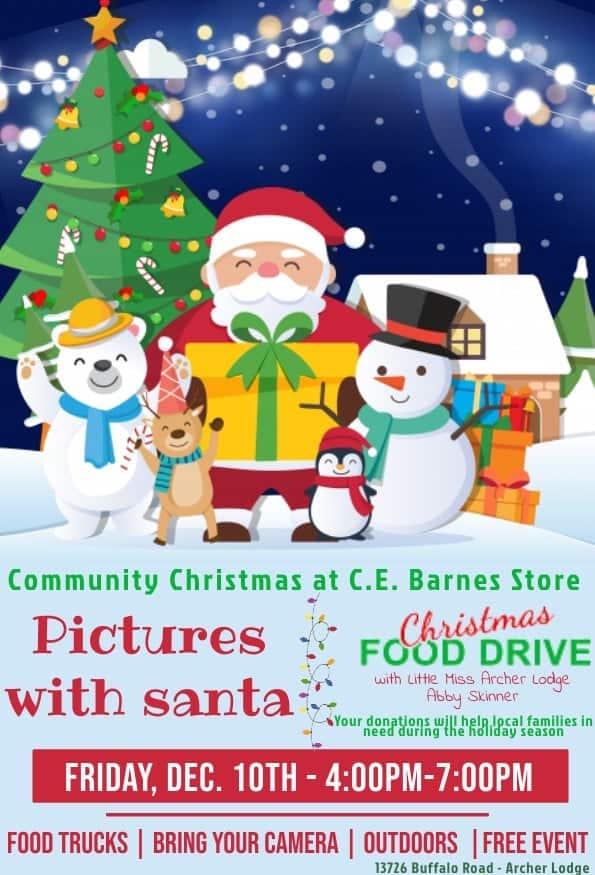 Adding to the list of free Santa visits in the Triangle, C.E. Barnes Store is hosting Santa for pictures on Friday, December 10th, 2021, from 4 to 7 p.m.
This is a FREE event. Bring your camera! It will take place outside.
C.E. Barnes Store is at 13726 Buffalo Road, Archer Lodge, in Johnston County.
In addition, food trucks will be on site, and there will be a canned food drive with Little Miss Archer Lodge.
More Free Santa Pictures
Check out our big list of free Santa pictures in the Triangle, or look at a quick list here:
Friday, December 9, 2022
Saturday, December 10, 2022
Sunday, December 11, 2022
Monday, December 12, 2022
Tuesday, December 13, 2022
Wednesday, December 14, 2022
Thursday, December 15, 2022
Friday, December 16, 2022
Saturday, December 17, 2022
Sunday, December 18, 2022
Monday, December 19, 2022
Tuesday, December 20, 2022
Wednesday, December 21, 2022
Thursday, December 22, 2022
Friday, December 23, 2022
Saturday, December 24, 2022