Astronomy on Tap is a series of short, accessible talks about astronomy, over beer. Astronomy on Tap's Triangle chapter holds its talks at Fullsteam Brewery, 726 Rigsbee Avenue, Durham.
You might want to also follow Astronomy on Tap Triangle on Facebook and Twitter so that you'll know about future events.
Next up…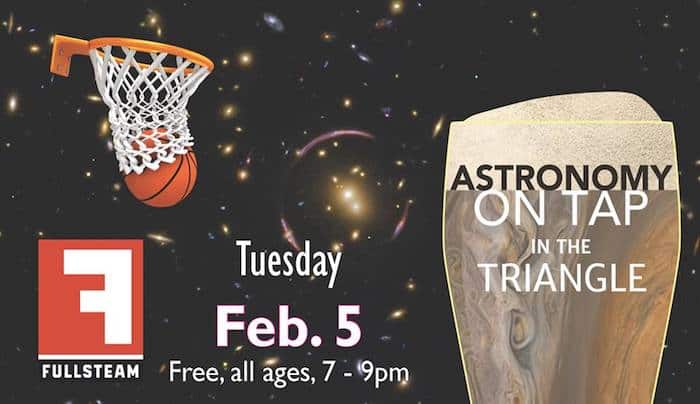 Astronomy on Tap Triangle: Rapid Transients and Cosmology
Tuesday, February 5th, 2019
7 p.m. to 9 p.m.
Free
Come on down for 2019's first Astronomy on Tap Triangle, our North Carolina chapter of short, engaging talks about astronomy over beer held at the taproom of Fullsteam Brewery in Durham, NC — this is our twelfth event on Tuesday, February 5!
Join us to hear about strange objects that rapidly change in brightness, and how basketball can help us understand the cosmos! First up, Hank Corbett, a grad student from UNC Chapel Hill, will tell us about types of rapid transient objects found by astronomers. Then Dr. Dan Scolnic, Assistant Professor at Duke University, will describe how it isn't so easy to find agreement when you're studying cosmology.
You might also be interested in:
More events where you can learn stuff
Thursday, February 21, 2019
Thursday, February 28, 2019
Friday, March 1, 2019
Friday, March 8, 2019
Thursday, April 4, 2019
Friday, April 5, 2019
Friday, April 12, 2019