Artmosphere Community Arts Center, which is in a historic building at 3919 Raleigh Road, Clayton, is hosting Jazz + Art Market on Saturday, June 3, 2023, from 5 to 9 p.m.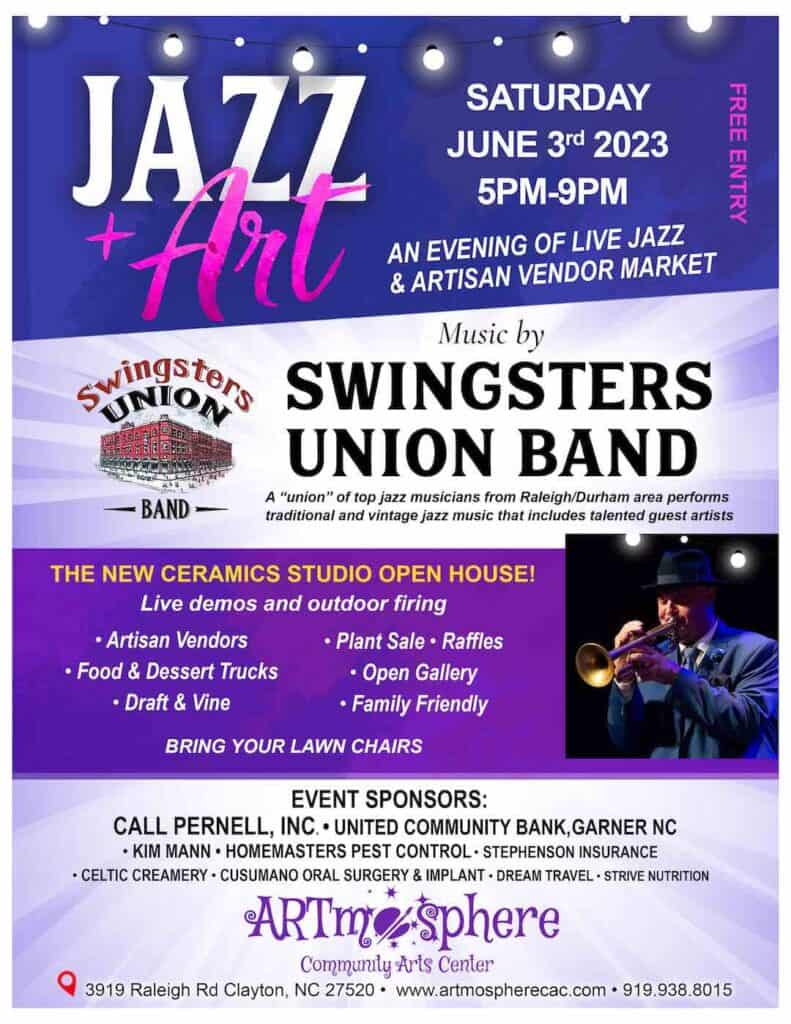 This is a free event with live jazz music, artisan vendors and more. Performing will be Swingsters Union Band.
Here's all that's going on at the event:
Artisan vendor booths
Live jazz on the lawn
Food trucks
Dessert truck
Beer and wine vendor
Grand opening of the new clay studio, with live demos
Plant sale
Raffles
Art in the gallery of the historic building
Bring your lawn chairs and blankets.
More Art Events in the Triangle
Check out a calendar of art events in the Triangle or look at a few of them here:
Sunday, September 24, 2023
Monday, September 25, 2023
Tuesday, September 26, 2023
Wednesday, September 27, 2023
Thursday, September 28, 2023
Friday, September 29, 2023
Saturday, September 30, 2023
Sunday, October 1, 2023
Monday, October 2, 2023
Tuesday, October 3, 2023
Wednesday, October 4, 2023
Thursday, October 5, 2023
Friday, October 6, 2023
Saturday, October 7, 2023
Sunday, October 8, 2023
Monday, October 9, 2023
Tuesday, October 10, 2023
Wednesday, October 11, 2023
Thursday, October 12, 2023
Friday, October 13, 2023
Saturday, October 14, 2023
Sunday, October 15, 2023
Monday, October 16, 2023
Tuesday, October 17, 2023
Wednesday, October 18, 2023
Thursday, October 19, 2023
Friday, October 20, 2023
Saturday, October 21, 2023
Sunday, October 22, 2023
Monday, October 23, 2023
Tuesday, October 24, 2023
Wednesday, October 25, 2023
Thursday, October 26, 2023
Friday, October 27, 2023
Saturday, October 28, 2023
Sunday, October 29, 2023
Monday, October 30, 2023
Tuesday, October 31, 2023
Wednesday, November 1, 2023
Thursday, November 2, 2023
Friday, November 3, 2023
Saturday, November 4, 2023
Sunday, November 5, 2023
Monday, November 6, 2023
Tuesday, November 7, 2023
Wednesday, November 8, 2023
Thursday, November 9, 2023
Friday, November 10, 2023
Saturday, November 11, 2023
Sunday, November 12, 2023
Monday, November 13, 2023
Tuesday, November 14, 2023
Wednesday, November 15, 2023
Thursday, November 16, 2023
Friday, November 17, 2023
Saturday, November 18, 2023
Sunday, November 19, 2023
Monday, November 20, 2023
Tuesday, November 21, 2023
Wednesday, November 22, 2023