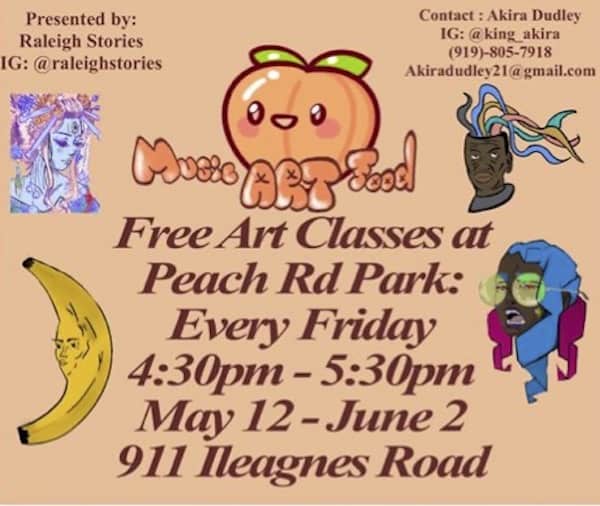 Peach pARTy Art Classes is a free four-week series for kids at Peach Road Park, 111 Ileagnes Road, Raleigh, NC.
It takes place Fridays from May 12 to June 2, 2023, from 4:30 to 5:30 p.m.
Looking for stuff for your kids to do? Check out Triangle on the Cheap's big list of upcoming free and cheap kid-friendly events in the Triangle!
The program will focus on building creativity, individual expression, and comfort with art, and will be led by local Artist Akira Dudley. Children's creations will be on display at the Peach pARTy at Peach Road Cultural Center in July.
To register, or if you have questions, please contact Akira Dudley at Akiradudley21@gmail.com or 919-805-7918.
More Kids' Events in the Triangle
Please check out our big list of free and cheap kids' events in the Triangle or look at a quick list here:
Friday, June 9, 2023
Saturday, June 10, 2023
Sunday, June 11, 2023
Monday, June 12, 2023
Tuesday, June 13, 2023
Wednesday, June 14, 2023
Thursday, June 15, 2023
Friday, June 16, 2023
Saturday, June 17, 2023
Sunday, June 18, 2023
Tuesday, June 20, 2023
Wednesday, June 21, 2023
Thursday, June 22, 2023
Friday, June 23, 2023