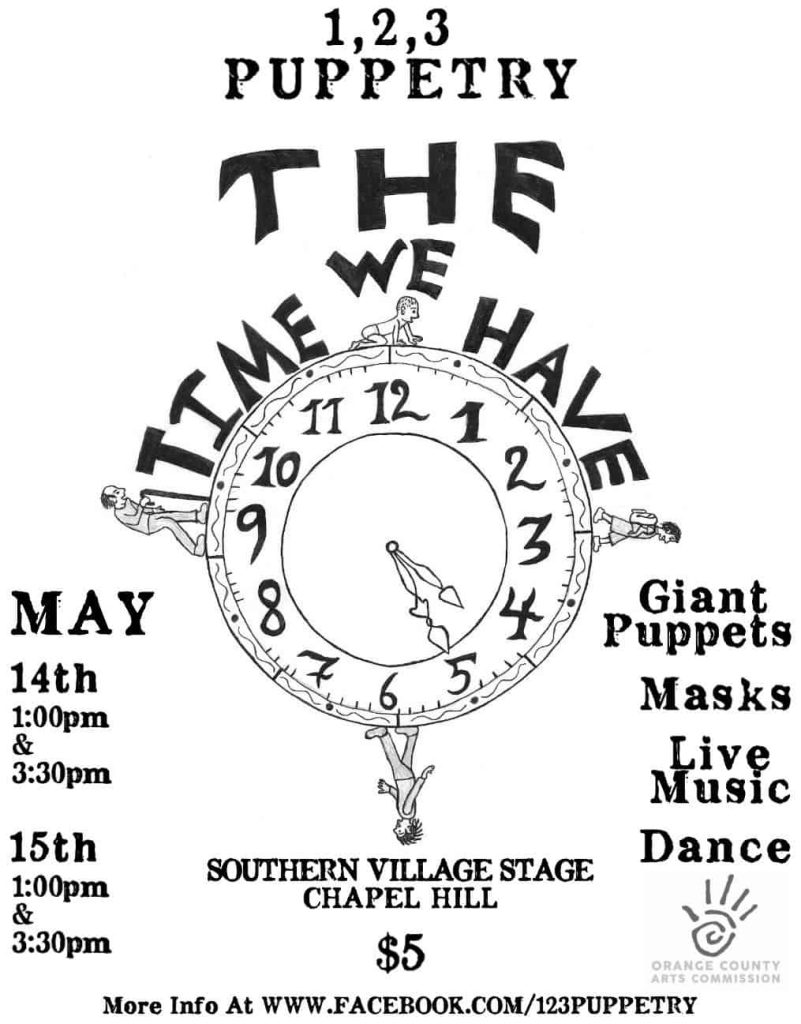 1,2,3 Puppetry will be presenting "The Time We Have" at Southern Village, 400 Market Street, Chapel Hill, on Saturday, May 14h, and Sunday, May 15th, 2022, at 1 p.m. and 3:30 p.m., both days.
123 Puppetry is a youth/young adult led puppet company based in Chapel Hill, NC. Their goal is to use puppetry and music to promote a social message, as well as to bring to light many issues that are otherwise overlooked or covered up.
The Time We Have
The time we have to reflect. The time we have to grow. The time we have to love one another. The time we have to make our voice heard. The time we have to make a difference.
1,2,3 Puppetry travels through the four seasons, the ticking clock, the cycle of life, the journey of a caravan, the spinning of the wheel, and the garden of inspiration, to explore what is time, and how we can make the most of it with the amount we have. Together we can see the seconds, mind the minutes, and honor the hours. Join us on our journey that features giant puppets, masks, live music, and dance that will be fun and thought provoking for the whole family.
$5 tickets at the door. For advanced tickets, Venmo @pay_123puppetry
Bring chairs, blankets, a hat, and sunscreen!
Orange County Arts Commission helped fund this show through their artist project grant.
Learn more about 1,2,3 Puppetry at 123 Puppetry on Facebook and @123puppetry on Instagram.
Upcoming Events in the Triangle
Check out our
full events calendar
, where you can enter any date, or look at the events for the next few days here:
Saturday, December 10, 2022
Sunday, December 11, 2022
Monday, December 12, 2022