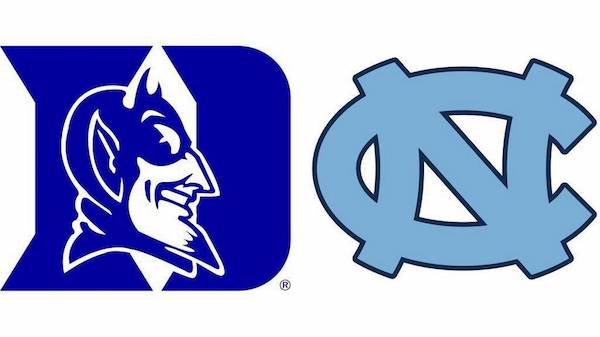 Looking for a place to watch the UNC vs. Duke rematch?
Here are some options in the Triangle. The game is on Saturday, March 9th, 2019, at 6 p.m. Unless otherwise specified, these watch parties are free to attend. Food and drink will be for sale at most.
Know of other places to watch? Leave a comment, and we might add it to the list. Pretty much any bar or brewery with TV screens will be showing the game, but here are some that are promoting their events.
Watch at Varsity Theatre
123 E. Franklin Street, Chapel Hill
$8
From the Facebook event:
Join us as we cheer on our Men's Basketball as they take on the Blue Devils at home! Open to students and the greater Chapel Hill community.
Watch at Imbibe & Zog's
108 Henderson Street, Chapel Hill
From the Facebook event:
UNC/Duke on big screen upstairs and Zog's and downstairs at Imbibe. Cheap food and drink specials at both bars
Watch at Local 506
506 W. Franklin Street, Chapel Hill
From the Facebook event:
Come cheer on the heels with us as they look to make it 2-0 vs. Duke this season! No cover, just good company, drinks, and the game projected in the showroom!
We'll open up at 5, and the game starts at 6!
Watch at Vecino Brewing in Carrboro
300 E. Main Street, Carrboro
General Admission $6, covers your first beer and your seat guaranteed for the game.
VIP: 20 seats available, $15, covers your first 2 beers and light snacks over in our "Dart Room". You will have a server checking in on you to limit having to get up to order more beers as well.
Tickets available online through Eventbrite (processing fees apply) or at the brewery, starting 3/1.
Watch at The Kraken
2323 NC Highway 54 W, Chapel Hill
The Kraken doesn't have (at this time) a Facebook event for the watch party, but they show every UNC basketball game, so it should be on. Message them on Facebook if you want details. There will be music going on too.
Watch at Fullsteam Brewery
726 Rigsbee Avenue, Durham
From the Facebook event:
UNC and Duke face off once again on Saturday, March 9th! Come watch their second game of the year on our big screen and share some pitchers. As always, we welcome both shades of blue.
Watch at Local Watering Hole
5830 Guess Road, Durham
From the Facebook event:
Join us for the BIGgame as Duke takes on UNC. Beer specials: $2 Domestics, $3 Imports/Crafts. Chicken tacos and chili on the menu. Bring a snack to share. Game time is 6pm. Hope to see y'all here!
Watch at The Hot Tin Roof
115 W. Margaret Lane, Hillsborough
This one will have live music going on too at the same time.
From the Facebook event:
What's up Love Tribe fans? We've geared up for some rocking girl power as Dina Napolitano is joining Love Tribe for some power-packed shows in 2019!! She'll be debuting with us on March 9 at Hot Tin Roof but keep the calendar handy for more announcements and appearances with Dina.
DJ JaSon playing the breaks !!
ALSO UNC VS DUKE BBALL ON THE BIG SCREENS !!
PROJECTOR SET UP OUTSIDE WEATHER PERMITTING !!