The State Capitol, at One East Edenton Street, is open for free guided and self-guided tours. Visitors are welcome to take a self-guided tour any time between around 8 a.m. and 5 p.m. Monday through Friday, and between 9 a.m. and 5 p.m. on Saturday.
Free guided tours are offered on Saturdays at 11 a.m. and 2 p.m. You don't have to make a reservation. Just walk in the front of the building, and join the group. The tour takes about an hour and will take you to the rotunda, the outside of the Governor's office, the old senate and house chambers (where the legislative bodies met until the early 1960s) the library and more.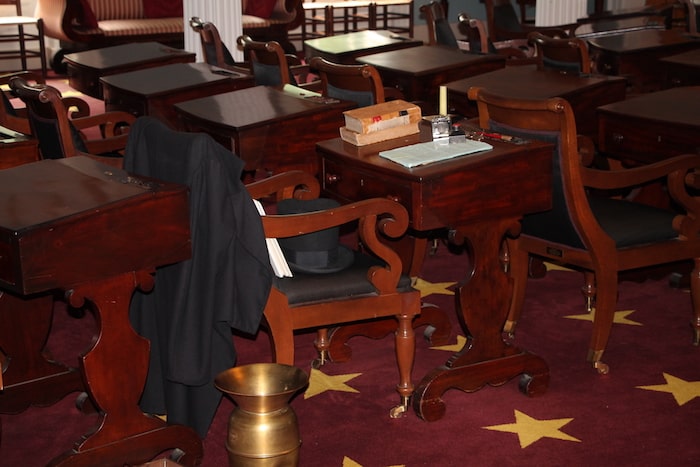 If you have questions about touring the Capitol, phone 919-733-4994 or email state.capitol@ncdcr.gov. It's a good idea to call or email just to make sure there's no change in schedule, especially around the holidays.
To schedule a group of 10 or more for a guided tour of the State Capitol or Executive Mansion, call Capital Area Visitor Services (CAVS) at least two weeks ahead of your intended visit at 919-807-7950 or 866-724-8687.
The North Carolina State Capitol is a National Historic Landmark. It was completed in 1840, after the original building burned down in 1831, and is a well-preserved example of a major civic building in the Greek Revival style of architecture. It is a National Historic Landmark.
From the State Capitol it's a one minute walk to the North Carolina Museum of History and a two minute walk to the North Carolina Museum of Natural Sciences, both of which are also free to visit.
While you're here, check out a list of upcoming free and cheap events in Raleigh.
Saturday, December 10, 2022
Sunday, December 11, 2022
Monday, December 12, 2022
Tuesday, December 13, 2022
Wednesday, December 14, 2022
Thursday, December 15, 2022
Friday, December 16, 2022
Saturday, December 17, 2022
Sunday, December 18, 2022
Monday, December 19, 2022