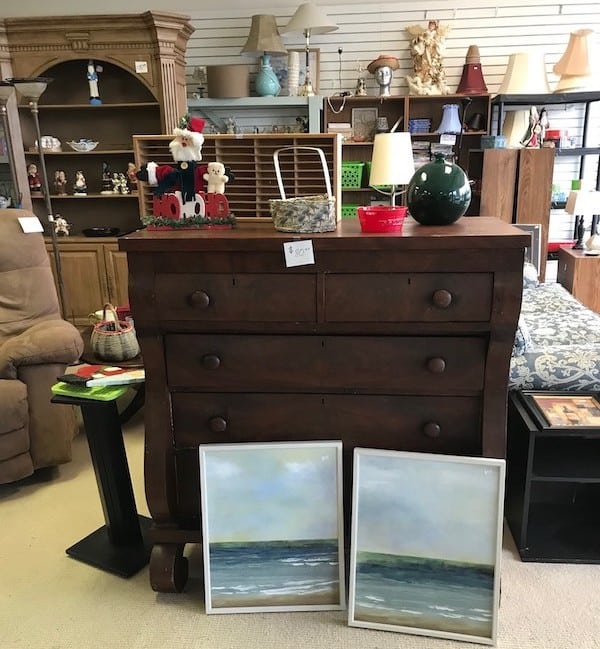 If you're a bargain hunter, it's always the perfect time to visit Raleigh thrift stores, as well as thrift stores throughout the Triangle.
Seasoned thrift store shoppers often have a set route of stores they visit, stretching the activity into an entire morning or even a full day. They know when the stores open, when they close and when they are most likely to snag an item recently priced and put on the shelf or rack.
"Thrifting" is little like treasure hunting, but with the added benefit of helping a nonprofit organization. Whether you are looking for items for yourself or looking to resell for a profit, perusing thrift stores can be great fun.
Need a suggestion for a perfect day of thrift shopping? Here's a close look at five excellent Raleigh thrift stores supporting worthy nonprofits.
Also, check out this huge list of thrift stores, consignment shops, antique and vintage shops and used bookstores throughout the Triangle.
Want to explore more thrift stores? Here's deep dive into five Durham thrift stores and  five Cary thrift stores.
Want more information like this, as well as a comprehensive list of free and cheap events in the Triangle? Sign up for Triangle on the Cheap's daily email newsletter.
North Raleigh Ministries
North Raleigh Ministries
9650 Strickland Road, Raleigh, NC 27615
2821 Brentwood Road, Raleigh, NC 27604
919-844-6676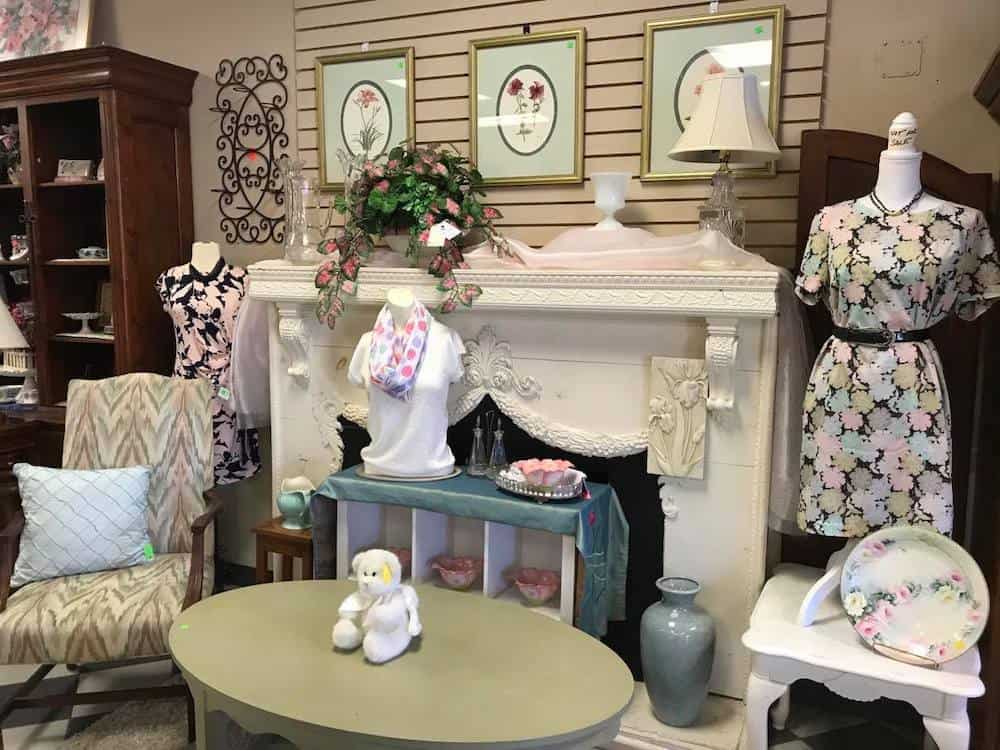 North Raleigh Ministries is a locally run thrift with two locations in the Raleigh area. There are daily 50% off specials in both locations usually based on the color of the price tag. In addition each location has its own BOGO and 50% off daily sales.
When you enter the shop, the first area you see is a boutique area with seasonal items tastefully displayed.
What is unique about this shop are the shelves of beautifully designed artificial, floral arrangements and wreaths created by the volunteers. Bring home one of the arrangements and you have an instant designer touch.
Other helpful items in the shop are the prepackaged small toys and games in plastic grab bags for children. These grab bags are scattered in various areas around the shop.
If you are looking for clothing, you'll be pleasantly surprised to find all clothes for men, women and children organized by size.
The back of the shop has bedding and linens arranged on hangers making it easy to browse and select these items.
The Strickland Road store is located in a shopping center with ample parking close to the shop. There are several restaurants and a Goodberry's Frozen Custard in the shopping plaza if you need lunch or a sweet treat after shopping.
Closed Sunday and Monday. Open Tuesday through Saturday 10 a.m. to 6 p.m.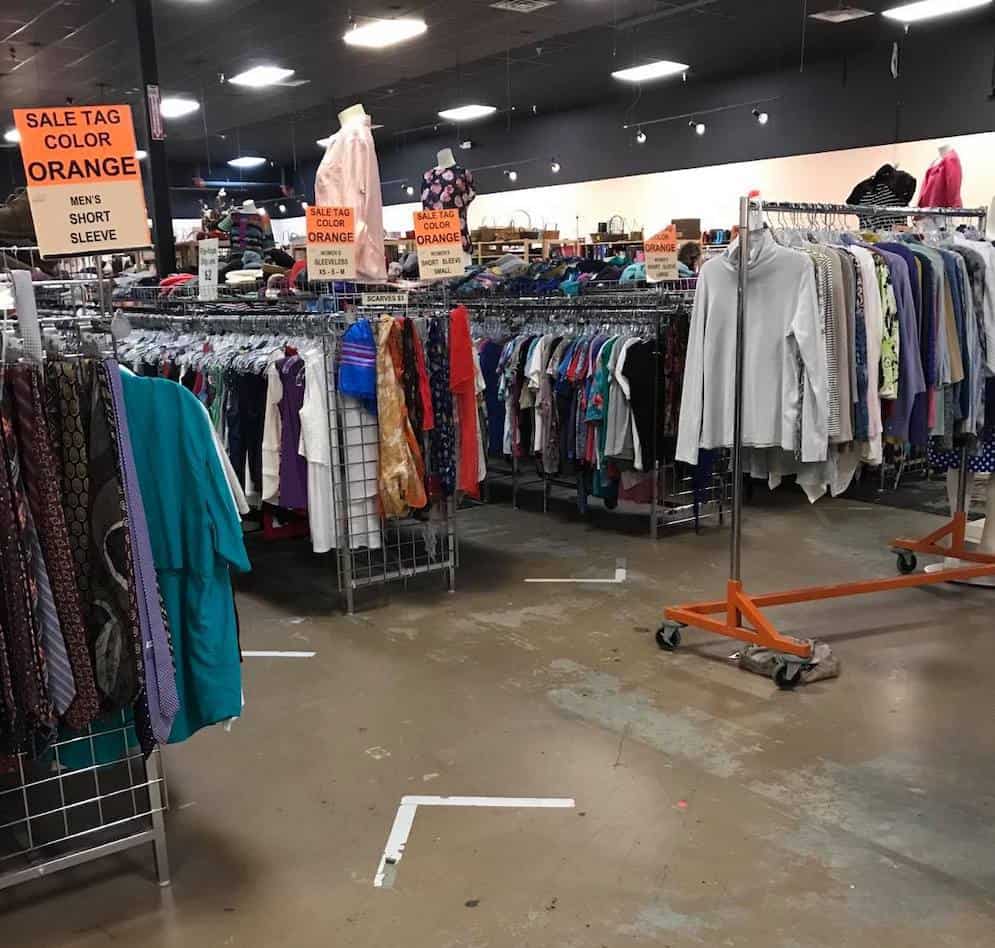 A-Z Thrift Shop
A-Z Thrift Shop
1621 North Market Dr.
Raleigh, NC 27609
Walking into A-Z Thrift Shop feels like entering a boutique. The items are attractively displayed and in good condition, but the prices are in line with what you'd expect for a thrift store.
The shop is only open Wednesday through Saturday because it's run entirely by volunteers. Wednesday is the best day to shop since Monday is the major pricing and work day for the volunteers. However, items are also put out on Thursday and Friday.
Markdowns on kitchen items, vases, and candles occur on a rolling basis using color-coded price tags. Friday Manager's Specials aren't announced beforehand, so shoppers have to come to the store to find out what is on sale for the day.
The shop focuses on housewares, books, furniture and toys but there is a small area for children's and adult clothing. Once a year in October the shop holds a special one day sale of high end jewelry, designer purses and shoes, and accessories.
A-Z Thrift Shop supports Assistance League, which transforms the lives and women, children and families through community programs.
There is plenty of parking and there are several restaurants nearby including, Kanki, Red Lobster, McDonalds, and TGIFridays.
Cause for Paws Thrift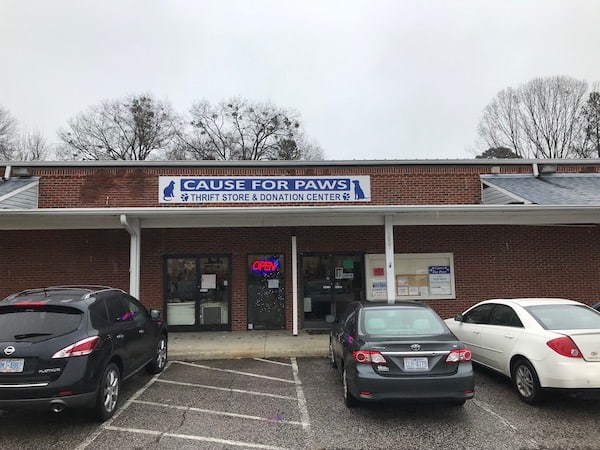 Cause for Paws Thrift
1657 N. Market Dr.
Raleigh, NC 27609
If you like ogling kittens and cats, Cause for Paws is a must-visit thrift store. The store always has several kitties in multi-story habitats. And shoppers can use the computer terminal in the store to search for cats and dogs available for adoption through the nonprofit.
The store is open seven days a week and items are put out on the sales floor throughout the day. Cause for Paws is known for having a huge area devoted to used clothing for children, women and men.
Every week three colored price tags identify discounts, and the sales change each Thursday. In addition, every Friday a special sale is announced.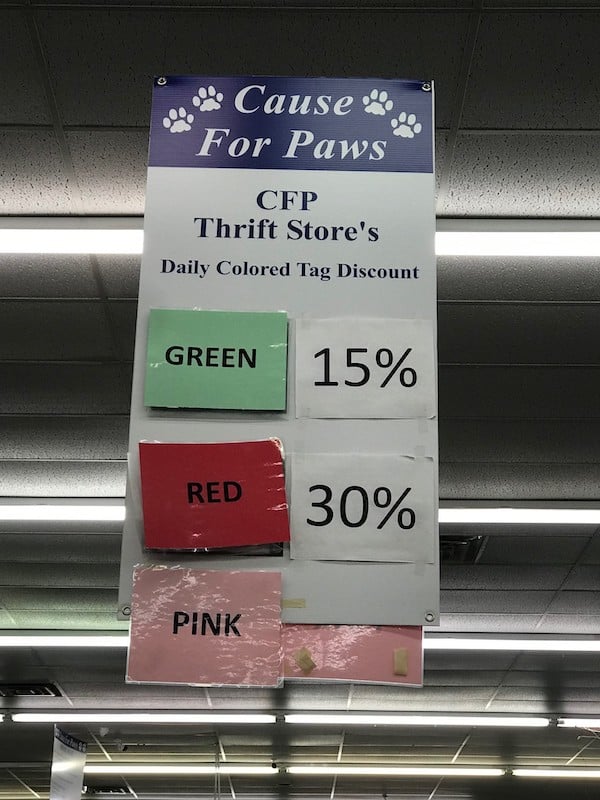 The store also offers a frequent shopper reward program. There is plenty of parking and several local restaurants nearby. A-Z Thrift Shop is right next door so you can visit both shops without even needing to move your car.
There is a second location on South Saunders Street in Raleigh.
ReTails Thrift Shop
ReTails Thrift Shop
2821 Spring Forest Road, Raleigh, NC 27616
The ReTails store, besides having a delightfully punny name, supports the programs of the nonprofit, Animalkind, which provides low income pet owners with a spay and neutering subsidiary program.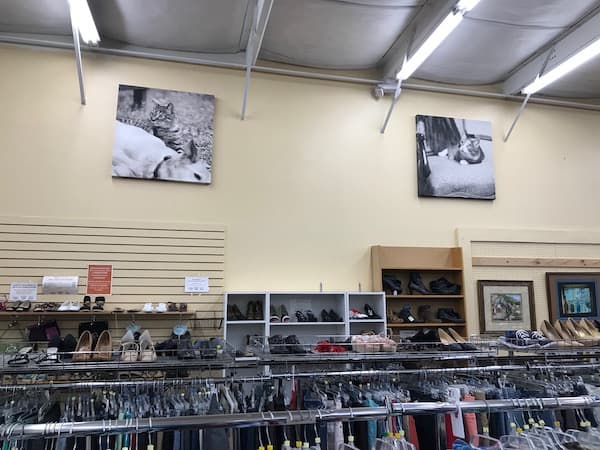 The store moved several years ago and more than tripled the size of their shop. It now has a space large enough to offer furniture, clothing for infants through adults, books and magazines and of course, pet supplies.
They have weekly specials and twice monthly 50% off clean sweep sales. The store is open seven days a week and restocks shelves every day, throughout the day, so there is no bad time to come shop. The special sales can be found on their website.
Recovered Treasures
Recovered Treasures
4011 Capital Blvd #109, Raleigh, NC 27604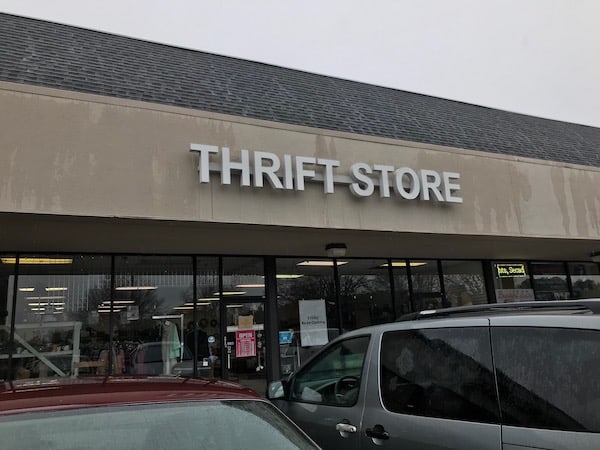 Recovered Treasures is a relative newcomer to the Raleigh thrift store scene having moved the store from Cary about 2 years ago. The store supports Healing Transitions, an organization providing help to people struggling with drug and alcohol additions.
Recovered Treasures boasts low prices every day and specials daily such as Wednesday $1.00 clothing day and Saturday 25% off everything in the store.
The store is open seven days a week. There is plenty of parking and easy access from I-440 and Capital Boulevard The store sometimes offers items for free so be sure to check out the store weekly.
Bonus tip: Recovered Treasures is unique in offering delivery of furniture for only $20.00.
Pro Tips for Thrift Shopping
What to look for in a thrift shop? Interior designers often recommend the following items: Lamps and lighting pottery (especially by local artists), side tables and dressers, serving dishes and wall mirrors.
Look for designer items like evening gowns and evening shoes that have probably been worn once or twice. High quality purses from previous years are typically priced at a fraction of the original price and will have many more year of wear left in them.
Look for solid wood furniture that can be repainted or sanded and stained, especially small kitchen tables and coffee tables. Home improvement stores are excellent resources for advice on these do-it-yourself projects.
What not to buy: Avoid any upholstered furniture if it has stains or unpleasant odors. Don't buy dishes or pottery with cracks or chips. And most importantly, don't buy something only because it's inexpensive if you won't use it, wear it or display it.
        New to Triangle on the Cheap? You might also be interested in: