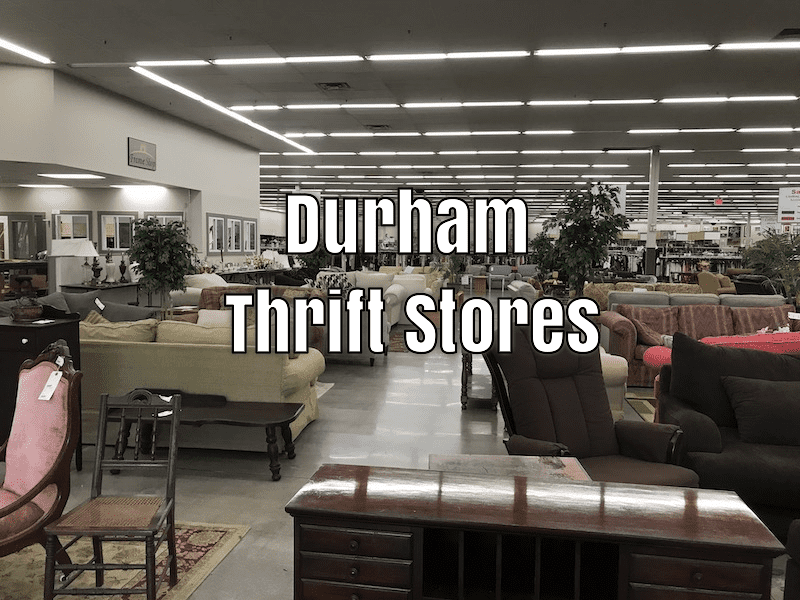 We've explored Raleigh thrift stores and Cary thrift stores, and now we're turning our attention to Durham thrift stores.
Need a suggestion for a perfect day of thrift shopping? Here's a close look at five excellent Durham thrift stores supporting worthy nonprofits.
Also, check out this huge list of thrift stores, consignment shops, antique and vintage shops and used bookstores throughout the Triangle.
Want more information like this, as well as a comprehensive list of free and cheap events in the Triangle? Sign up for Triangle on the Cheap's daily email newsletter.
Durham Rescue Mission Thrift Store
Durham Rescue Mission Thrift Store
The Durham Rescue Mission has four locations in the Triangle:
RTP: 3220 NC Hwy 55, Durham
Brier Creek: 10701 Glenwood Avenue (Hwy 70), Raleigh
Chapel Hil Blvd: 3900 Chapel Hil Blvd, Durham
Wake Forest: 2109 S Main Street, Wake Forest
The store on Highway 70 is the largest of the locations with an abundance of parking. The store is right on the Durham County and Wake County line but if you are planning a day of thrifting in Durham, this is an excellent first stop since it opens at 8 a.m. every day (except Sunday, when it's closed.)
The building has enough room to display numerous living, dining, and bedroom setups with room left for dozens of racks of clothing and shoes. Housewares, toys, mattresses, and outdoor items are also plentiful. You can find everything you could possibly need here from bikes to artwork.
Honestly, it can be a bit overwhelming. But if you have time to browse, you're guaranteed to end up leaving with something. There is a free app you can download, DRM Thrift Store, to hear about specials.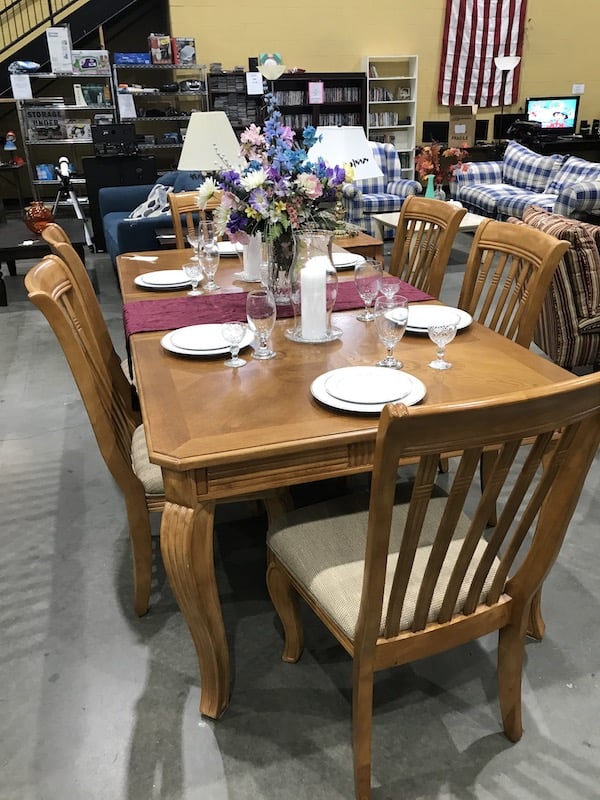 Bonus tip: The day we visited there were close to a hundred brand new running shoes still in the box that had been donated by a local retailer. They were priced at 75% off the retail price!
TROSA
TROSA
3500 N Roxboro Street, Durham
Open every day except Monday, TROSA is in a huge building, but helpful overhead signs allow shoppers to navigate around. Furniture is plentiful and spread throughout the store.
In addition, there are rack upon rack of well organized clothing and numerous shelves of housewares and children's items.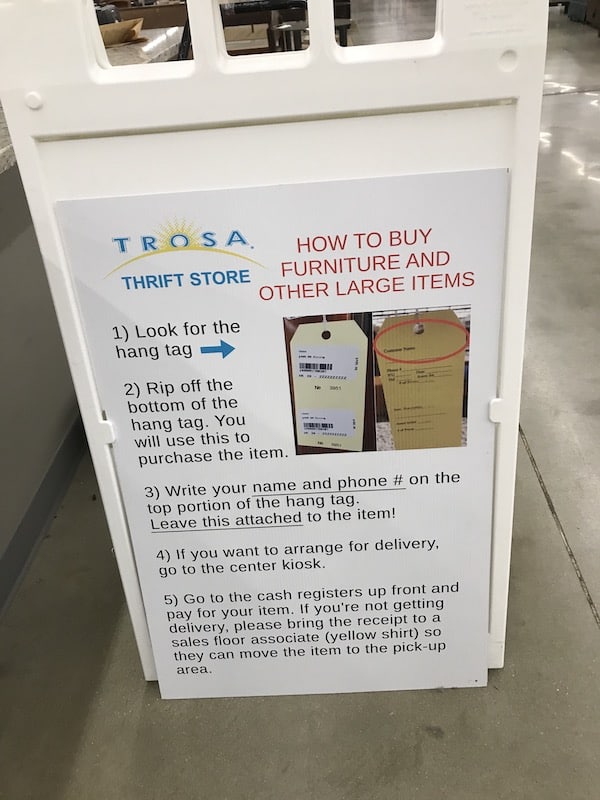 What makes TROSA unique is they offer delivery of purchased furniture for a fee. This is a true benefit for shoppers who can't fit purchased items in their car.
Markdowns on furniture and clothing are done on a schedule, so you know there will always be something on sale when you go.
Proceeds from the store support recovery services for men and women with substance abuse disorders. TROSA has tent sales several times a year with extra special savings.
Bonus tip: TROSA thrift has an in-store custom frame shop for all your picture framing needs!
penniesforCHANGE Thrift Boutique
penniesforCHANGE Thrift Boutique
2715 Durham-Chapel Hill Blvd, Durham
This small thrift truly feels like an upscale boutique with designer clothing and shoes, unique and antique items and accessories. You could easily buy something here and gift it with the recipient thinking you went to an upscale decor store. But prices are remarkably reasonable and well in line with other thrift stores.
A few things to know before you go: parking is behind the shop. The sign outside is a bit faded and hard to read, so use your GPS or your co-pilot, or, like us, you will drive right past it.
penniesforCHANGE is part of Durham Crisis Response Center, and proceeds help victims of sexual and domestic violence.
There are several special events at the store so follow them on Facebook to learn when they are happening.
Bonus tip: Pennies for Change has a frequent shopper card that gives you one punch for every daily purchase over $5. Fill the card and earn a discount.
Scrap Thrift Store
Scrap Thrift Store
2050 Chapel Hill Road, Durham
Many Triangle residents are very familiar with Scrap Exchange in Durham, which sells donated materials including paper, fabric, zippers, buttons, test tubes and more. However, lesser known is the Scrap Thrift Store, which opened two years ago in the same shopping center.
Scrap Thrift is a traditional thrift store, selling clothing, furniture, accessories and housewares. It's in a large space with ample parking available. Being in Durham has its perks: there were some quirky and vintage items for sale that are not often seen outside of for-profit vintage shops in large cities.
Use the opportunity to check out the amazing Scrap Exchange next door. Even if you aren't a crafter, quilter, artist, or art teacher, you will love the fascinating array of donated items available. Both stores are open every day.
The proceeds support the mission of educating the public how to reduce waste going into landfills, repurposing items into art and other creative outlets, and reusing items that still have life in them..
Nearly New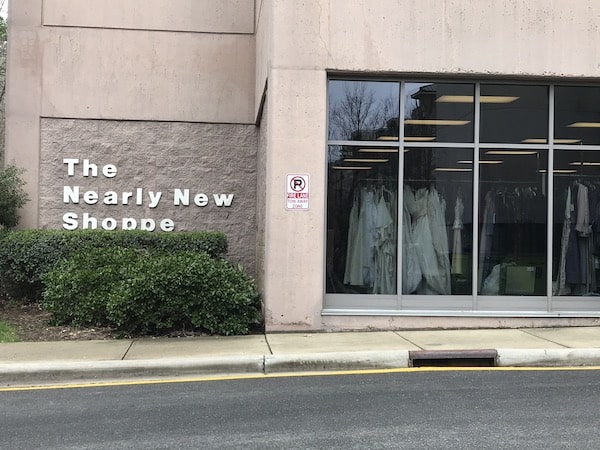 Nearly New
2424 Erwin Road, Durham
Unlike most thrift stores, Nearly New is in an urban setting. It's on the first floor of a commercial building across from Duke University Hospital. And that makes sense because the proceeds from the store are used to fund scholarships for nursing students and medical school students at Duke University.
There are a few things to know before you go. Parking is in the parking garage of the building. Spaces for the thrift shop are clearly marked. The store is open every day except Sunday. Also, the store accepts checks and cash only.
While the store is small in size, the employees and volunteers manage to pack tons of items in, and since the items are priced to move, there is always a great selection.
The store is too small to offer much in the way of furniture with the exception of a few smaller items like end tables and chairs. Their hours vary by day so call first: 919-286-4597.
Bonus tip: for well-behaved children there is a treasure box from which they can select a free toy or other item. And the staff are friendly and helpful which makes the experience even more enjoyable.
Pro Tips for Thrifting for Reselling
If you are considering buying items at a thrift store to resell online, do your research and have realistic expectations. Ebay prices are not necessarily good indicators of what an item sold for unless you look at completed sales. Factor in the cost of fees you will pay to the online marketplace you end up using and don't assume that you will find a buyer for every item you post for sale. People can make money finding buried treasure at thrift stores and reselling them online but it's not as lucrative or easy as you might think.
If you are buying furniture or decorative items to refinish or repaint, educate yourself at a crafts or home improvement store about paint stripping, staining, and finishing. You will need to know what is worth putting work into and what isn't.
Don't overbuy items until you know that reselling is something you really like doing or you will find your garage, basement and attic stuffed with items you don't need or want.
        New to Triangle on the Cheap? You might also be interested in:
Subscribe to Triangle on the Cheap