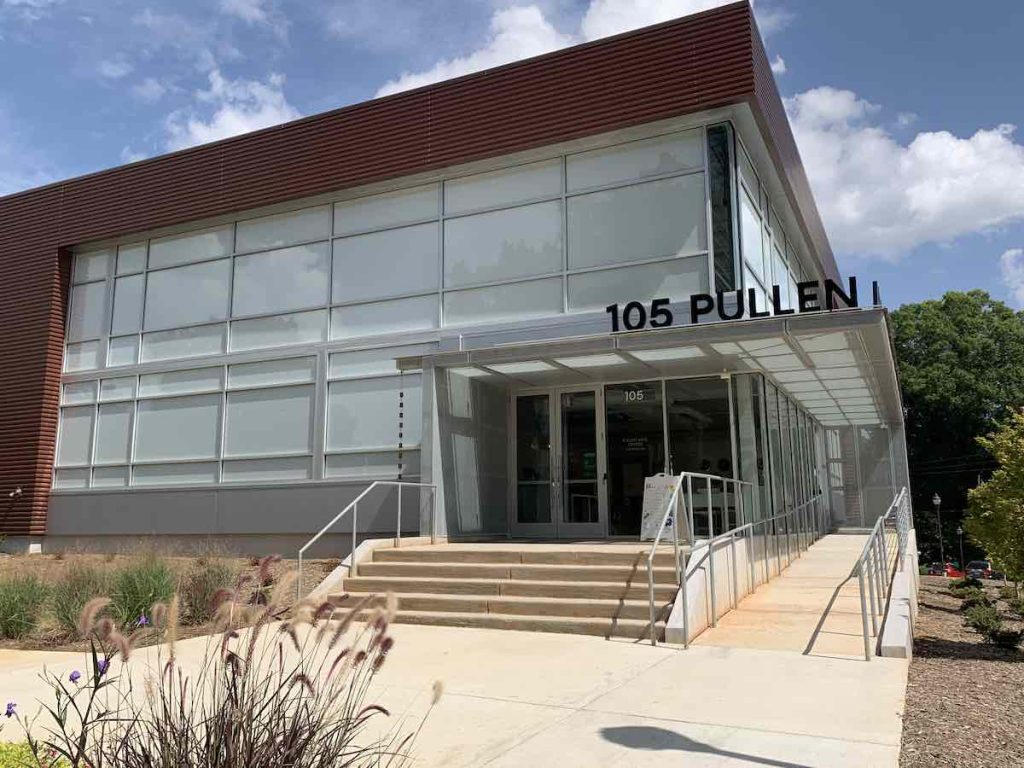 Pullen Arts Center, at 105 Pullen Road, Raleigh, has reopened after a major renovation and expansion. It was closed for 3 1/2 years while undergoing its first major renovation since it opened in 1961.
It is now a 22,000 square foot facility, and includes a large gallery and multiple studios, each dedicated to one area of the arts.
Read on to learn all about Pullen Arts Center, and then learn about an upcoming event taking place on April 30th, 2022.
Pullen Arts Center is making the arts affordable with its open studio program. Once you've taken a 6-week class in one of the four studios, which costs a total of $100 to $150, you're eligible for an open studio membership at just $70 a year for Raleigh residents ($85 a year for non-residents.)
The open studio membership makes it possible for students to continue learning and creating after their class ends, with access to all the equipment in the studio.
Please note that you will have access only to the studio in which you took the class. This is to make sure you know how to use the equipment. But if you have taken a class in more than one studio, it's still just $70 (or $85 a year) to have access to all the studios in which you are proficient.
The Pullen Arts Center will be holding a dedication on Wednesday, September 1st, 2021, at 10 a.m. The event will include a ribbon-cutting ceremony, followed by tours of the arts center until noon. The ribbon cutting will take place inside, due to inclement weather.
If you have questions about the classes, please visit Pullen Arts Center's website, email pullen.arts@raleighnc.gov, or call 919-996-6126.
Upcoming Event
Exhibition Closing Reception
Sunday, April 30th, 2022
2:30 to 4:30 p.m.
Free
Everyone is invited to a reception celebrating the works of the February-April exhibition artists. The group show features works in various media.
More Art Events in the Triangle
Check out a list of upcoming art events:
Monday, December 5, 2022
Tuesday, December 6, 2022
Wednesday, December 7, 2022
Thursday, December 8, 2022
Friday, December 9, 2022
Saturday, December 10, 2022
Sunday, December 11, 2022
Monday, December 12, 2022
Tuesday, December 13, 2022
Wednesday, December 14, 2022
Thursday, December 15, 2022
Friday, December 16, 2022
Saturday, December 17, 2022
Sunday, December 18, 2022
Monday, December 19, 2022
Tuesday, December 20, 2022
Wednesday, December 21, 2022
Thursday, December 22, 2022
Friday, December 23, 2022
Saturday, December 24, 2022
Sunday, December 25, 2022
Monday, December 26, 2022
Tuesday, December 27, 2022
Wednesday, December 28, 2022
Thursday, December 29, 2022
Friday, December 30, 2022
Saturday, December 31, 2022
Sunday, January 1, 2023
Monday, January 2, 2023
Tuesday, January 3, 2023
Wednesday, January 4, 2023
Thursday, January 5, 2023
Friday, January 6, 2023
Saturday, January 7, 2023
Sunday, January 8, 2023
Monday, January 9, 2023
Tuesday, January 10, 2023
Wednesday, January 11, 2023
Thursday, January 12, 2023
Friday, January 13, 2023
Saturday, January 14, 2023
Tuesday, January 17, 2023
Friday, January 20, 2023
Saturday, January 21, 2023
Tuesday, January 24, 2023
Saturday, January 28, 2023
Tuesday, January 31, 2023