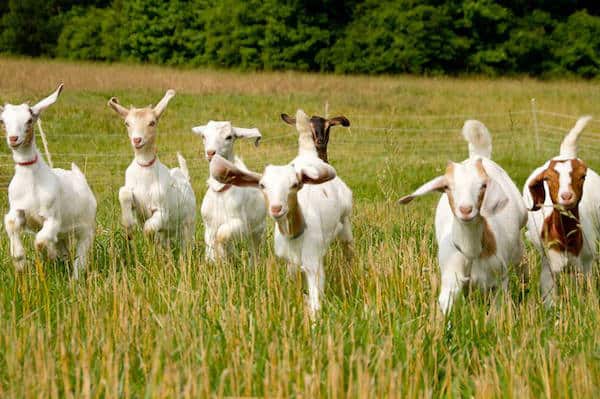 Prodigal Farm, at 4720 Bahama Road in Rougemont, which is in the northern part of Durham County, produces cheese from the goats on the 95-acre farm.
They frequently host events to introduce the public to the goats and goat products.
Next up:
Goat Kid Festival
Sunday, September 10th, 2017
1 p.m. to 5 p.m.
Cost $5/car
Here's the information from the Facebook event:
For this September Festival, the kids will be full of rambunctious antics in the field and sweet snuggles. Our Festivals are family friendly, with fun for everyone! You can tour our 95-acre farm and milking parlor, play with the wee goats, meet the milking does, and taste our nationally award-winning cheeses.
We'll have a limited menu of tasty homemade food available (such as goat cheese mac'n'cheese and goat meat tacos). Regulator Brewing will be selling pints of their lovely beers (did you know they source at least 75% of their ingredients from local farms?). We'll have soapmaking demonstrations by Red Mountain Goodness, mead tastings by Honeygirl Meadery, and more fun. You're also welcome to bring a picnic and blanket, and find a pretty spot on the farm – – maybe near one of our ponds?
The Festival is Sunday afternoon September 10, from 1 to 5 p.m. (We do ask folks to leave by 5, since our days this time of year are long, and we and our farmhands will still need to do milking afterward.)
In order to keep our Festivals to a manageable size, and to encourage carpooling, and to rent port-a-johns so everyone is more comfortable, we charge a modest $5 per CAR ticket, and limiting ticket sales to 300 car/tickets per date. You can put as many folks as you'd like into a car or van! These festivals have been selling out. The Festival will happen even if it's sprinkling, but if it's pouring rain, we will cancel. If we cancel, we will refund your ticket price and announce the cancellation on our Facebook page. You can purchase tickets to the Festival at our Square store (see link at the top of this event page).
Future dates:
November 19 (the Sunday before Thanksgiving)
December 17 (the Sunday before Christmas)