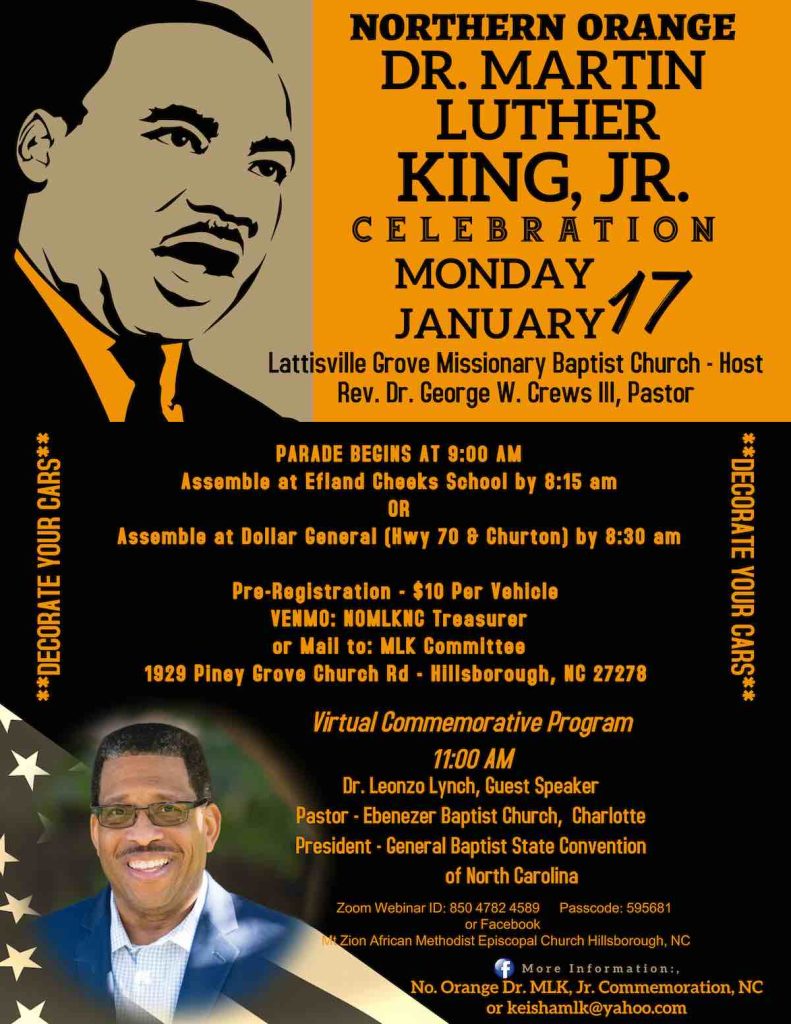 PLEASE NOTE: The car parade, described below, has been canceled due to bad weather. The virtual commemoration is still taking place.
The Northern Orange Dr. Martin Luther King, Jr. Celebration includes a car parade and a virtual commemorative program, both on Monday, January 17th, 2022.
Learn about the many ways to honor Dr. Martin Luther King Jr. throughout the Triangle for MLK Day.
Details are being announced on the No. Orange Dr. MLK, Jr. Commemoration, NC Facebook group.
Phase I of the automobile parade starts at Efland Cheeks Elementary School, 4401 Fuller Road, Efland, NC. Participants will assemble at 8:15 a.m.
Phase II of the parade starts at Dollar General, 662 N. Churton, Hillsborough. Assembly there starts at 8:30 a.m.
The parade starts at 9 a.m.
There's a $10 charge to drive in the parade. Email keishamlk@yahoo.com for a registration form. You can also find the registration form here.
You're encouraged to decorate your vehicle.
The parade will continue towards downtown Hillsborough on Churton Street, turn right on Margaret Lane, turn right onto Nash Street, left onto Revere Road, go across Route 70 to Faucette Mill Road, right onto Dalton, left onto Harper, right onto Locust, left onto Street, left onto Dixie, then onto Rainey and left onto Route 70. The parade will end at the shopping center at Route 70 and Churton Street near the Dollar General.
The theme is "Injustice anywhere is a threat to justice everywhere."
After the parade, there will be a Commemoration Event livestreamed from Lattisville Grove Missionary Baptist Church, 1701 Jimmy Ed Road, Hurdle Mills, NC, at 11 a.m.
The commemoration event will include a vibrant speaker, singing, and review of youth service projects that took place during the last year. Please note that the event will not offer live attendance, only livestreaming.
The Zoom link is: 850 47782 4589, the password is: 595681.
Double-Check Before You Head Out!
We make every effort to make sure that everything on Triangle on the Cheap is 100% accurate.
However, sometimes things change without notice, and it's also possible that we can make a mistake. 
Please verify all deals and events with the venue or organizer before you go.
You might also be interested in:
More Dr. Martin Luther King Jr. Day Events
Check out a list of MLK Day events in the Triangle, or look at a quick list here: