North Carolina Botanical Garden's Display Garden, 100 Old Mason Farm Rd, Chapel Hill, is free to visit. Read on to learn about some upcoming (free or inexpensive) events, as well as about visiting the Display Gardens, Coker Arboretum and Battle Park.
Upcoming Events at North Carolina Botanical Garden's Display Gardens
Please make sure to follow each link below to register (when required.) Also, please take note of which location the event is at (the Display Gardens or Coker Arboretum.)
Check back soon!
Display Gardens at North Carolina Botanical Gardens
The display gardens at North Carolina Botanical Garden, at 100 Old Mason Farm Rd, Chapel Hill, are free to visit, and open during normal hours: Tuesday through Saturday from 9 a.m. to 5 p.m., and Sundays from 1 p.m. to 5 p.m. They're closed Mondays. No reservations are required.
It's free to visit, but a $5 donation is suggested.
Coker Arboretum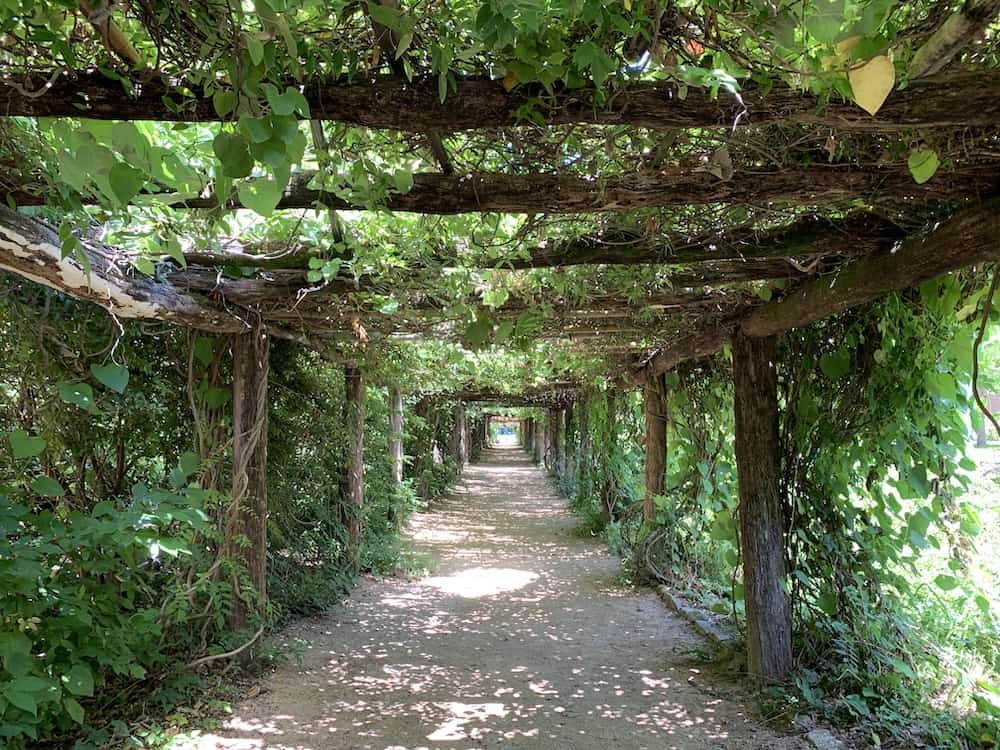 Coker Arboretum is at the corner of Cameron Avenue and Raleigh Street in Chapel Hill. In all, it's 5 acres. Stroll the flat, easy walking paths and enjoy wildflowers, trees, shrubs, perennials, vines and more.
You'll find several benches and open lawns throughout. as well as creeks.
This area was first developed in 1903 by Dr. William Chambers Coker, Professor of Botany at University of North Carolina at Chapel Hill, with many East Asian trees and shrubs added in the 1920s through 1940s.
You can find a map of Coker Arboretum here.
Battle Park
Battle Park, at Country Club Drive and South Boundary Street, is an old-growth forest on the edge of campus. The trails wind through the 93-acre forest.
A highlight, which is right at the entrance at the southwestern corner of Battle Park, is Koch Memorial Forest Theatre, a one-of-a-kind stone amphitheater built into the hillside. It was built in 1940 with Work Projects Administration funds and improved in 1948.
Even before the construction of the amphitheater, this was a site for outdoor drama, with a performance in 1916 to mark the 300th anniversary of William Shakespeare's death.
Today, Forest Theatre is a unique and special setting for performances, but when there aren't performances taking place, you can make yourself at home here!
NorthCarolina Botanical Garden has managed Battle Park and Forest Theatre since 2004. The trails are varied and some are steep, uneven and rocky. You can see a trail map here.
Battle Park is open dawn to dusk every day, and Forest Theatre is as well, as long as there is no event or performance taking place.
North Carolina Botanical Garden, Chapel Hill
100 Old Mason Farm Road
Chapel Hill, NC