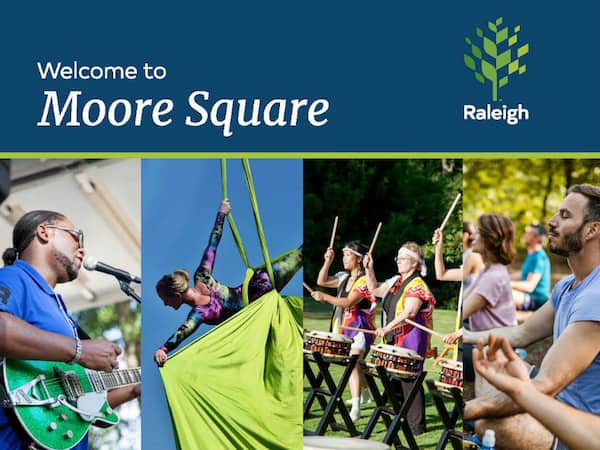 Moore Square in a 4-acre park in Downtown Raleigh, bounded by E. Hargett Street to the north, East Martin Street to the south, S. Blount Street to the west, and S. Person Street to the east.
It's across Hargett Street from Marbles Kids Museum, so it's a great way to extend the fun.
The park includes several gathering and performing spaces.
Events at Moore Square
Make sure to verify that there have been no changes, and also, look for more events, on Moore Square's calendar. Unless otherwise indicated, everything listed below is free to enjoy.
Lunchtime Trivia
Thursdays at 12:15 p.m.
Scheduled indefinitely
Quench your mid-day thirst for knowledge with this bite-sized trivia game at Moore Square designed to accommodate the lunch crowd! Join in every Thursday in the Square at 12:15 p.m. for trivia! Grab a team of up to 6 and head to Square Burger for lunch and a chance to win fun prizes. Each week will feature 3 themed rounds of trivia and some extra surprises thrown in! All in just 30 minutes!
Moore Square Buskers
Sundays, Wednesdays, and Fridays, through October 30th, 2022
11 a.m. to 1 p.m.
Free
Enjoy free performances. Tips are appreciated.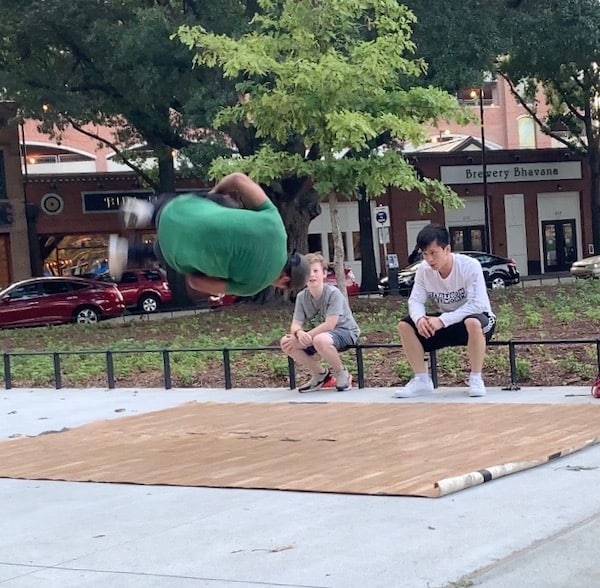 Raleigh Rockers
Wednesdays, March 16th to June 29th, 2022
6 to 7 p.m.
Free
Open session and breaking foundation. All ages welcome.
First Friday Feature Film
First Friday of the month, through December, 2022
Pop-Up Market starts at 5 p.m. through July, and at 4 p.m. starting in August
Movie starts at dusk
Free
Before the feature film each month, Popup Carolinas will present the First Friday Pop-Up Market, starting at 5 p.m. Shop a curated collection of arts and crafts, baked goods, body products and more. All vendors are local to the Triangle.
Feature films, 2022:
• June 3 -Wall-E (PG)
• July 1 – National Treasure (PG-13)
• August 5 – The Notebook (PG-13)
• September 2 – High School Musical (PG)
• October 7 – Jurassic Park (PG-13)
• Novemeber 4 – Homeward Bound (PG)
• December 2 -Muppet Christmas Carol (G)
Camp Gladiator
First Saturday of month from May to December, 2022
10 a.m. to 11 a.m.
Free
First Saturday of the month, experience a free class of Camp Gladiator.
Moore Square Market
You might also be interested in this big list of farmers' markets across the Triangle.
Moore Square Market will operate from May to October, on Sundays from 11 a.m. to 3 p.m. Please note that the market is being suspended until August, because of the heat.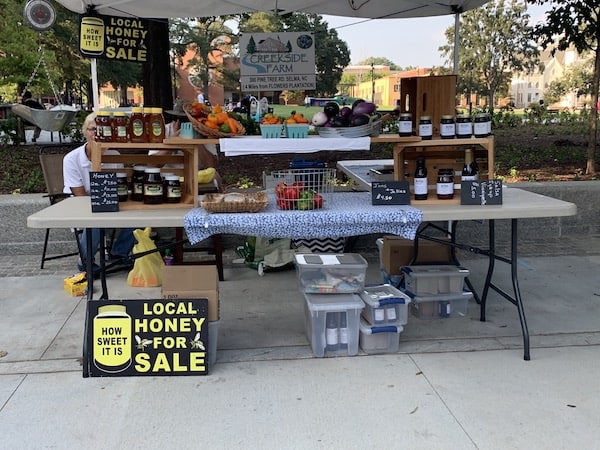 Moore Square Markets features farm-fresh produce, meat, dairy, eggs, baked goods and artisanal goods. It's managed by Downtown Raleigh Alliance and the City of Raleigh Parks, Recreation, and Cultural Resources Department.
SNAP Double Bucks Program
To foster an inclusive shopping experience that welcomes everyone to downtown, Moore Square Market is proud to accept SNAP. Moore Square Market's Double Bucks Program provides matching dollars up to $10 per market visit. Purchase SNAP tokens at the information booth to use for any market purchases.
The Initiative, sponsored by Blue Cross NC, provides matching "Double Bucks" incentives to SNAP-eligible shoppers and is part of the company's commitment to addressing food security in North Carolina by increasing access to healthy and nutritious local food.
Local Restaurants and Shops at the Market
Want to pick up dinner to-go while shopping at the market? Or maybe pick up a gift from your favorite local shop? Support downtown businesses while at Moore Square Market. Businesses will rotate week to week and offer both pre-order and pick-up options as well as items to purchase on-site. See listing here.
Are you a restaurant or store in Downtown Raleigh and interested in having a presence for pick-up, sales and promotion at the market? Please email David Moore at davidmoore@downtownraleigh.org to learn more.
Curbside Pick-up
The market is offering curbside pick-up for pre-orders. Just pull into the marked parking spaces on the north side of Martin Street at Moore Square. Market staff will come to ask what vendor you are picking up from and will grab your order and deliver to your car.
When
Weekly on Thursday @ 12:15 pm (starting May 13, 2021)
What
Lunchtime Trivia at Moore Square
When
Weekly on Sunday, Wednesday, and Friday @ 11:00 am-1:00 pm (March 11, 2022 - October 30, 2022)
What
Moore Square Buskers