North Carolina Botanical Garden, at 100 Old Mason Farm Rd, Chapel Hill, is free to visit. (Although memberships are available and have many benefits.) The gardens host many events, both for adults and kids. Some of the events have an admission charge and some are free to attend. You can see all of the events here.
There's a free garden tour the first Saturday of the month at 10 a.m. The tours cover different topics month to month, so you can definitely enjoy going several times. Sign up here.
The third Saturday of the month, from March to November, there's also a free tour of Coker Arboretum at 11 a.m. You don't need to sign up for this one. Just show up. Coker Arboretum is in the heart of The University of North Carolina, 399 East Cameron Avenue.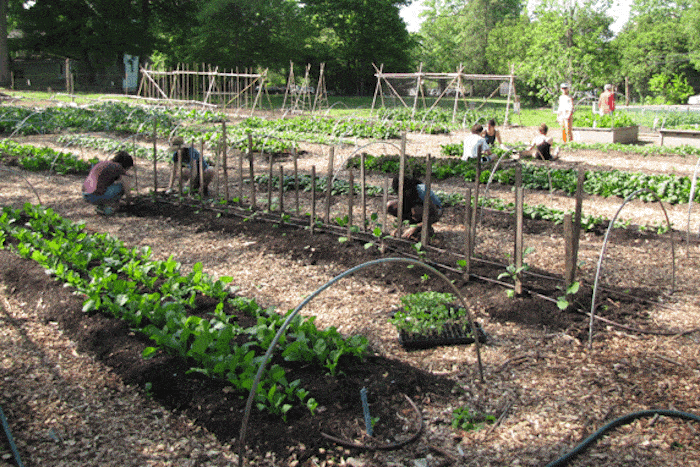 Honeybee Hive Tour
Saturday, April 21st, 2018
2 p.m. to 3 p.m.
Free, but register at above link
Come learn about one of the world's most fascinating insects. Bees are responsible for pollinating one third of the world's food and produce one of the sweetest treats around. Participants explore a real live hive with hobbyist beekeeper, Anne Cabell. This workshop is held outdoors at the Carolina Campus Community Garden (CCCG), so dress appropriately.
Village Band Concert and Earth Day Celebration
Sunday, April 22nd, 2018
2:30 p.m. to 3:30 p.m.
Free, but register at above link
The Village Band, Chapel Hill and Carrboro's own community concert band, performs a curious mixture of marches and dances to welcome spring to the Garden. Take a stroll through the Garden, then come into Reeves Auditorium and let the band provide the perfect musical cap to the afternoon.
Discovering Magic in the Garden – Spring Family Festival
Saturday, May 5th, 2018 (rescheduled from earlier date)
1 p.m. to 4 p.m.
$5 per person (no fee for children age 2 and under)
For all ages. Join us for a family-friendly celebration of spring and the Garden's natural wonders with fun, hands-on activities and nature play, including frogs, carnivorous plants, bird games and crafts, flower art, gnome home building, scavenger hunt, and more.
When
Monthly on the 1st Saturday @ 10:00 am (starting July 1, 2017)
Where
North Carolina Botanical Garden
When
May 5, 2018 @ 1:00 pm-4:00 pm
Where
North Carolina Botanical Garden