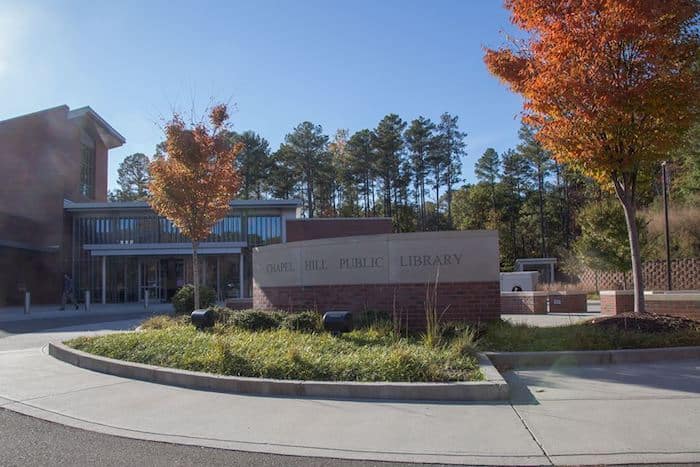 Chapel Hill Public Library, 100 Library Drive, Chapel Hill, offers many free events. You can find them all on the library's website.
Here's some of what's coming up.
Celebrate the freedom to read with Chapel Hill Public Library. In the Banned Books Trading Cards project the library creates art based on banned books or authors whose works have been challenged. Seven pieces are chosen and turned into trading cards that are given away for free at the library and a few locations around Chapel Hill.
Public reception
September 21, 2018
7:00 pm
Join the library for a special after-hours event as we exhibit all of the entries in the 2018 project. Meet the artists, be the first to see the trading cards, and enjoy complimentary refreshments.
Exploring Freedom of Expression
September 27, 2018
6:00 pm – 7:30 pm
Join the library for a lively conversation about the importance of intellectual freedom, the negative effects of censorship, and the need for authentic voices and storytelling in all forms of writing. Featured speakers include author Dr. Zelda Lockhart and Cartoonist/Rapper/Multimedia Artist Keith Knight.
Saturday, December 8th, 10 a.m. to 4 p.m.
Sunday, December 9th, 11 a.m. to 3 p.m. ($5 bag sale. BYO Bag)
More events coming up in Chapel Hill, Carrboro and Hillsborough
Wednesday, December 19, 2018
Friday, December 21, 2018
Saturday, December 22, 2018
Sunday, December 23, 2018
Monday, December 24, 2018
Tuesday, December 25, 2018
Wednesday, December 26, 2018
Friday, December 28, 2018
Saturday, December 29, 2018
Monday, December 31, 2018
Tuesday, January 1, 2019
Wednesday, January 2, 2019
Friday, January 4, 2019
Saturday, January 5, 2019
Sunday, January 6, 2019
Tuesday, January 8, 2019
Wednesday, January 9, 2019
Friday, January 11, 2019
Saturday, January 12, 2019
Monday, January 14, 2019
Tuesday, January 15, 2019
Wednesday, January 16, 2019