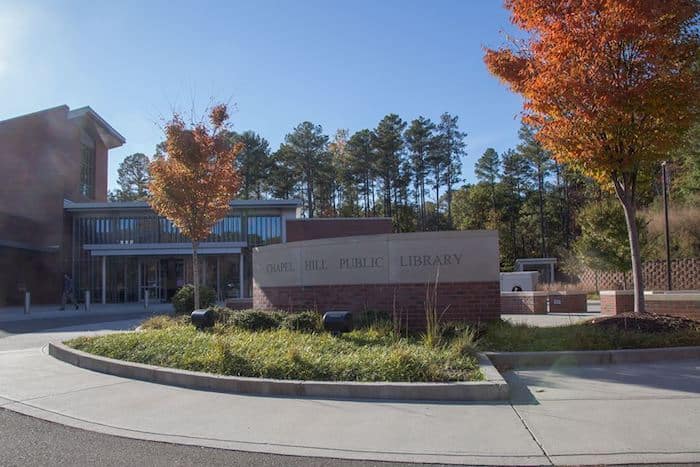 Chapel Hill Public Library, 100 Library Drive, Chapel Hill, offers many free events. You can find them all on the library's website.
Here's some of what's coming up.
End of Summer Cool Down
Wednesday, August 15th, 2018
6 p.m. to 7 p.m.
Live music from the band, Big Fat Gap. Locopops. Bring a chair.
Family Matinee: Wrinkle in Time (PG)
August 17, 2018
2:00 pm – 3:30 pm
Saturday, September 8th, 10 a.m. to 4 p.m.
Sunday, September 9th, 11 a.m. to 3 p.m. ($5 bag sale. BYO Bag)
Saturday, December 8th, 10 a.m. to 4 p.m.
Sunday, December 9th, 11 a.m. to 3 p.m. ($5 bag sale. BYO Bag)
More events coming up in Chapel Hill, Carrboro and Hillsborough
Saturday, August 18, 2018
Sunday, August 19, 2018
Monday, August 20, 2018
Tuesday, August 21, 2018
Wednesday, August 22, 2018
Friday, August 24, 2018
Saturday, August 25, 2018
Sunday, August 26, 2018
Monday, August 27, 2018
Tuesday, August 28, 2018
Wednesday, August 29, 2018
Thursday, August 30, 2018
Friday, August 31, 2018
Saturday, September 1, 2018
Sunday, September 2, 2018
Monday, September 3, 2018
Tuesday, September 4, 2018
Wednesday, September 5, 2018
Friday, September 7, 2018
Saturday, September 8, 2018
Sunday, September 9, 2018
Monday, September 10, 2018
Tuesday, September 11, 2018
Wednesday, September 12, 2018
Friday, September 14, 2018
Saturday, September 15, 2018