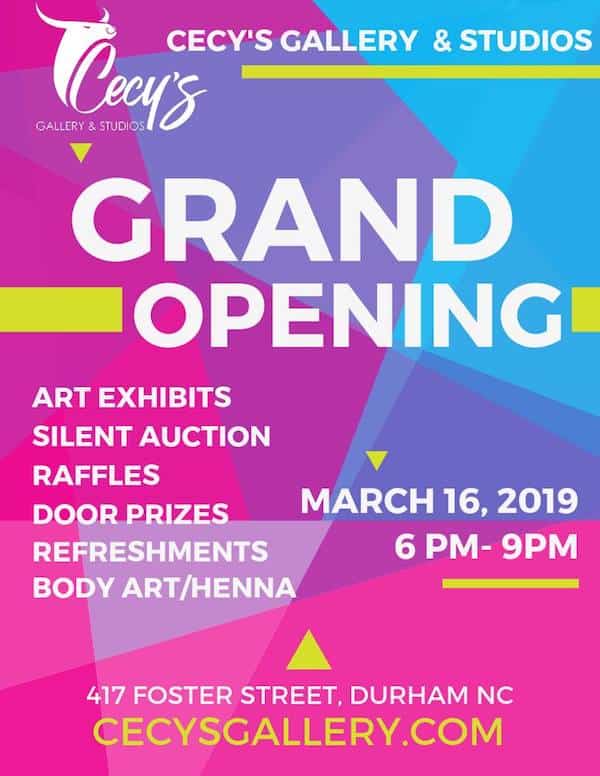 Cecy's Gallery & Studios, at 417 Foster Street, Durham, is celebrating its grand opening on Saturday, March 16th, 2019, from 6 p.m. to 9 p.m.
This is a free event.
There will be:
Art exhibits
Silent auction
Raffles
Door prizes
Refreshments
Body art
Henna
Here's some information about Cecy's, from its website:
Cecy's Gallery & Studios is a multi-artist retail gallery and artist studio space in the heart of downtown Durham.
At Cecy's we showcase artwork by the Triangle's most talented artists in an expansive warehouse-style open space. We also hold art classes in a variety of media, including beaded jewelry, polymer clay, beginner stained glass, sewing, and more. And, we lease studio space where local artists can work as well as sell and teach. It is also the design studio for Beadazzled jewelry designs by gallery owner Cecilia Henaine de Davis.
More upcoming art events in the Triangle
Saturday, March 23, 2019
Sunday, March 24, 2019
Wednesday, March 27, 2019
Thursday, March 28, 2019
Friday, March 29, 2019
Saturday, March 30, 2019
Sunday, March 31, 2019
Wednesday, April 3, 2019
Thursday, April 4, 2019
Friday, April 5, 2019
Saturday, April 6, 2019
Sunday, April 7, 2019
Monday, April 8, 2019
Wednesday, April 10, 2019
Thursday, April 11, 2019