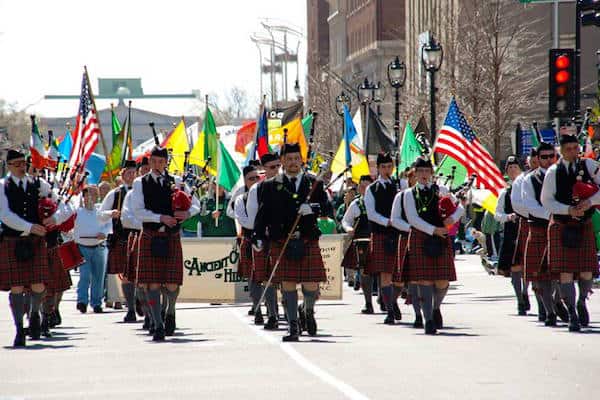 Raleigh St. Patrick's Day Parade and Festival will be turning Downtown Raleigh green on Saturday, March 17th, 2018. This is the 36th year for the parade, which starts at 10 a.m. at Lane Street and Salisbury Street. It lasts an hour or hour and a half. This map of the parade route should help you find your spot.
You might also be interested in:
The Wearin' 'O the Green Festival starts when the parade ends, and takes place on City Plaza at the south end of Fayetteville Street in downtown, along with some of the neighboring streets. Enjoy live music and dancing, as well as shopping the vendor and craft booths. There will be kiddie rides and a bounce house on Leprechaun Lane.
Shamrock 'n Roll Stage – City Plaza
10:00 Nine Times Around
12:00 Blacksod Boys
1:45 Parade Committee
2:00 Ewes Tree
3:30 US Fleet Forces Band
Courthouse Steps Stage
12:00 NC State University Pipes and Drums
12:30 Tríonóide Academy of Irish Dance
1:00 Lynn-O'Grady Quinlan-Connick Academy of Irish Dance
1:30 Inis Cairde School of Irish Dance
2:00 Rince Go Halainn Irish Dance Academy
2:30 Erin Bartow Highland Dancers and Annandale Center Scottish Dance
3:00 to 4:30 Irish Session – all musicians welcome