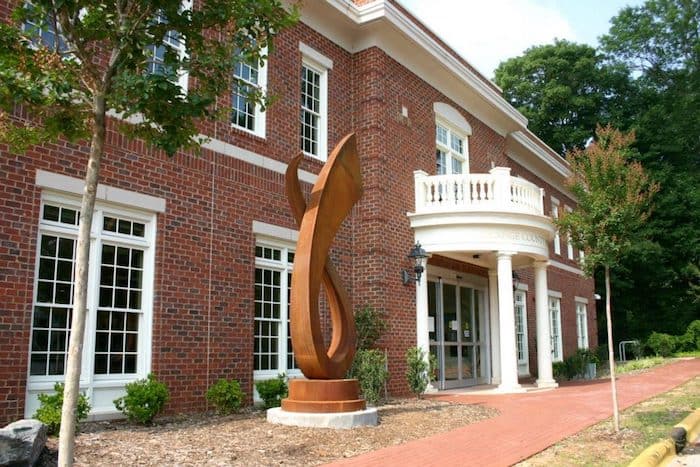 The main branch of Orange County Public Library, at 137 W. Margaret Lane, Hillsborough, has some free events coming up.
You can read about, and register for, all events on the library's website.
Here are some of the highlights:
Pam Baggett Poetry Writing Workshop | Sat, Apr. 7, 1-3 p.m. Teens and adults. Whether life changes suddenly and drastically, or slowly, inexorably divides itself into Before and After, there's a time when we may feel like we're standing on a rope bridge, straddling chaos. Poems that recapture those vulnerable times, dwelling in deep personal truth, are breathtaking to both write and read. In this generative workshop, we'll examine poems written from the rope bridge, then work to produce our own. Writers working at all levels and in other genres are welcome. Please register at 919.245.2536.
Kakalak Reading | Sat, April 7, 3:30-5:30 p.m. | Teens and adults. Charlotte-based Main Street Rag, Kakalak 2017 and earlier issues. Kakalak is an annual literary and art anthology created by North and South Carolina poets and artists.
Fan Fiction Writing | Mon, Apr. 9, 6-7 p.m. | Teens. Want to change the ending of a book? Ship two characters in a TV show? Write it yourself! Come to our Fan Fiction Writing Workshop and create a zine to share your work! Snacks provided.
American Sign Language Storytime | Thur, Apr. 12, 12:15 p.m. & Thur, Apr. 19, 10:50 a.m. |
All ages. Join students from the Carolina Friends School for a storytime using American Sign Language.
I Can't Believe It's Not Computer Code! | Sun, Apr. 15, 1:30-3 p.m. | Teens 12-18. Come learn and practice codes and ciphers used to send old-school secret messages. Swap messages with friends or post them in the library for others to solve!

Fun with Circuits | Mon, Apr. 16, 6 p.m. Grades 3-5. Interested in learning about circuits, energy and science? Join us to learn how to build paper circuits with LED lights! Call or stop by to register. 919.245.2532.

Family Tech Program: Robots | Thur, Apr. 19, 6:30-7:30 p.m. | Ages 8+ with a caregiver. Rise to the challenge! Learn to write code and program your robot through a series of progressively more difficult challenges. Call or stop by to register. 919.245.2532.
Teen Karaoke! | Sun, Apr. 22, 2-4 p.m. | Teens 12-18. Sponsored by the Teen Advisory Board. Ability to sing isn't required! Come hang out with us, have snacks, and join the fun!
Native American Culture Series, Part 2 | Thur, Apr. 26, 6-7:50 p.m. | All ages. Explore Indigenous traditions and culture with Crystal "Red Bear" Cavalier of the Occaneechi Band of the Saponi Nation. Expect lots of fun while learning through music, dance, history, crafts and more! Please register at 919.245.2536.
Dia de los Ninos | Sat/Sab, Apr. 28, 10 a.m.-Noon | Join us and "Edutainment" musical group Criss Cross Mangosauce for a celebration of
Latino culture with music, crafts, stories, and more!
Acompánaños para una celebración de la cultura Latina con música, artesanías, y cuentos. Criss Cross Mangosauce presenterá cuentos y música en Español e Ingles para los niños. !Para todas las edades!
Orange County Public Library Main Library
137 W. Margaret Lane
Hillsborough, NC