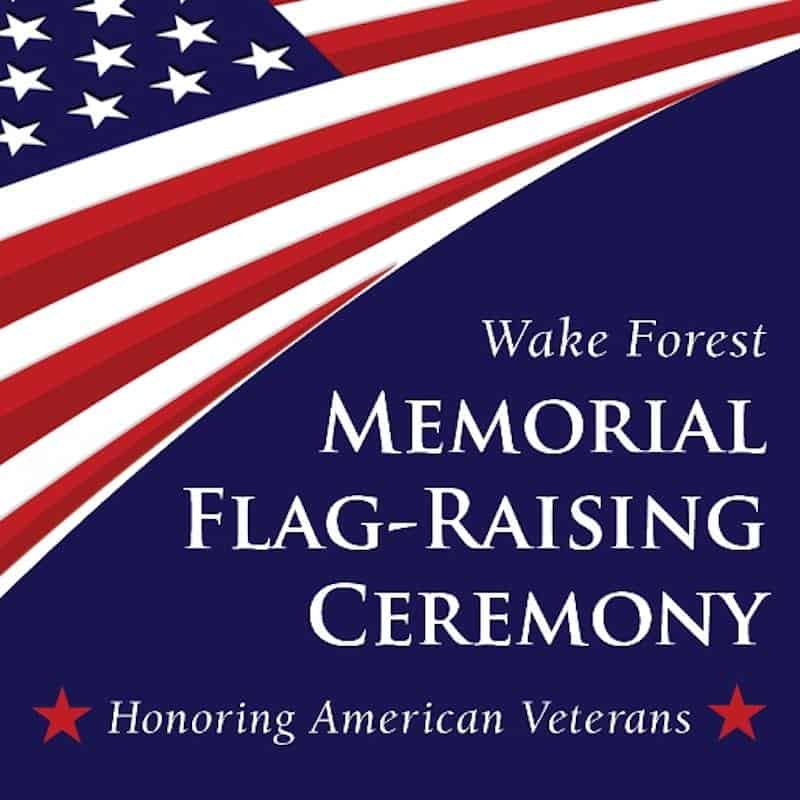 On the first Monday of every month from April to October, 2023, the Town of Wake Forest joins with several local veterans' organizations to honor the sacrifices of deceased Wake Forest veterans and their families.
The Memorial Flag-Raising Ceremonies take place at 11 a.m. at Centennial Plaza, 221 Brooks Street, Wake Forest, North Carolina.
Each ceremony features patriotic songs, special remarks, a memorial wreath laying and the ceremonial flag-raising by the Wake Forest Fire Department Honor Guard. After raising the American flag, the WFFD Honor Guard raises the service flag representing the military branch in which the honoree served. Both flags fly in Centennial Plaza throughout the remainder of the month.
Photographs and other remembrances of each month's honoree are displayed in Centennial Plaza during the ceremony, then in the town hall lobby through the end of the month.
The public is invited to attend these services.
2023 Flag-Raising Schedule and Honorees
April 3 – Al Hinton, US Navy
May 1 – Delmas Hudson, US Army
June 5 – Joseph DeLois, US Army
July 10 – Thomas & Mary Perrone, US Marine Corps
August 7 – George W. Nichols-Pulley/George W. Nichols, Jr., US Army
September 11 – TBD
October 2 – Tulio "Nick" Zannon, US Marine Corps
Honor a Deceased Wake Forest Veteran
A committee comprised of representatives from American Legion Post 187, VFW Post 8466, the Wake Forest Purple Heart Foundation, Marine Corps League 1257 and the Town of Wake Forest continually solicits the names of deceased Wake Forest veterans who may be honored during future flag-raising ceremonies. To be eligible for consideration, the deceased veteran must meet one of the following criteria:
joined active duty in Wake Forest
died in Wake Forest
was a member of a Wake Forest veterans' organization
These services are provided at no cost and provided solely to pay tribute to the service and memory of deceased Wake Forest veterans, while also acknowledging the sacrifices of their families.
For more information, contact Pete Lambert at 919-529-3018.
Centennial Plaza, Wake Forest Town Hall
301 South Brooks Street
Wake Forest, NC