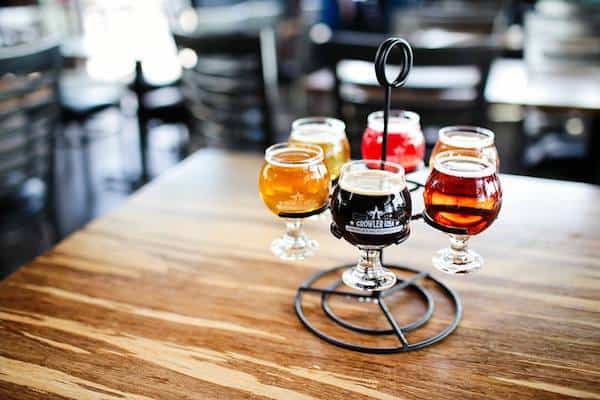 Growler USA Raleigh, at 314 South Blount Street, Raleigh, offers 100 taps dedicated to the best local, regional, and national craft beer. It also offers classic American pub-style offerings to pair with the brews.
In addition you can find wine and cider options, as well as cocktails.
Growler USA hosts lots of free events. You can find all of them on their Facebook page, but here are a few that are coming up:
Open Mic Night
Thursdays (scheduled through May 30th, 2019)
7 p.m.
Free
Solo artists, duos, country singers, original artists, R&B singers…all are welcome.
Kids Eat Free
Every Tuesday (scheduled through April 30th)
11:30 a.m. to 10 p.m.
One free kids' meal with the purchase of an adult entree.
March Madness at Growler
The games will be on all the big screen TVS throughout the tournament.
Live music by Maverick Rose
Saturday, March 23rd, 2019
Saturday, April 13th, 2019
7:30 p.m.
Free
Acoustic music from six decades of popular songs.
The Unofficial St. Patrick's Day Parade Afterparty, with live music
Saturday, March 16th, 2019
7 p.m. to 10 p.m.
Free
Come out and Celebrate St. Patricks Day at the Unofficial St. Patrick's Day Parade Afterparty. We are located in the heart of downtown, located a few blocks from the parade route and festival. Join us at Growler USA for great food and great music! Best selection of craft brews in the triangle. Donnie Lane will be cranking out tunes from classic rock favorites to original tunes and live looping.
Between2Clouds Comedy Night
Saturday, March 16th, 2019
9 p.m. to 10:30 p.m.
Free
This series is a mix of Stand-Up Comedy and themed comedic events.
This one in particular will be:
– stand up comedy
– a greenroom riffing session
– and a 2v2 comic competition!
Hosted by Between2Clouds and Austin Howard
Comics: Will Purpura, Tori Chaffee, Freddy Valoy, and Drew Robertson
Live music: Maria & Dylan
Friday, March 22nd, 2019
7 p.m. to 10 p.m.
Free