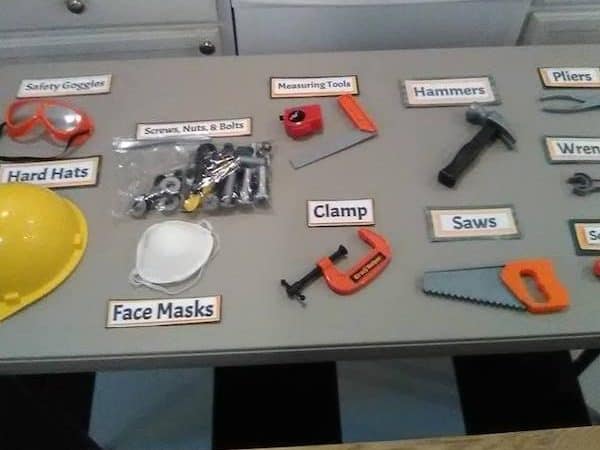 Kids Learning Carpentry offers carpentry classes for kids. Their motto is "Building a Child's Confidence One Tool at a Time."
Learn about their offerings on their Facebook page.
Kids Learning Carpentry has two FREE upcoming classes. In addition they'll be at Kidzu Children's Museum Saturday, January 26th, at 10 a.m. Free with admission.
Kids Learning Carpentry Traveling Woodshop
Friday, January 25th, 2019
4:30 p.m. to 6 p.m.
Read With Me, a Children's Book & Art Shop, 111 E. Hargett Street, #110, Raleigh
Free
Parents and Kids … Consider ending your long week with a good book. Kids Learning Carpentry, LLC will be holding a KLC Traveling Woodshop at Read With Me, A Children's Book & Art Shop. Come for the good book and leave with a handmade pair of bookends.
KLC will take you step by step through the process of constructing your simple wooden L-frame bookends. Finish them off with a kid-friendly acrylic "wood stain". This event is free and all supplies will be provided.
Register by filling out this contact form, or by calling Briggs Hardware at 919-802-5272.
Kids Learning Carpentry Traveling Workshop
Saturday, February 2nd, 2019
3 p.m. to 5 p.m.
Nickelpoint Brewing Company, 506 Pershing Road, Raleigh
Free
Parents, have a beer and let Carl the Carpenter entertain and educate your kids on the basics of carpentry. There will be tons of tools (real and toy) for the kids to tinker with.
Subscribe to Triangle on the Cheap
More upcoming free and cheap things for kids in the Triangle
Monday, October 3, 2022
Tuesday, October 4, 2022
Wednesday, October 5, 2022
Thursday, October 6, 2022
Friday, October 7, 2022
Saturday, October 8, 2022
Sunday, October 9, 2022
Monday, October 10, 2022
Tuesday, October 11, 2022
Wednesday, October 12, 2022
Thursday, October 13, 2022
Friday, October 14, 2022
Saturday, October 15, 2022
Sunday, October 16, 2022
Monday, October 17, 2022
Tuesday, October 18, 2022
Wednesday, October 19, 2022
Thursday, October 20, 2022
Friday, October 21, 2022
Saturday, October 22, 2022
Sunday, October 23, 2022
Monday, October 24, 2022
Tuesday, October 25, 2022
Wednesday, October 26, 2022
Thursday, October 27, 2022
Friday, October 28, 2022
Saturday, October 29, 2022
Sunday, October 30, 2022
Monday, October 31, 2022
Tuesday, November 1, 2022