The Holly Springs Farmers Market is at 300 W. Ballentine Street, outside the Holly Springs Cultural Center.
Winter Hours:
November to April
Every Saturday, 9 a.m. to 12 p.m.
Regular Hours:
May to October
Every Saturday, 8 a.m. to 12 p.m.
SproutFest : Kids Appreciation Day is on Saturday, September 2, 2023. There will be live kids' music by Grandma Paula (from 9 to 11 a.m.), as well as these free activities:
Touch-a-Truck
Scavenger hunt
Guessing game
Planting herbs
Kids' craft
More
Holly Springs Farmers Market hosts many special events throughout the year. Here's what's coming up in 2023: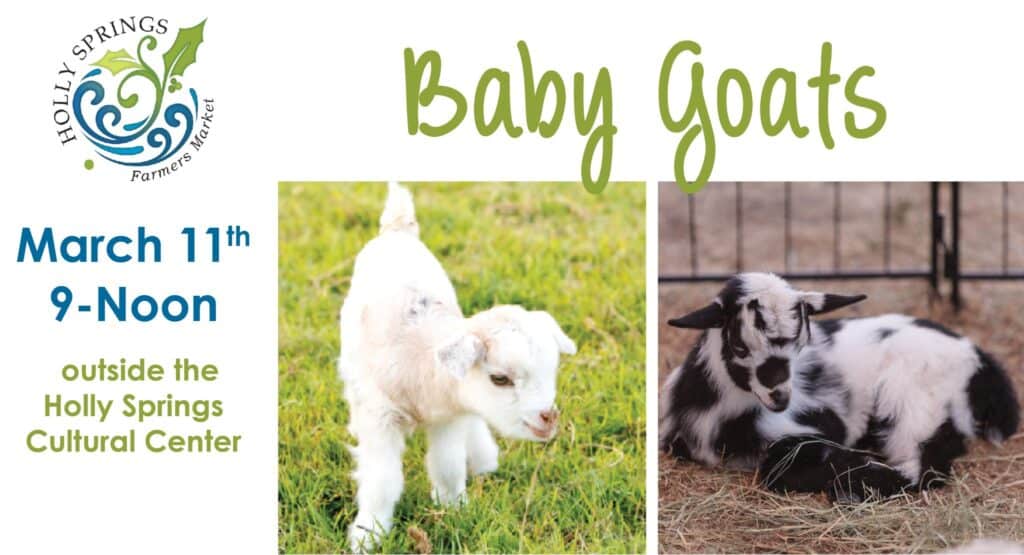 March 11th: Meet baby goats — goat-themed activities for children
April 1st: Touch a Truck with the Holly Springs Fire Dept and Holly Springs Police
May 6th: Grand Opening for the 2023 Season
May 20th: Composting Day
May 27th: Strawberry Day
June 3rd: Market Anniversary
June 10th: Pollinator Day
June 17th: Blueberry Day. Also, meet baby goats and ostriches.
July 15th: Corn Day
July 22th: WinterFest
Aug 5th: Watermelon Day
Aug 12th: Farmers Market Week
Aug 19th: Senior Appreciation Day
Sept 2nd: SproutFest (Kids Appreciation Day) with Touch a Truck with Fire and Police, Kids music, crafts and activities
Sept 23rd: Town Information Day
Oct 14th: Costume Parade: Details here.
When
October 14, 2023 @ 9:00 am-12:00 pm
What
Costume Parade at Holly Springs Farmers Market
Where
Holly Springs Farmers Market