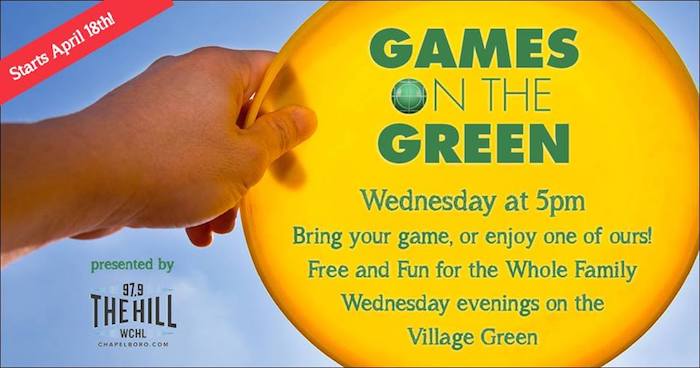 NOTE: this event is no longer listed on Southern Village's Facebook page.
Every Wednesday, 5 p.m. to 8 p.m., from April 18th to October 31st, 2018, Southern Village, 400 Market Street, Chapel Hill, is hosting Games on the Green.
At this free, family-friendly event, you can play games like corn hole, can jam, jenga and bocce, provided by Southern Village restaurant owners, or you can bring your own games.
Here are some more kid-friendly events coming up:
Tuesday, January 22, 2019
Thursday, January 24, 2019
Friday, January 25, 2019
Saturday, January 26, 2019
Sunday, January 27, 2019
Tuesday, January 29, 2019
Thursday, January 31, 2019
Friday, February 1, 2019
Saturday, February 2, 2019
Sunday, February 3, 2019
Tuesday, February 5, 2019
Thursday, February 7, 2019
Friday, February 8, 2019
Saturday, February 9, 2019
Tuesday, February 12, 2019
Wednesday, February 13, 2019
Thursday, February 14, 2019
Saturday, February 16, 2019
Sunday, February 17, 2019
Monday, February 18, 2019
Tuesday, February 19, 2019
Wednesday, February 20, 2019