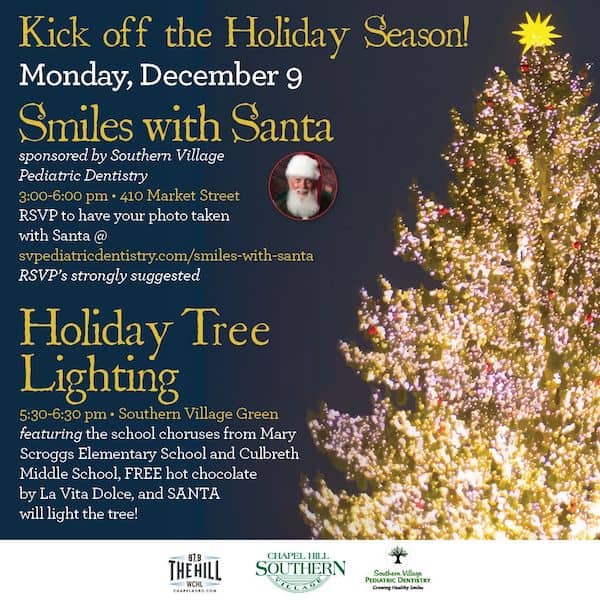 Skip the long lines at the mall and bring your kids to Smiles with Santa. This is a chance to get FREE pictures of your child with Santa.
The event is presented by Southern Village Pediatric Dentistry, at 410 Market Street, Chapel Hill, on the first floor, on Monday, December 9th, 2019, from 3 p.m. to 6 p.m.
Sign up for a time slot here. If there are no spots left in your preferred time slot, you're still welcome to visit with Santa and his elves on a first come, first served basis.
Light snacks will be provided, and each child will leave with a small gift.
After this event, Santa and his elves will head over to the Southern Village Green for the Holiday Tree Lighting.
The tree lighting event will include music from school choruses and FREE hot chocolate from La Vita Dolce Espresso & Gelato Cafe.
Subscribe to Triangle on the Cheap
More Santa sightings in the Triangle (growing list!)
Saturday, November 26, 2022
Sunday, November 27, 2022
Monday, November 28, 2022
Tuesday, November 29, 2022
Wednesday, November 30, 2022
Thursday, December 1, 2022
Friday, December 2, 2022
Saturday, December 3, 2022
Sunday, December 4, 2022
Monday, December 5, 2022
Tuesday, December 6, 2022
Wednesday, December 7, 2022
Thursday, December 8, 2022
Friday, December 9, 2022
Saturday, December 10, 2022
Sunday, December 11, 2022
Monday, December 12, 2022
Tuesday, December 13, 2022
Wednesday, December 14, 2022
Thursday, December 15, 2022
Friday, December 16, 2022
Saturday, December 17, 2022
Sunday, December 18, 2022
Monday, December 19, 2022
Tuesday, December 20, 2022